Can you blame them for not wanting to leave?
The scoreboard overhead shows Irish 5, Wolverines 4. There they are, the fans in Section 120 of the Pepsi Center — the Notre Dame cheering section — the last ones in the seating bowl until the ushers come to shoo them out into the hallway.
"They're going to have to throw us out of here tonight!" Notre Dame alum Mike Williams of Denver shouts.
Probably. But the thing is, they'll be back. On Saturday. For the last game of the college hockey season.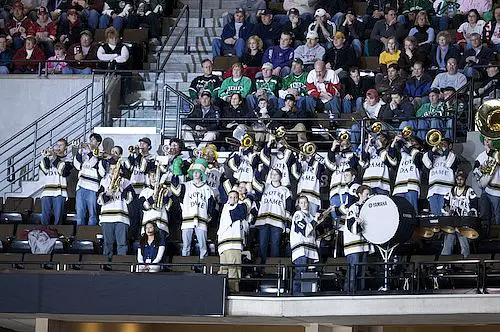 "I've been waiting for what seems like forever," says Michael Wood, an Irish hockey season-ticket holder who waited for the team he has followed for 32 years to get there before attending his first Frozen Four.
"We're playing in the last game of the year, for the national championship."
Wood is practically panting as he utters that last sentence. A few seconds earlier, he was jumping up and down at the top of 120 along with hundreds of other Notre Dame fans, some from near, some from far.
Calle Ridderwall, a freshman from Sweden, scored in overtime for Notre Dame's biggest victory ever.
Judy Lawson, whose son Kyle plays for the Irish, points to the Pepsi Center rafters where the flags of the United States and Canada hang.
"They should put a Swedish flag up there," she says.
It's an emotional time for Notre Dame and its fans, both enjoying their first trip to the Frozen Four, something that needs to be captured.
---
Notre Dame's up 3-2 in the second intermission. Paul Sochinski of Denver looks a little nervous as his standing in the upper-level concourse with wife Lisa.
The Irish ran out to a 3-0 lead after one period, only to have Michigan respond with two goals in 15 seconds during the second.
"I thought it was awesome," Sochinski says of the game's start, "but I said to my wife, it's early. I've known Red Berenson for too many years, and they're going to come back."
Sochinski played for St. Lawrence from 1982 to 1984, but he's wearing a blue Notre Dame jersey, No. 19.
He has always been a big Notre Dame fan for football. He wanted to go to school there but couldn't get in. His Irish football jersey also gets a lot of wear, and he gets a new Notre Dame hat each year.
Sochinski also went to the West Regional in Colorado Springs, through which the Irish earned their spot in the Frozen Four.
"They come in and no one expects them to do anything," he says, "and that's the most dangerous team."
---
Down on the first level, former Irish defenseman Dan Byers is waiting for the third period to start.
He's wearing his old Notre Dame jersey, which is a feat because he played from 1974 to 1978. The letters are a little faded and the 3 on the sleeve is starting to chip away.
"It's been in the closet for 30 years," Byers says.
He says the Irish getting to the Frozen Four has been big for the program. Earlier Thursday, there was a pep rally in Denver with 25 to 30 hockey alums in attendance.
"It's just a wonderful experience for the whole Notre Dame family," Byers said. "It brought back a lot of former players. It's a good thing to rally around."
---
Brian D'Arcy doesn't stay sitting at the top of 120 for long in the third period. When Michigan's Chad Kolarik scores 2:16 in to complete Michigan's comeback, D'Arcy starts to pace.
A senior forward for the Irish who wasn't dressed Thursday, D'Arcy eventually grabs a green balloon and holds it like a football. A sign of the tension, he squeezes it just enough that distends but not enough to break it.
The tension continues until it's broken with 8:30 left by a Kevin Deeth goal for Notre Dame, sending 120 into a frenzy.
D'Arcy gets a lot of height on a jump accompanied by a fist pump.
The excitement doesn't last long in 120. Michigan's Carl Hagelin scores from the side of the net with 5:21 remaining to tie the game at 4-4.
Almost as one, hands go to heads as they lean back into their seats in 120.
They get a scare late in regulation when Deeth gets called for obstruction-hooking, but 120 rises when he comes out of the box and gets the puck with less than a minute left. They stay standing until the horn signals the end of regulation.
---
In the hallway outside 120, Tad True isn't doing so well.
"I feel terrible," says True, who tried out for the Irish hockey team when he attended school but didn't make it. "We should be winning 4-0. If it was anybody but Michigan — or maybe Boston College — it would be OK."
What's worse?
"I invited a guy, I bought the guy tickets and he's wearing a Michigan hat," True says. "I can't believe it."
There is salvation, however.
It's perfectly clear to everyone that Michigan beat Notre Dame 38-0 in September and Boston College beat the Irish 27-14 in October.
"This is incredible," says True, who lives in Casper, Wyo., and is making his first trip to the Frozen Four. "First of all, you have to understand this almost makes up for the lost football season. That's the biggest thing."
---
A few feet over, Cindy Wood isn't feeling good, either.
"I'm terrified," she says. "Terrified."
From South Bend, she's a Notre Dame lifer. Well, almost.
She was the Michigan State student manager when she attended school there. But there were times that she could cheer for the Irish. That dispensation, as Wood calls it, came from former Spartans coach Amo Bessone himself.
Now, it's all Irish in her family. She's Michael Wood's sister, and their sister, Mary, is a frequent poster on the USCHO.com message board.
Her handle? Jeff_Jackson_for_Pres.
He probably would do well in the South Bend precincts.
---
Section 120 rises less than two minutes into overtime when Notre Dame's Justin White has a good chance, then settles back into the seats when the puck gets cleared.
It doesn't take that much longer. Ridderwall bangs home a rebound 5:44 in, and 120 explodes.
Pompons go flying up in the air. Then the hats.
Judy Lawson gives it up for coach Jeff Jackson. "I don't know what he does," she says. "He's got some magic."
The Irish players skate over in front of 120 and give a stick salute, then go to the other end of the ice and salute the band before leaving the ice.
Michael Wood is just settling down and then he starts to talk about the championship game against BC.
"That's what I've been saying all along: Beat Michigan State to get to the Frozen Four because they've owned us for so long; beat Michigan in the tournament because it's Michigan-Notre Dame," he says. "And then BC-Notre Dame, what else can you say?"
Mike Williams has plenty to say. He's clutching a Notre Dame banner in his left hand that must be some sort of good-luck charm.
"I went to school there," he says. "I graduated in '72, when hockey was just starting. 1968 is when I went to school there. Forty years. This has been 40 years coming."
How about some perspective?
"It's a Notre Dame moment," Williams says. "I've been to the national championship in football, and this is as big as those. Bigger."