Williams College senior forward Will Bruce is the recipient of the 2008 Hockey Humanitarian Award. He is the 13th to receive the award, which was created by the Hockey Humanitarian Award Foundation to recognize "college hockey's finest citizen."
Bruce received the award in a ceremony Friday at Pepsi Center, site of the NCAA men's ice hockey Frozen Four, following the Hobey Baker Award presentation.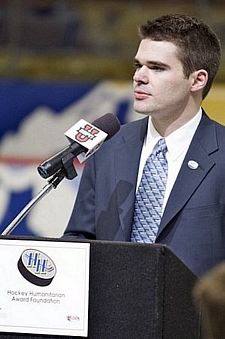 Even before is college career, Bruce was involved in his community, volunteering for organizations like Habitat for Humanity. In all, he has contributed almost 1,200 hours to community service.
It was as a student at Williams that Bruce began to take on leadership roles in serving the community.
As a sophomore, he designed a "Read for Fun" program to encourage reading among local youth hockey players. If a youth player read a book and wrote up a book report, that player could then serve as a stick boy/girl at a future Williams hockey game.
Two years ago, Bruce and a teammate took over the organizing duties for "Best Buddies," a program that matches the mentally and physically handicapped with Williams students for social interaction and activities.
As a junior, Bruce developed a financial education curriculum that he taught to low-income adults, and organized a volunteer service group that provided free-of-charge financial education and tax assistance for low-income adults and families.
Bruce is a participant in the Friends of Foster Families program, which works to mentor foster children living in the western Massachusetts community surrounding Williams College. He also coordinates volunteer efforts at a local homeless shelter to help kids with homework and preparation to obtain their GED.
Back home in Nashville, Tenn., Bruce has tutored low-income adults studying for the GED and volunteered at a local domestic violence shelter.
This is not the first time that Bruce has been recognized for his achievements in helping others. In January, he was awarded the John Wooden Citizenship Cup, given to "the most outstanding role model in college athletics who has made the greatest difference in the lives of others." Named for legendary UCLA basketball coach John Wooden, the award recognizes one amateur and one professional athlete each year. Previous winners include Peyton Manning and John Smoltz.
"This honor is well-deserved because Will has heightened the awareness of community service on our team," said Williams coach Bill Kangas. "Coaches always talk to their teams about the memories they will make during their careers, but Will has created even more lasting memories by getting his teammates and scores of other (Williams) athletes into positions where they can make a lasting impact on the lives of others in need."
"It's a great honor to receive this award, but to me it recognizes more than an individual," said Bruce. "This award recognizes the importance of teamwork. I've never had a teammate turn down a request to participate in a community service project."
Bruce says that it was an honor just to be nominated.
"When I look at the past winners, and the nominees this year, it's hard to pick a winner," he said. "Caralyn Quan, who's on the women's team at Williams has done amazing things. And I've been able to meet Ashley King from Wayne State. She's very deserving as well. I'm more a recipient than a winner."
The senior forward, who recorded 31 points at Williams, majors in history and economics, with a overall 3.81 GPA. In October, he'll begin a two-year fellowship at the University of Oxford in England where he will study philosophy of comparative social policy.
There's pro hockey in the U.K., and several Division III players have played in leagues there.
"I'm bringing my equipment," said Bruce. "You never know."