It was a heroes' welcome in Chestnut Hill on Monday night as the 2007-08 Boston College Eagles addressed their fans for the first time as national champions.
The event, held on the Kelley Rink ice, was attended by thousands of Eagles faithful and capped off a whirlwind 48 hours that included BC's victory over Notre Dame in the national title game and a visit to Fenway Park for Sunday night's Red Sox-Yankees game.
The Eagles received a thunderous ovation from their home crowd, particularly captain Mike Brennan, Frozen Four Most Outstanding Player Nathan Gerbe and head coach Jerry York, who received a two-minute standing ovation before addressing those gathered.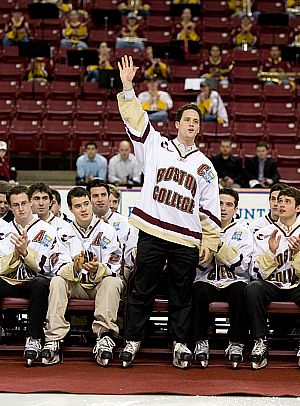 York described the feeling that it was to board the team bus in Denver Sunday morning as the national champions, saying "there just really isn't any feeling like it."
He talked of the view of the Rocky Mountains, the first time since his team arrived Tuesday afternoon that the sky was clear enough to see the picturesque view.
"Driving to the airport, nobody had any sleep, and that morning you could see all of the Rockies. We had the trophy on the bus and it was just a great feeling of accomplishment," said York.
Boston College president William P. Leahy, S.J., addressed the crowd to open the ceremony saying, "Last Saturday night was special not just because of what was done on the ice but because of the players who represented BC so eloquently."
Leahy thanked the Eagles faithful that showed up in force not only Monday, but throughout the Frozen Four in Denver.
Athletic Director Gene DeFilippo was next to the podium, saying, "All good teams have really good players, but championship teams have something extra."
He then went on to call York one of the great coaches in the game and jokingly said about the 62-year-old bench boss that "he may not know it, but he's got another 8-10 years still" to coach at Boston College.
DeFilippo recognized this as possibly York's best coaching job ever. He also recognized Brennan as not only a leader, but a player who played in all of his team's 168 games over his four years at the Heights. He then talked of not just Gerbe's performance in the Frozen Four but about how he handled not winning the Hobey Baker Memorial Award on Friday, saying that to Gerbe, it was about the team trophy and never the individual award.
When York took the podium, he talked about the fact that it felt like there really should be one more game, referencing his enjoyment for being around the team. But he sent a message to that effect to each of his players.
"These guys have one more game," said York. "They have one more challenge to wake up every day and represent Boston College with pride in everything they do.
In addition to this year's players and staff, the event was also attended by former player and head coach Len Ceglarski, a member of the 1949 BC national championship team. Ceglarski accompanied the 1949 championship trophy to the ice. Six members of the 2001 championship team brought their trophy to the ice, including current Boston Bruins Bobby Allen and Chuck Kobasew.
Boston Red Sox President and CEO Larry Lucchino, Chief Operating Office Mike Dee and Executive Vice President Sam Kennedy were all on hand for the celebration. The Eagles share a close relationship with the Red Sox, which led York to joke that if he's not careful, "next year Gene [DeFilippo] is going to have us opening up against the University of Tokyo," referencing the Sox's recent trip to Japan to open their season.
After the 45-minute ceremony, players talked about the whirlwind tour that the last week became. After returning home from Denver on Sunday, the players had 90 minutes to change and unpack before heading off to the Sox-Yankees game. The entire team stood on the mound as captain Mike Brennan and assistant captain Matt Greene threw out the game's opening pitch.
Brennan joked on Monday that throwing the pitch was more nerve-wracking then it was to line up for the national-title game.
"Throwing a pitch at Fenway is uncharted territory," Brennan said with a smile. "That was an unbelievable experience."
One of the biggest questions now surrounding the Eagles is the future of Gerbe. The junior proved throughout the Frozen Four that he has the ability to play at the game's highest level; now it's just a question of when he'll get that chance with the Buffalo Sabres, the club that owns his rights.
"I'd love to see Nathan back," said DeFilippo. "I told him today that he's done a heck of a job here but he needs to do now what's best for him and his family and whatever decision he makes we're going to support him 100 percent. I hope the decision is to come back but if it's not, I'm sure that will be the best decision for him."
"I don't think he's in a big rush [to make a decision]," said York. "We'll sit down and talk [soon].
"Then Nate will have to look at all the plusses both ways. There are no minuses, there are only plusses.
"It's hard to be big on the big stage, and now he has."
For Monday, though, this was about savoring a championship and looking forward to building the next team that will try to again take that step. That's something York has plenty of experience doing.
"When I won the first [championship at Bowling Green ] in 1984, [the late] Bob Johnson called me and said, 'The best thing about winning your first one is that now you know how to build programs. You can refer back to something.'"
Said York, "Once you have one, it makes it easier to get other championships because you have the blueprint that works."