Shayne Baylis knew that playing college hockey came with its perks, most notably a chance to complete a four-year degree that he could parlay into a career down the road.
Baylis entered Niagara University as a freshman defenseman in 2001 and played 83 games, amassing 16 points and 42 penalty minutes over his career. He was also part of the 2004 College Hockey America championship team that went to the NCAA Tournament for the then-second time in school history.
However, Baylis has learned that there is indeed life after hockey.
Graduating in 2005 with a science degree, the 24-year-old St. Catharines, Ont., native has been attending the New York Chiropractic Clinic in Buffalo. Baylis will complete his postgraduate coursework soon and also has aspirations to try and catch on with a minor pro hockey franchise.
USCHO's CHA Correspondent Matt Mackinder (MM) recently caught up with Baylis (SB) from western New York.
MM: First off, why did you choose the NCAA over the major junior Ontario Hockey League? Being a Canadian, I would assume the OHL was an option you considered.
SB: It was in 2000 when the Ottawa 67's of the OHL drafted me. I attended their training camp and I was fortunate to have an exceptional training camp performance. After training camp, Coach (Brian) Kilrea called me in for my evaluation. He said I was the "surprise" of the camp. However, Ottawa had a strong and established defense at that time and all I was offered was the eighth-defensemen position. Ottawa went on to play in the Memorial Cup that year.
Niagara University assistant coach (now head coach) Dave Burkholder was very positive and passionate on how I could be a big part of their team. There was also the fact that I wanted my schooling covered and I was not sure if the OHL could guarantee the same offer. Niagara ended up offering me a four-year scholarship.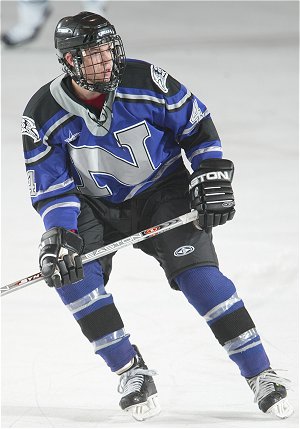 MM: Why did you choose Niagara?
SB: They were the first team that offered a scholarship in writing. Coach Blaze (former head coach Blaise MacDonald) and Coach Burkholder had a very professional, disciplined team with high aspirations for achievement at a small school. They were committed to developing my hockey skills. At that time, Niagara had just gone to the NCAA Tournament and had achieved the Elite 8 and a loss to North Dakota, who became NCAA champions that year. Moreover, university hockey was more conducive to my style of with finesse, speed, skating and skills. In addition, Niagara was close to home and being close to my family means a great deal to me.
MM: Was hockey always first with you at NU, or did school come first?
SB: There has to be a balance. I always knew the importance of both. I was there to finish my degree and play hockey at my highest ability. As a science major, I was forced to do my academia on the road and that did not bother me since I had been doing homework in the car since grade six when I traveled from St. Catharines to Toronto four days a week to play for the Toronto Red Wings.
I was always prepared for games and did whatever I had to do to be focused and maintain the team's expectations. One semester at NU, I had to miss Monday afternoon practices. As a result, I would come early Monday morning and practice on my own. Even on road trips, I would study on the bus and in the hotel. I took some flack for it, but I knew I wanted to succeed academically. I have always dedicated myself to improving my abilities in all areas of life because being average is expected, and settling at the top requires immense discipline, but when high achievement is consistent, excellence prevails.
MM: Did you meet anyone at NU who has influenced you in your career?
SB: I was seriously interested in medicine and helping people and the fact that others had accomplished goals similar to this at school (former players John Marshall and David Hominuk) while playing hockey was encouraging for my journey in the medical field.
MM: Looking back, what was your hockey highlight at Niagara? The CHA title and NCAA berth?
SB: Yes, obviously the NCAA Tournament game against Boston College. The preparation, hard work, the media attention, the build-up, and the overall team pride for all our accomplishments was unparalleled to any other of my college experiences. The accomplishment of being at such a prestigious tournament and competing at the highest level in college hockey, especially for such a small university to be competing against the likes of major "powerhouse" universities. I was very pleased with my overall performance and my coaches validated it after the game with their complimentary comments.
MM: You never played in every game and were often a healthy scratch. Did not playing a ton ever frustrate you? How did you deal with it?
SB: It is always frustrating coming from a team where you are looked upon as a key player to produce and lead your team throughout the season and playoffs to being just one of many players is a difficult adjustment. Sometimes you will get discouraged, but it is how you deal with setbacks that shape your future and mindset. As a young incoming player, I knew I had a lot to prove and improve upon and fighting for a position can be quite the motivating factor to prove to yourself and others that you do deserve the opportunity to show your skill. I set out to be a role model, a mainstream player, and I took advantage of ice time that was available to me and I was committed to my workouts.
At the end of my first season, I was recognized as the most improved player on the team. With maintaining a positive attitude, a great honor was bestowed on me from my teammates and coaches in my final year as most dedicated player and sportsman.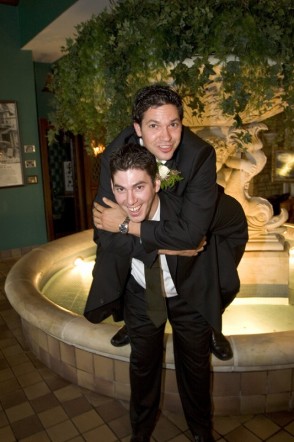 MM: Your job now – how did you come to go into chiropractic care?
SB: A friend of mine (former NU baseball player Chris Cerchie) shared similar interests in the medical field and we would attend the college job fairs and graduate school presentations at the university. His father is a chiropractor and this profession just seemed to fit for me. I just seemed to resonate with this profession. It would provide me the opportunity to stay connected to sports and helping people naturally without drugs. Chiropractic appears to be the best fit for these characteristics.
I am currently at the New York Chiropractic College Buffalo clinic in my last year of a 3 1/2-year program. I intend eventually to set up my private practice in Ottawa as I have family there, it is a great city, a growing population with solid job foundation and sports-minded and a hockey town. However, I am taking American chiropractic board exams in order to keep my options open and thus, I am not placing all my pucks in one bag.
MM: Any hockey left in your future?
SB: I have continued to play hockey on a regular basis, but I miss the competition and meaning behind competitive hockey. I truly miss the game and with the rapid influx of finesse and skill over the traditional gritty play of defensemen, I feel my style of play is better matched for this type of hockey. Ideally, in the future, I plan to tryout for a professional hockey team that can offer me the opportunity to advance to the highest level of hockey I can achieve and still provide chiropractic service to my fellow athletes and teammates.
MM: Do you still keep in touch with any of the guys you played with at NU?
SB: I am very good friends and stay in touch with Ryan Gale, especially since we are from the same hometown and played in the same junior league before attending Niagara, also Sean Bentivoglio and my old housemate, Barret Ehgoetz, who I still talk to once in a while. This year, I attended the CHA finals and reconnected with some of my old teammates like Allan Barton, Tim Madsen, Taylor Simpson, Cliff Ketchen and Scott Mollison. It was really exhilarating to see those guys accomplish an NCAA berth just as I had done four years prior. It's a natural network I am sure will be beneficial in the years to come.