No Hockey East team lost more across-the-board talent than the New Hampshire Wildcats. Last year's senior-dominated team took the regular season title going away but graduated five All-Hockey East selections: top scorers Mike Radja and Matt Fornataro; top defensemen Brad Flaishans and Craig Switzer; and Player of the Year goaltender Kevin Regan.
The Wildcats don't rebuild, however; they reload. So look for them to be in the mix once again.
The early spotlight will fall on junior goaltender Brian Foster, who has factored in only 10 decisions over his first two years. Hey, there's a reason why Regan earned Player of the Year honors. It's no reflection on Foster that he couldn't shoulder aside a First-Team All-American.
That said, Foster's relative inexperience makes this position the top Wildcat question mark. Freshman Matt DiGirolamo may well force coach Dick Umile into a rotation, as has been the case often at UNH, but for now the job is Foster's to lose.
"[DiGirolamo] is a real good goaltender, but the starting goaltender is going to be Brian Foster," Umile says. "He hasn't played a whole lot of games but he's played five or six each season and I think he's proven that he's going to be one of the top goaltenders [in the league].
"He's a great athlete and he's in great shape. He's anxious to prove what he can do. I believe he's going to fit in with all the great goaltenders we've had at UNH. I think he's going to be another great one."
Despite losing Flaishans and Switzer, the blue line should be solid. There's loads of experience with seniors Joe Charlebois (honored last year as the league's top defensive defenseman), Jamie Fritsch, and Kevin Kapstad along with junior Nick Krates. Within that nucleus, one or two will need to assume Flaishans and Switzer's offensive roles, but that transition seems to happen seamlessly at UNH each year.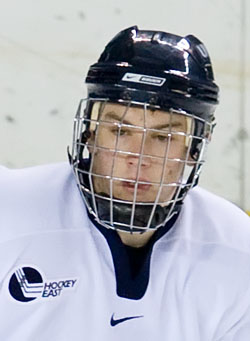 Sophomores Matt Campanale and Mike Beck, who both saw only spot duty in their inaugural years, will compete with freshmen Damon Kipp and Blake Kessel to round out the rotation. Smart money will be on Kessel, an NHL draft pick, to fill one of the two openings.
"With the three senior defensemen coming back we're going to be strong," Umile says.
Up front, there are holes to fill, but scorers seem to grow on trees in Durham. The key upperclassmen will be senior Jerry Pollastrone and junior Bobby Butler, but it's the sophomore class that is expected to take up much of the slack. Top NHL pick James vanRiemsdyk scored 34 points last year and Danny Dries added 28. Those two along with Phil DeSimone, Paul Thompson, and Mike Sislo will move into bigger roles.
"We're going to have to replace some scoring, but we have some younger players that I think can do it," Umile says. "We know what James is going to do. I'm taking about Danny Dries, Mike Sislo, and Phil DeSimone. I think they're goal scorers and I think they're going to do the job.
"Hopefully we will be a UNH team like we've been the last couple of years, [filling the net]. It's our style of play; you allow the guys to be creative. We've brought in some skilled players and they've been goal scorers so they'll get the opportunity."