There's nothing complicated about the Ferris State Bulldogs. They play hard. They win games. They have depth and good special teams. They're well coached.
It's just that a Chris Kunitz doesn't come along very often for a team like Ferris State.
At the CCHA media day this year, head coach Bob Daniels was keenly aware of the repetition of the league's annual preseason exercise. "I feel like I usually come here and say we are going to struggle to score and it will be scoring by committee," said Daniels.
The thing is, whenever Daniels speaks, he's usually right.
A Number of 'Dogs
The Bulldogs return four double-digit goal scorers this season, two juniors and two seniors: Cody Chupp, Blair Riley, Brendan Connolly and Justin Lewandowski. While it's unlikely that any one of them will put up Kunitz-like numbers this year, the four were responsible for 49 of FSU's 109 overall goals. Sophomores Mike Fillinger and Justin Menke kicked in another 14. That's a pretty good committee.
"We do return a lot of scoring," says Daniels. "Our expectations are high, [but] I think confidence will only last the first couple of games."
In other words, these 'Dogs have to do some barking early. How smart was it, then, for Daniels to schedule two home games against Canisius and two on the road against Robert Morris to begin Division I play? With the 47th-best and 57th-best defenses in the nation last year, respectively, these two teams may provide an opportunity for Ferris State to exercise those scoring muscles before heading into CCHA play.
No Coincidence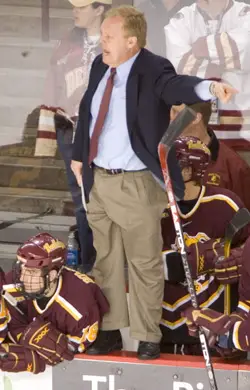 The Bulldogs landed in fifth place in the final CCHA standings last season, with a .500 record in league play and six points behind fourth-place Notre Dame, against whom they had a 2-1-1 regular-season record and one win in the best-of-three, second-round playoff series.
This was the best showing for any Ferris State squad since 2002-03, the year that Kunitz helped take the Bulldogs to the CCHA regular-season championship and the program's first-ever NCAA tournament invitation.
Not only did the 2007-08 Bulldogs score by committee, but their 2.51 goals allowed per game put them among the top 20 defensive teams in the country.
In short, FSU improved in any every last season, and there are plenty of returning Bulldogs (18) to help carry that momentum into this season. "We would like to make a push for the top four of the league," says Daniels. It's a lofty goal for a team always holding up the middle of the pack, but if any team can make the climb, it's Ferris State.
Another Interesting Number
Ewigleben Arena, the barn the Bulldogs call home, underwent a $3.3 million renovation last season in an effort to help keep up with the Joneses. The Joneses in the CCHA neighborhood are, of course, Michigan, Michigan State, Miami, and Notre Dame, teams that now seem poised to occupy the top four league spots annually, teams that have inherent recruiting advantages that the Ferris States of this world are always lacking.
The improvements to Ewigleben include new piping and cement on the ice floor, new dashers, new seamless glass panels, new lighting, and some locker-room upgrades.