What do the Buckeyes need to climb out of the CCHA cellar? Well, scoring comes to mind. And goaltending. But four games each against Michigan and Michigan State?
According to head coach John Markell, this may be the ticket. The Bucks are perennially paired with powerhouse-come-lately Miami, so Ohio State faces 12 regular-season games against three teams that could contend for a national title.
"You know, selfishly, I'm happy to be in this cluster," says Markell. "Miami has been an unbelievable rival for us. Obviously, the Big Ten with Michigan and Michigan State — we draw our largest crowds if we play them at the right time."
Ah, there's the catch. Playing Michigan and Michigan State at the right time. "Right time" means "not during football season" in Columbus speak. Well, at least the Bucks host Michigan twice in February. That should bring in more than 30 students to the Schottenstein Center. Maybe.
The Buckeyes are the poor little rich guys of the CCHA, and that's not meant as a slam. They play in a gorgeous building that's a fairly effective recruiting tool, at a school with an appealing tradition of Big Ten athletics, in a city that many incoming freshmen find enticing.
The only problem is that they play in a gorgeous big building in which they are secondary tenants at best, and which they never seem to fill. And they play at a school with a rich tradition of Big Ten football. And there are a lot of things other than hockey games to draw students on Friday and Saturday nights in a city as enticing as Columbus.
So thank the hockey gods for that heavy-handed cluster. If only the Buckeyes weren't 1-8-0 against that field in 2007-08.
Fated?
"We have aspirations of moving up," says Markell, "but we also understand that we're such a young team that we're going to have to work very hard to do so."
The OSU roster includes three seniors and two juniors. The good news for the Buckeyes is that their sophomore class looked pretty good a year ago, and their incoming freshmen class is supposed to be one of the best recruiting classes in the nation this year.
"We're looking for places for John Albert, Kyle Reed, and Peter Boyd to take care of things this year," says Markell. Reed and Boyd are the only two double-digit goal scorers returning for OSU this year, but the Bucks only had three in all with Tommy Goebel last season.
Markell says that the sophomore class "had tremendous success last year," and that they "understand the rigors of playing back-to-back games in a tough league."
Boyd, a compact, speed forward from New Brunswick, has also been named one of two co-captains for the season. Boyd had four power-play goals and four game-winners last year.
Boyd, Albert, Reed — no one in the league has even heard of these guys after Ohio State's 10th-place finish a year ago. That's kind of the way that Markell likes it.
"How many teams fly under the radar and all of the sudden they're very good?" asks Markell. "With these young kids, the expectation is for them to compete every night. Last year, we had some inconsistency with that. With consistency can come success."
Unpretty Numbers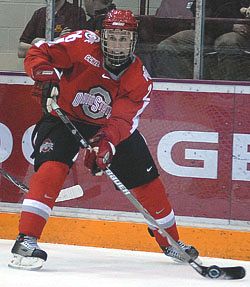 The single area where the Buckeyes need the most improvement was evident to anyone watching an OSU game last season. "An .888 save percentage is not good enough," says Markell, referring to the critical statistic of goaltender Joseph Palmer's sophomore season.
"We're just not consistent in that position," says Markell. "I'm not saying we need great goaltending, but we need consistency."
Pushing Palmer for the starting position will be sophomore Dustin Carlson and freshman Cal Heeter.
Three Not-So-Random Things
Returning to the Buckeyes this year are assistant coach Steve Brent and video coordinator JB Bittner. CCHA fans know these two players as guys with heart, and the OSU faithful know them as the two best captains in OSU hockey history.
Brent returns after two years spent running a daycare — no lie — and steps in where associate head coach Casey Jones steps out. Jones returned to his alma mater, Cornell, to assist there. Bittner returns after hanging up his skates.
Zach Pelletier also returns for Ohio State, and fortunately for Buckeye fans — not so much for opponents who like to remain intact — Pelletier returns to the ice. The senior missed all of last season after breaking his ankle and subsequent surgery in preseason. He also managed to graduate with his degree in criminology.
Brent and Bittner can only be positive additions to this Buckeye staff. Pelletier, the other Buckeye co-captain, is notable for his momentum-changing, regulation, open-ice hits.