In the span of three short years, Notre Dame head coach Jeff Jackson has taken his team from eighth place, to a regular-season CCHA championship, and back down to fourth place — with its first-ever Frozen Four appearance and a season ended only by a loss to Boston College in the title game.
The big question coming in to this season for the Fighting Irish is how the team will respond to so much change combined with success in such a short period of time.
"It's still hard to say," says Jackson. "Based on the guys I know returning, we should be okay."
Jackson is hoping that last year's trip to the Frozen Four will give his team "incentive to get back there." He admits, though, that he gets "a little nervous about them knowing that they got there and thinking it's not so difficult."
There are at least half a dozen teams in the CCHA whose coaches wish they had the same thoughts to keep them awake at night.
No Coincidence At All
The steady climb of the Irish under Jackson came as no surprise to anyone familiar with the coach's history. As an assistant at Lake Superior State, Jackson helped the Lakers earn the 1988 NCAA championship. Between 1990-96 as head coach at LSSU, Jackson coached the Lakers to two regular-season CCHA titles, four CCHA championships and two NCAA championships (1992, 1994).
Even if you didn't know Jackson's backstory, a quick look at his numbers from his brief time in South Bend tell you everything necessary to understand where Notre Dame hockey is going. Since 2005, Jackson's record is 72-42-11. In his second season behind the bench, Jackson won the Spencer Penrose Award.
He'd be the first to tell you that his assistants, Paul Pooley and Andy Slaggart, and the entire Notre Dame staff and all of his players deserve credit for this program's quick turnaround. They, in turn, would point to the main man himself.
Some Notre Dame Numbers
One of the dangers of the kind of late-season success that the Irish experienced last season is that it may soften the memory of what happened leading up to that run. Sure, Notre Dame went to the Frozen Four and beat CCHA regular-season and Mason Cup champions Michigan to get to the title game against Boston College, but before they got there they finished fourth in the CCHA.
And when they played BC, they lost — and Jackson knows exactly how they did it. "We scored only one goal against Boston College in the championship game. In that game against BC, we had chances."
Scoring was one issue for the Irish last season, who were just seventh in league play offensively. "In January and February," says Jackson, "our offensive consistency, our offensive production, our power play — those are the kinds of things that we need to continue to improve."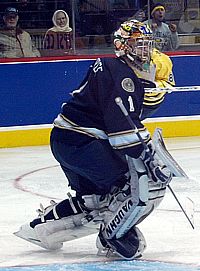 After a first half last season that saw a 17-5-0 record — including a nine-game win streak — the Irish struggled in through the second half with four-game winless stretches in January and February, and — as Jackson implies — offensive inconsistency. Points lost to Alaska, Ferris State, Ohio State, Western Michigan, all teams behind Notre Dame in the standings. WMU blanked ND 3-0.
Along with a mediocre power play, those are the kinds of numbers that the Irish wouldn't care to revisit.
Facts and Fate
Notre Dame returns 18 letterwinners from a year ago, and a veteran squad with postseason success can be a very powerful contender.
"When Erik Condra got hurt last year, some guys elevated their game to new levels and I'm really curious to see whether those guys will continue to be difference makers," says Jackson. "That's going to be huge."
Condra was ND's top scorer last season, as he was the two previous years, in spite of not playing the final six games of the campaign because of a knee injury. Condra returns healthy this year, and some of those guys that Jackson was talking about — juniors Kevin Deeth, Dan Kissel and Ryan Thang, and senior Christian Hanson — also return with their combined 51 overall goals. Add Condra's totals to sophomore Ben Ryan's, and that's 76 of ND's 136 markers from a year ago. In other words, six of Notre Dame's top seven scorers — five double-digit goal scorers — are returning.
Also returning is senior goaltender Jordan Pearce, who backstopped the Irish for 2,558 minutes with a .914 save percentage.
Those are the kinds of facts that make fate.