The decision to stay the full four years in college hockey or leave early for pro hockey has raged for years.
In the 1980s, Michigan State had a dynamic freshman named Rod Brind'Amour, who head coach Ron Mason told after that season that he was so ready for the NHL that he'd be wasting time in college. Brind'Amour hasn't looked back since.
Others have left early with the dream of NHL stardom and it hasn't worked out so well. One of the dynamic underclassmen who left early was Minnesota's Ryan Potulny, who three years later is still trying to find a permanent home in the NHL. Matt Carle of Denver was an offensive powerhouse as a defenseman and a Hobey Baker winner as a college defenseman, but after leaving school following his junior year, he has yet to prove he is a full-time top-four defenseman in the NHL.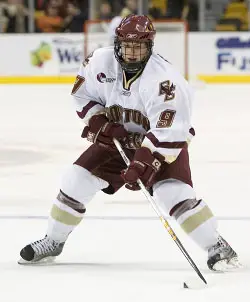 Then again, Ohio State's Ryan Kesler left after one season and had a pretty full-time stay in the NHL, playing 240 games coming into this season, his seventh in pro hockey. Buckeye teammate R.J. Umberger, who skated for the Flyers last season, left after his junior year with 129 NCAA points to his credit and has 117 points in 230 NHL games as this season starts, his sixth in the NHL.
Then you have those who do stay the full four and bypass that chance to leave after three great seasons. Miami's Ryan Jones and Nathan Davis come to mind, as do Maine's Greg Moore, Michigan's Kevin Porter (who won the Hobey Baker his senior year) and Chad Kolarik, Michigan State's David Booth, Cornell's Matt Moulson, Denver's Gabe Gauthier, BC's Brian Boyle, Michigan's T.J. Hensick, and Wisconsin goalie Brian Elliott.
The most outspoken coach on this issue for both the value of a four-year education/college degree and full development as a hockey player is Michigan coach Red Berenson. His line of "if a player is ready to leave Michigan early and go right to the NHL, I'll drive him to the airport" has been quoted many times in this column since he first told it to me six seasons ago.
Michigan is constantly under the threat of elite players leaving early, and in recent memory, star players like Jack Johnson, Andy Hilbert, Mike Cammalleri, Jeff Tambellini, Mike Komisarek, Andrew Cogliano, and Al Montoya departed early. This past summer, promising prospect Max Pacioretty turned pro after one season at Michigan to join the team that drafted him, the Montreal Canadiens. Pacioretty is nowhere near ready for the NHL, and was ready to stay another season until the Canadiens got in his ear this summer.
Hilbert is an interesting case study. He left after his second season at Michigan after racking up 97 points in those two years. Now earning a regular shift with the undertalented Islanders, he enters his eighth pro season never having played a full season in the big leagues. Seventy-nine points in 239 games is his ledger in the NHL with better success as a scorer in the AHL, which he was in college in a huge way. In the American Hockey League, he has amassed 217 points in 239 games, which is a great minor-league career. It begs the question — did he make the right decision despite such prolific numbers in the CCHA?
"I look at a guy like Hilbert and I feel he never developed after he left Michigan and he left after only two years," said Berenson as he took a break from his September duties as an invited coach at Detroit Red Wings training camp. "Jack Johnson was on the border but I had no qualms with him leaving. I wish Jeff Tambellini had stayed; his senior year would have been great for him. The one guy I was wrong on was Andy Cogliano. I didn't think after two years he was ready for the NHL, but he has been great in Edmonton."
Two of this season's great seniors would have been Justin Abdelkader of Michigan State and Nathan Gerbe of Boston College, and I'll throw in a third in Blake Wheeler of Minnesota. Wheeler was a top draft choice of Phoenix and had a very good career at Minnesota but a senior year would have done him wonders, especially in the WCHA which is generally top to bottom the nation's best conference and certainly its most offensively freewheeling.
Gerbe had been to three Frozen Fours, won one of them, and put on an eight-point show in two games last season in Denver in leading BC to a title. The 5'6″ forward is dynamic and a case can be made that he might just make the offensively-challenged Sabres this season.
"The AHL says they can develop players faster," said Berenson. "However, how many of these kids to you see leave early and then just hit a wall in their first pro season? They lose confidence and they stop developing. In college maturity and leadership get developed over the course of four years and players leave college hockey ready for the pro ranks and have a degree to fall back on."
Last season, it was clear Michigan State had a problem with its focus on a nightly basis because it had many kids who were underclassmen that had been drafted and were being talked about as early departures. Abdelkader led a list that included Tim Kennedy, Tim Crowder, and Mike Ratchuk. Only Crowder is back.
At one point late last season, Spartans head coach Rick Comley, who handled this situation as well as any coach I've seen, made the statement regarding Abdelkader that he trusted the Red Wings (Abdelkader's draft team) decisions but felt if they were going to send him to Grand Rapids this season they'd be better off letting him stay in college for one more season for exactly the reasons Berenson has stated.
Abdelkader, a Michigan native, cited the fact it was the Red Wings, a hometown team where he could be close to home and his friends at Michigan State and decided to turn pro. He did so looking at a roster that boasted 12 forwards who as a group were as good as any that has won a Cup since Denis Potvin lifted it in 1980. He mentioned in a conversation during Wings camp that if it was any other team that held his draft rights, he might have gone back for his senior season.
"He is by far one of the best kids I ever coached and losing him leaves a huge hole here," said Comley. "He'll be a Wing one day, no doubt."
A dynamic player, Abdelkader is underrated offensively despite good numbers. However, what stands out to anyone who watches him, especially Wings Director of Player development Jiri Fischer, is his competitiveness, his physical play, and his ability to play in his own end.
"He was one of the first players I saw when I was hired here and when I watched him and talked to him, his maturity just stood out," said Fischer as we watched Abdelkader center a line with longtime Red Wing Darren McCarty in training camp. "I'm glad he made the jump to pro hockey; it will be good for his career long-term, but what impresses me is that he spent the summer at MSU training and taking classes to finish his degree. How can you not be impressed with a kid like that?"
Berenson was impressed with Abdelkader in training camp. Joking with him during practice, he said to his former rival, "You look great in red (as in a Red Wings sweater), but you looked pretty good in (Michigan State) green also."
"His offensive skills as a scorer have yet to be determined at this level," said Berenson. He might not develop as a scorer, but maybe he will. Most folks around here see him as a third-liner who can score but he has to show more. Once again, it comes down to, was the kid NHL-ready when he left? Kevin Porter was after his senior year but not after his junior year and look at the difference."
Another impressive kid in that situation was BU standout defenseman Matt Gilroy. Gilroy was a classic late bloomer who all of a sudden became a star at BU. After his junior season, many NHL organizations were around him a lot and there was no shortage of NHL GMs trying to get him under contract. A native Long Islander, Gilroy turned everyone down and it was at Michigan in October last season that he talked to me about why.
"I'm not ready — why would I leave BU?" asked Gilroy in the bowels of Yost Arena. "I have a lot to learn, I still want to get better, and I like playing college hockey. I'm not in a rush."
Now the captain as a senior at BU, he returns with six other seniors to a formidable Terriers lineup. Being in the scouting community, I can you assure that Gilroy is being watched closely and that there are two or three NHL teams ready with offers when he peels off his Terrier sweater for the last time this season.
Another Hockey East star, goalie Jimmy Howard, was in the same predicament after his junior season and like Abdelkader, he chose to leave early. Their careers were not that different, as Howard was the marquee player at Maine as they came within a disputed goal of winning a national title. Howard was as good if not better than any goalie his junior season, and was in the unique position of being on a team that won a lot of games 1-0 and 2-1. Having shouldered that burden all the way to a date in the national title game against Denver, Howard talked to his coaches and signed with Detroit. In camp with Abdelkader, he discussed that decision in a positive light.
"My family always told me to make a decision and never look back and that's what I did when I turned pro," said Howard. "My feeling was it was time to go, and after talking to assistant coach Grant Standbrook (now retired), he felt the same way, that I was ready for pro hockey."
Howard has been in an organization that has seen a lot of talented players come through its system and talked about the players he faces this season in training camp.
"It has been easy to develop in this organization. The goalie coach is great, and with the talent they have here, practices are harder than some games I have played in," said Howard. Howard hadn't seen much of Abdelkader in college as their tenures bypassed each other, but he remarked about Abdelkader that you could never tell he was a rookie because of his composure and his skill level.
"He reminds me of Greg Moore," said Howard of his teammate at Maine, now a top prospect in the Rangers system. "He's big and strong, works his (butt) off, and is smart. He also can score but he is such a physical presence."
A detailed case study of the effects of staying four years on a pro career probably would leave you somewhat undecided on who is right. Several good players stayed four years and still are not seeing NHL success, while some are. The same can be said for the early departures.
What the risk of early-flight players might start to do is change the way the coaches recruit kids and spend their scholarship money. It has crept into the mind of Berenson and his staff at Michigan.
"I hate to have to recruit that way, but I can see us passing up the high-end kid who we know will leave early," said Berenson, who faces the same problem that schools like Minnesota, North Dakota, and Boston College face on a yearly basis. "We're aiming at that high-end kid who seems more grounded, who wants to stay four years and get his education and play college hockey for all the reasons you should want to play college hockey.
"There are kids who have turned pro that I never dreamed would do that. You can't predict these things but we're looking at things a little different."