Michigan defenseman Steve Kampfer, who was injured early Sunday morning in Ann Arbor, Mich., in an apparent assault, suffered serious injuries that will keep him off the ice for an extended period, multiple sources report.
For Kampfer, 20, from Jackson, Mich., the season could be in jeopardy.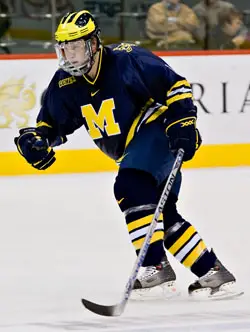 As of Wednesday, the junior was "recovering and resting as best as he can" at home after suffering a skull and neck fracture, his mother, Karyn Kampfer, told the Ann Arbor News.
"The dust hasn't settled on the injury yet, so we don't know how much time will be needed. He's extremely upset," Karyn Kampfer said.
Michigan football player Mike Milano is a suspect in the assault, and has been suspended indefinitely by the football team, but has not been arrested and no charges have yet been filed. According to eyewitnesses and police reports, Kampfer was "bodyslammed" to the ground, and was found unconscious by police arriving at the scene.
Kampfer was taken to University Hospital after the incident.
The police report, which identified neither Kampfer nor Milano by name due to the department's policy on continuing investigations, did name the alleged attacker as a 22-year-old male from Ohio, matching Milano's age and home state. Milano is a former wrestler and a walk-on with the Wolverine football team.
Reasons for the altercation are not known, although eyewitnesses indicated that words passed between Kampfer and a friend and three males, one of whom is believed to be Milano, before the assault.
"I can't tell you that [Kampfer] did anything bad," Michigan hockey head coach Red Berenson was quoted in the Michigan Daily. "He just was a victim."