Near the midway point of the 2007-2008 season, the Denver Pioneers traveled to St. Cloud for a pair of games. The Pioneers won the first game by a close 3-2 score. Saturday night looked to be different, and the Huskies held a 2-0 lead late in the game.
However, Rhett Rakhshani was not willing to let Denver lose. Rakhshani, who had just been named to the U.S. National Junior Team, scored three goals in a little over six minutes to pace the Pioneers to a 3-2 victory.
It's the type of offensive play Pioneers' coach George Gwozdecky has come to expect from Rakhshani, who was named assistant captain for the 2008-2009 season.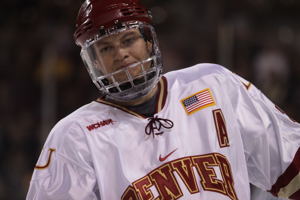 "He has extremely quick hands, he's a terrific playmaker," said Gwozdecky of the junior-year forward. "He's able to beat people one-on-one. He's a very gifted offensive player, and he has really developed an overall game, because we can lean on him and depend on him to play in a lot of defensive situations as well."
Echoed linemate and roommate Tyler Ruegsegger, who joined Rakhshani on the World Junior team last year, "He can score goals, he can make plays, and he knows where to go and where to be on the ice. He's a very well-rounded player. I think we see the ice very similarly. We both like to move the puck, whether it's offensively in the zone or coming out of the zone, we tend to have the same ideas as far as where to go, where to put the puck, and I think you see that in some of our plays, and some of the goals we've been a part of. It's a lot of puck movement, and when you're with a teammate or linemate who sees the ice similarly, it makes the game a lot easier."
Rakhshani, a fourth-round pick of the New York Islanders in the 2006 NHL draft, came to college hockey in a different way than many of his teammates. Growing up in Huntington Beach, Calif., hockey certainly wasn't the in-sport, nor a likely one at the time. Rakhshani was on skates at an early age, like many of his peers. However, he was on Rollerblades instead of ice skates.
"My parents started Rollerblading at the beach with some family members. The pastor of our church would go down there and they were good friends with him so they started to go Rollerblading with him. From there, we met some local neighborhood kids that were playing street hockey at the local elementary school so we hung out with them, and they got me skates and we started playing street hockey, ball hockey, and they finally got into pucks, and it kind of snowballed from there. Our whole family would play outdoor hockey, and from there I wanted to play inline, indoor, more organized hockey, and them from there I started playing club roller hockey, then travel roller hockey, then finally I got into travel ice hockey."
Rakhshani didn't start on ice until he was nine, and laughs recalling his first time at an ice clinic, which proved a somewhat rocky transition from Rollerblading.
"I started doing this little clinic called Mite Night. The coach, the first night I got out there, he saw me stickhandling and thought I was going to be good, and he said, Oh, real quick, just go stop at the wall, and I went to stop, and he thought I was going to be with the kids working on hands, and he said, Oh no no, we have to send you to the stopping (laughs). The stopping took a little bit of time, but once I got used to it, it was a pretty easy transition."
By high school Rakhshani knew he needed to leave California to pursue a college hockey career. Luckily, an opportunity arose to play for the U.S. National Development Team in Ann Arbor, where he spent two seasons.
Besides Denver, Rakhshani looked at Wisconsin and Colorado College. He knew he wanted to play in the WCHA. "I talked to Michigan, Michigan State a little bit, just because we were right there in Ann Arbor for the National Development Team. Some teams from back East talked to me, but I normally told them I wanted to play in the WCHA because I thought it was one of the top leagues and it was closer to home, so once I kind of narrowed it down to that, I was talking to Wisconsin, Colorado College and Denver, but Denver was always the leader to me. Because of the coaching, I always felt most comfortable here on campus. The style of game that the team played was the best fit for me, and closest to home for me. Everything was just perfect."
Rakhshani came to Denver as part of a large freshman class that was immediately called upon to produce, especially in the wake of the early departures of Paul Stastny and Matt Carle. Rakhshani, like his roommate Ruegsegger, answered the call, racking up 10 goals and 26 assists in his rookie season. He followed that with a 28 point sophomore season and led the team in power-play goals.
"He came from a program that really develops players," said Gwozdecky. "The United States National Development Program, they do a great job of developing players. They have a very, very competitive schedule. They play against colleges, so he was well-prepared to come in and play and we were hoping he would be an impact player coming in as a freshman and he was."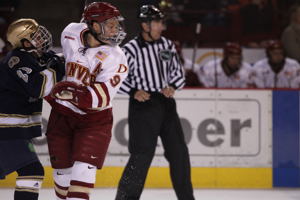 For Rakhshani, the biggest adjustment wasn't hockey, but time management.
"I did play a college schedule in my under-18 year with the U.S. Team, so I had played at that level and at that speed, so that wasn't as big an adjustment as it was going to school, college atmosphere, socially, stuff like that, trying to manage school and homework and road trips and things such as that, helped me to improve, get to bed earlier and get things done quicker."
One of the highlights of his first two years in college was when he and Ruegsegger were named to the U.S. World Junior team last season.
"When coach announced in the locker room that we got picked for the team, it was a pretty special day. It's just cool representing your country and being able to wear the red, white and blue and play against different countries and hear the national anthem after you win your game is pretty special, and to have one of my best friends there with me at the same time, coming from the same school, was really cool."
For his part, Ruegsegger agrees, saying that playing with one of his best friends on such a big stage was something to remember. "That was a wonderful experience. Obviously we're teammates here, we're roommates here, and having the opportunity to play with Rhett on the World Junior team on the same line was something that was very special. Obviously we love playing together and we feel that we have good chemistry together, but just to be out there with him representing your country was very special."
In the offseason, Rakhshani, who is slight of frame, worked on getting stronger, spending four weeks on strength conditioning with Mike Sanders, the Pioneers' strength and conditioning coach. "I feel a lot stronger in my new big frame," he laughs self-deprecatingly. "I'm looking to improve from last year, and consistency is a big one for me. After Worlds, I had a bit of a lull, and just staying physically and emotionally on top of my game is really important for me this year.
As good as last season was, for Rakhshani and his teammates, it ended on a sour note. After winning the Broadmoor Trophy, the Pioneers lost to Wisconsin in the first round of the NCAA tournament. While they want to get back, for now, they are concentrating on becoming a team.
"There's new faces, it's a completely new offense, a new culture, different leaders, different people stepping up, and you just want to gel and find what type of mold that your team's going to have with each other," said Rakhshani.
With the early departure of Chris Butler for the NHL, Rakhshani assumed more of a leadership role, joining Ruegsegger as an assistant captain.
"Obviously anytime you step into a leadership role there's a little bit of a transition, but I think he's done a great job," said Ruegsegger. "He's really been great with the freshmen, the upperclassmen as well, and he's a great leader on and off the ice."
Even without the 'A' on his jersey however, Rakhshani was already becoming more of a leader in the locker room.
"We at Denver, everyone has an opportunity to stand up," said Rakhshani. "Just because you have an 'A' or a 'C' on your jersey doesn't mean that you're the only one allowed to say stuff in the locker room. I'm excited and it's an honor to have that letter. Just helping out some of the younger guys, and it's just something that whether I have a letter on my jersey or not, that's something I do, reaching out and helping them transition."
Being drafted by an NHL team is not something that many California kids experience, and Rakhshani is excited about the possibility of playing for the Islanders down the line. Though more and more college players seem to leave early for the NHL, at this point Rakhshani says he has no plans beyond playing for Denver.
"As far as right now, they (the Islanders) like where I'm at in my development, and they've been very, very professional with me in my development. Basically where they're at with me now is they want to see me continue to improve, get stronger, and become more of a man. They communicate with me and help me out in any way the can, but they like where I'm at."