It was only fitting that the 2008 U.S. Hockey Hall of Fame induction ceremony was held in Magness Arena. The University of Denver's home ice was converted into a formal banquet hall on Friday, October 10, to honor four of the greatest players in the history of U.S. hockey: Cammi Granato, Brett Hull, Brian Leetch and Mike Richter.
Granato, of course, is known for her help in growing the women's game from its nascent beginnings to its current status as one of the more popular team sports for girls. Along the way, she helped the U.S. Women's National Team to a gold and silver medal in the 1998 and 2002 Olympics, serving as captain for those teams.
Hull, Leetch and Richter all set records for U.S. players in the NHL. Together, they helped the U.S. team win the inaugural World Cup of Hockey in 1996. Leetch and Richter played together for the New York Rangers, and the two played a key role in getting the Rangers their first Stanley Cup since 1940 in 1994. Hull ranks third overall in goal-scoring in NHL history.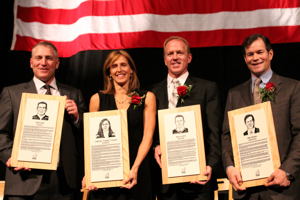 For all their records, not many people know that all four of these legends played collegiate hockey. Granato played at Providence, Hull at Minnesota-Duluth, Leetch at Boston College, and Richter at Wisconsin. All believe that the college game was important in their development as players.
"I was drafted coming out of high school and physically and (maturity) I wasn't ready to take that step," said Leetch, who played one year for Boston College in 1986-87.
"Playing with bigger kids, seniors, at the college level, I gained some confidence. By the time I made it through that freshman year, I felt I was at least ready to compete on an international stage, trying out for the Olympic team in '88, and then traveling with that team for a whole year we got to play against some pro teams and all the college teams, and I felt ready to take that next jump."
Richter, for one, would encourage his kids to look at the college game, and has long proselytized the benefits of college hockey to kids in youth hockey leagues around the country.
Said Richter, "I used to talk to kids with the Denver Rangers when I was here, and they would say, 'Well, why did you go to college?' and I would say, 'Well let's think about this. I got a free education. There's 45,000 kids my own age there, it's one of the best state universities you can have, it's beautiful, you're the only game in town; as far as pro hockey goes, you're it, and there's no reason you wouldn't want to do it. And you can develop and play in the pros, you know, players like Tony Granato and Dany Heatley.'
"You're not just getting good players that fill middle ground in the NHL, you're getting elite players coming out of there too. And you have your options open. I feel very strongly that if my son were to be able to play in the NHL, you take the opportunity that's given to you; when that window's open, you take it, but getting there I would certainly encourage him to look at college.
"U.S. Hockey, you have the best of both worlds. You don't know you're going to make it until you make it. So I think you can play at the top, top level, for your age, in college, and still be getting a degree so if you break your leg, God forbid, or don't make it, you've set yourself up for the rest of your life in terms of getting a degree, or at least setting yourself up to get a diploma, but you've also had that incredible social experience of being in a college."
Speaking about the preponderance of Canadians on NCAA women's teams, Granato stated that for women, the NCAA provides the pinnacle of hockey.
"It shows that it is the best league to go to for that age group; there's no doubt about it," said Granato. "The college experience can't be beat, and the men do it as well, they come down from Canada, and some come down from Europe, so it's much the same for women's hockey. I think it speaks volumes about how competitive it is in college hockey."
During the dinner, in an honor that would have been unimaginable back when the U.S. beat Russia in Lake Placid — still the event most non-hockey fans associate with hockey — USA Hockey presented the Wayne Gretzky International Award to Anatoly Tarasov. Tarasov's grandson Alexey received the award on behalf of his late grandfather.
USA Hockey states, "The (Gretzky) award, established by the U.S. Hockey Hall of Fame in 1999 and first presented to its namesake, pays tribute to international individuals who have made major contributions to the growth and advancement of hockey in the United States."
Said Alexey, "My family is waiting for me to bring this award home to Moscow. We are thankful for the recognition of my grandfather."
Tarasov revolutionized the international game, emphasizing skating and passing, and made his players participate in rigorous dryland training to build their strength and stamina. Tarasov coached the Soviet National Team to three gold medals at the Olympics in 1964, 1968 and 1972.
All four honorees gave short speeches, paying tribute to their coaches and families, and discussing the role hockey has played in their lives.
"It's very special to be the first woman," said Granato. "I think it shows just how far women's hockey has come and where it's at, and it's opening the door for other great women players to be inducted. It was really different growing up, playing hockey in the '70s and '80s, than it is now for my nieces who play. There's a path for them. For me growing up, the path wasn't there, but it didn't stop me."
Hull paid tribute to the growth of the U.S. game and the role USA Hockey has taken in promoting the game in areas where it previously wasn't popular, mentioning specifics about the astounding growth in the Dallas area since the Stars came to town.
And Hull, ever the joker, garnered the biggest laughs of the night while addressing the rumors of badly-behaved U.S. players at the 1998 Olympics.
"To lighten up things a little bit, and I know the guys have been sitting on this for a long time, and we've been catching a lot of heat on this for a long time," said Hull. "A lot of the stories came out from the Olympics in Nagano, and I can't hold it in anymore. I can't hide the truth anymore. I've got to tell you what happened; it was the girls' team that did it all, and we've been covering for them ever since."
Sitting on the stage listening, Granato laughed.
Speaking about the college game, Leetch addressed the members of the Denver Pioneers and Notre Dame Fighting Irish, who were playing the next night in the U.S. Hockey Hall of Fame game, won by Denver 5-2. Leetch talked about how much better the college game is now than when he playing.
"I spent one year in college, still one of the best years of my life," said Leetch. "I've got lifelong friends from that year. I can tell you, you guys are better coached, in better shape, have better facilities, and are playing against better competition now in college hockey than when I played, than when Mike and Brett played, and you're better prepared for your future, if that's in hockey, if that's in academics.
"There's a lot more attention to detail, and you're pretty well taken care of in your nutrition and your training, and you listen to your coaches, and the biggest thing now is, like Brett says, to enjoy it."
Richter talked about how much he got to learn from playing hockey, and how his experiences with the National Team gave him opportunities his classmates may not have had.
"I recall my sophomore year at Wisconsin, sheepishly asking my professor from my European History class, would it be OK if I miss another month of school to play on the World Championship Junior team. Without hesitation, he said, 'Yes. It will be the finest history lesson you can get. You'll never forget this experience.' His words held true for that trip and many others to follow."
Perhaps what was most evident during the weekend is how much the four respected each other and looked up to each other as players.
While discussing playing with Hull and Richter on the 1996 team, Leetch said, "I feel that Cammi was a part of all those years too, because Tony Granato played with us in '88, and then starred on the Rangers, and Cammi was right there at all our games and felt like part of the team, and then I followed her when she was at Providence. To have us all together makes for a fun weekend."
More photos from the ceremony.