For the Harvard Crimson women's hockey team, the 2007-2008 season had its share of ups and downs. The team was ranked number one in the country for most of the year, went undefeated in conference play, and had only one loss all during the regular season.
Come playoff time however, the Crimson fell once again to a WCHA team in the NCAA semifinals, losing 4-1 to Wisconsin.
"I think we tried to move on pretty quickly from last year because there are definitely a lot of things we learned from how it ended," said Crimson captain Sarah Vaillancourt. "Those were things that were more on the mental preparation side of things. Everyone on our team is currently reading things specifically on hockey mental preparation which I think is kind of helpful for some of our players and I think is something that will help us down the road."
This year's Crimson squad has been looking to regain their old swagger. Through the first six games of the season, the team has already equaled last year's number of losses, with a 1-1 tie against Rensselaer thrown in for good measure.
"You come to Harvard, you've got an 'X' on your back," said Crimson coach Katey Stone. "We welcome that; it's OK. We know and expect that teams are going to play their best against us and that's our charge as coaches, to make sure our athletes are ready to play their best no matter who they play and when they play."
Traditionally, Harvard has been THE power in the east, and the proving ground for many of Team USA's players, including stalwarts Julie Chu, Caitlin Cahow and Angela Ruggiero. Many top players for Team Canada have played for the Crimson as well, including Jennifer Botterill and Vaillancourt. In fact, Vaillancourt and Chu, while playing against each other in international competition, played for three years on the same line at Harvard.
"When we were actually playing together and playing against each other that was really weird, not only that we were on the same team, but that we played on the same line for three years together," said Vaillancourt. "It was definitely weird to play against her. She's a great teammate and a great person and always great to have on our side, but that's how hockey works, and same thing with Caitlin Cahow that I played with for three years and was playing against for a few years. That's hockey; that's how it is. You play with your friends and you play against them. I have friends on almost every other team in the college leagues, so I'm kind of used to it but it makes it funny sometimes."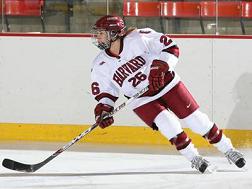 This continued success makes it a little easier for the Crimson to recruit top players, despite the rigorous academic standards. For Stone, who coached Team USA to victory in the 2008 Four Nations Cup, the ability to develop top players at Harvard is a point of pride.
"As far as developing players, I think our success speaks for itself and it's something you hope you don't have to tell people about because we consider ourselves very humble here, but if people really look into what we've done, not just in competing for national championships but getting players ready for the next level, we've certainly done a real good job there," said Stone.
As the usual power, Harvard can't afford to have a night off; every team brings their best effort against the Crimson, and as the women's game becomes more competitive, it becomes harder for some of the traditional powers to dominate the way they used to.
"Every year, there's more and more parity," said Stone. "There's more good players to choose from, to roster in at many of these schools and with good coaches you're going to see better teams fielded, and that's exactly what we want. You don't want to play blowouts. If you're a competitive kid and competitive coach, you don't want to go into a game thinking it's ours, the outcome's decided. You want to be in a position where you have to go out and win every game."
Despite being one of three co-captains, along with Jenny Brine and Kirsten Kester, Vaillancourt doesn't feel her role has changed much on the team.
"I had a lot of responsibility right from my freshman year, being on the power play and being on the first line with Julie Chu," said Vaillancourt. "I think I'm doing the things that I've been doing and leading the team on and off the ice, but definitely something that I have worked on is my emotional control, because I get really intense and sometimes the things that I say don't always come out right (laughs)."
One of the things the Crimson plan to re-focus on is defense; they also plan to strengthen their special teams play, which has been slow to get going this season.
"We've always had a great power play unit, great PK unit and that's something that hasn't really worked yet for us, but I know that we will get that back," said Vaillancourt. "We have to be realistic; other teams have played, 10, even 12-14 games, and we've only played six. We just need to take them one game at a time.
Since the inception of the NCAA women's title in 2001 (prior to that, it was the American Women's College Hockey Alliance), a WCHA team has won the championship every year. For three straight seasons, from 2003-2005, the Crimson lost in the title game, including a heartbreaking double-overtime loss to Minnesota Duluth in 2003. That intense competition during the year between the top WCHA programs helps during the playoffs. Despite the slower start this year, Vaillancourt believes that it will help the team down the line.
"Every time we play teams, you see how teams hate us, and I think that's what makes us better," said Vaillancourt. "We only had two losses last year and I think this weekend was a great wake-up call for us and I think it's going to make us better. We definitely had a few games last year where we had luck on our side; I'm not going to lie. I think this year won't be like that.
"We were number one for most of last year, but it doesn't really matter, the number one ranking during the season, if you're not able to end number one. I think not losing a game during the season didn't really challenge us. I think that's one of the reasons why when we were losing to Wisconsin we weren't able to come back, because we were just so surprised to play against a team that was actually coming back to us and (we were) trailing in that game. I think the more challenging season will make it better for us down the road."