Happy New Year!
It's 2009 and time for resolutions. Ask any CHA coach, though, and their obvious answer to be successful this year is to get as many wins as possible, win the CHA tournament and get into the NCAA round of 16.
For one team, that will be the case. But as to which one, well, that'll be determined in two short months' time up in Bemidji.
During last weekend's B2 Network feed of the Bemidji State-North Dakota games, it was reported that the CHA will in fact continue on in its current format next season, but then disband for the 2010-2011 season with two teams (probably Niagara and Robert Morris) joining Atlantic Hockey.
Bemidji State should have a pretty good idea on its WCHA wishes by the Jan. 19 expansion vote, so that leaves just Alabama-Huntsville without a potential home.
CCHA? Is that you? CCHA? Is that you looking to help out a successful program?
Why one more year, though? This writer would bet it's due to schedules being made and agreed upon years ahead of time. Makes sense, right?
All this "new" news aside, it's really nothing new.
Perhaps 2009 will shed a glimmer of light to these rumors that come about, oh, once a day or so in the CHA fraternity.
Bemidji State Hangs Tight With North Dakota
There are no points for moral victories and, like the late, great Gorilla Monsoon used to say, close only counts in horseshoes and hand grenades.
Still, Bemidji State proved last weekend that perhaps their niche is in the WCHA as they dropped two one-goal games to North Dakota in a stellar home-and-home set.
The Beavers got a goal and an assist from Matt Read and Tyler Scofield and goaltender Matt Dalton made a career-high 36 saves Friday, but North Dakota was too much in the final two periods, stealing a 4-3 victory in front of a capacity crowd at the John Glas Fieldhouse.
Ryan Cramer also scored for BSU.
"That was a heck of a game," said Bemidji State coach Tom Serratore in the Bemidji Pioneer. "Minus an Oshie or a Parise, they are as good as any team UND has had the last few years. I am proud of our guys and they way they hung in there until the end. They gave themselves a chance to win. We got solid goaltending and stayed in the hunt until the end. Against a team like UND, that says a lot."
Saturday night in North Dakota, Scofield's goal at 10:44 of the third period sent the game to overtime, only to see Brett Hextall net the game-winner 31 ticks into the extra frame on a power play for a 4-3 win.
Brad Hunt and Matt Francis staked BSU to an early 2-0 lead 5:07 into the first period.
Read added two helpers for the Beavers, while Orlando Alamano, playing his first game since Oct. 25, stopped 36 shots in a losing cause.
"I don't know what to say right now … it's a devastating loss," Serratore said in the Pioneer. "We played a wonderful third period and fought our way back into the game. It was a very hard way to lose.
"I'm very proud of the way the guys played. What else can I say?"
NU Sweeps Aside Sacred Heart
Niagara christened 2009 with a pair of convincing wins at Sacred Heart over the weekend.
Friday night, Vince Rocco and Chris Moran tallied the game's only goals and Juliano Pagliero made 29 shots to extend his shutout streak to 152:04 as the Purple Eagles rolled to a 2-0 win.
"It was a very good road effort from our club tonight," NU head coach Dave Burkholder said. "Pagliero made several quality saves to keep us in the lead."
"I was pleased with my effort tonight," Pagliero said. "Our play has been special as of late and it says a lot about our team."
Saturday night, two Niagara seniors hit career milestones as the Purple Eagles came from behind and defeated the Pioneers, 4-2, for their seventh win in eight games.
Rocco became the newest member of the Niagara 100-point club, while Pagliero broke Jeff Van Nynatten's consecutive shutout streak (164:15, Feb. 2004) in the victory.
Rocco's 100th point came on his 39th career goal, a tally that started the scoring late in the first period. He also added an assist on Moran's goal.
Bryan Haczyk and Paul Zanette, also with an assist, completed the scoring for NU and Pagliero finished with 27 saves.
David Ross added two assists for the Purple Eagles as well.
"We are really proud of the effort," Burkholder said. "Our boys persevered, coming back from a 2-1 deficit. It was a complete team effort, since sweeping a team on the road is a difficult task."
RMU Tops, Ties American International
After being off nearly three weeks, Robert Morris showed little rust in taking three points from American International at home last weekend.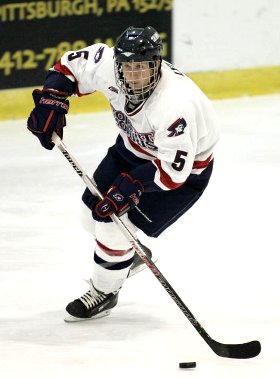 The Colonials bagged a 5-2 win Saturday night, but had to settle on a 1-1 stalemate Sunday afternoon.
Cody Crichton and James Lyle (two assists) each netted their first collegiate goals in the first game to go along with tallies from Denny Urban, Chris Margott and Scott Kobialko.
Wes Russell made 30 saves and the Colonials went 2-for-4 on the power play — their best effort this year.
"Sometimes we can get a little too cute, so we took a little of that cuteness out of (the power play) and made it a bit more disciplined," RMU head coach Derek Schooley told USCHO after the game.
On Sunday afternoon, Kobialko scored a power-play goal early in the third period and Russell made 27 saves in goal.
"It was good to get back playing games," said Schooley. "We got excellent goaltending from Wes Russell and got to shake the rust off before we head into CHA play. I was very pleased with the seven defensemen that played. We have 17 games left with 14 in CHA play, so it was good to see what we need to improve on as we head into the second half of our schedule. We need to keep improving every day."
Up next: Alabama-Huntsville.
"Danton Cole prides his team on playing with passion and a top-notch work ethic," added Schooley. "They are getting better every week and have a good goalie tandem in (Cameron) Talbot and (Blake) MacNicol. All-CHA defensemen (Scott) Kalinchuk and (Brandon) Roshko headline a good defensive corps. Cody Campbell and other young forwards like (Andrew) Coburn and (Joey) Koudys will make this a tough weekend on our team defense."
New Recruits Keep Rolling In
Even with the league uncertainty, recruits keep choosing CHA schools to further their hockey and academic careers.
Since this column last ran, Alabama-Huntsville, Bemidji State and Niagara have reportedly received verbal commitments for next season and beyond.
The Chargers have nods from brothers Sebastian and Brice Geoffrion, Nashville-area natives and grandsons of late NHL Hall of Famer Bernie "Boom Boom" Geoffrion.
Sebastian began the year with the Lincoln Stars of the United States Hockey League, but was traded to the Indiana Ice last month. Brice, a 2010 commitment, is currently at Culver Military Academy in Indiana, where Sebastian had been previously as well.
Both are forwards and, along with their grandfather, have older brother Blake playing his junior season with Wisconsin this year.
Another forward, David Way, will wind up in the Rocket City in 2010 after finishing up with the Alberta Junior Hockey League's Sherwood Park Crusaders.
Way has 10 goals and 33 points through 44 games this season.
Bemidji State is getting a player with a name made for headlines: Brady Wacker.
Wacker, a smallish defenseman (5-foot-7, 155 pounds) with the Humboldt Broncos of the Saskatchewan Junior Hockey League, is a 20-year-old skater who was the SJHL's Defenseman of the Month for November and December. He also leads the entire SJHL in scoring with 12 goals and 49 assists for 61 points.
Last season, Wacker had 11 goals and 25 assists in 52 games and as a rookie, the former forward had eight goals and 20 apples in 55 games.
Defenders Jason Beattie and Tyler Matthews are the latest Niagara recruits and both are Niagara-area natives playing juniors in western Canada.
Beattie, a Toronto native and member of the Salmon Arm Silverbacks of the British Columbia Hockey League, is 6-foot-3 and 212 pounds. Matthews isn't as big (5-foot-11, 190 pounds), but comes with rave reviews from his head coach with the AJHL's Okotoks Oilers and is also a Buffalo native.
"Tyler is a very complete team player who excelled in every area on the ice," Okotoks coach-GM Dan McDonald said. "His ability to move the puck is a tremendous asset."
Notable Quotable I
"I'm getting tired of going through the postgame line and hearing, 'Good game, coach. You outplayed us.' I'd almost rather play a little worse and get some wins." — UAH head coach Danton Cole, to the Huntsville Times
Notable Quotable II
"It's seven of our last eight, all of a sudden. I can't ask for much more out of that out of these kids. They haven't had many games, but they still work every day in practice." — NU head coach Dave Burkholder, to the Niagara Gazette, of his team's response to a 2-5-1 stretch to open the season