Happy New Year!
Most of the players and coaches return to the ice this weekend with resolutions they intend to keep in the second half of the season. For some — who have already played in a holiday tournament or non-league game — there has been an opportunity to work off the rust that the semester break brings, while for others the kick-off of league play this weekend brings the challenge of ramping the level of play up quickly.
So far I have been true to my New Year's resolution that actually started back at the beginning of the season in dropping 20 pounds with the hope of losing another 10-to-20 — no easy task but I am committed. This week I will dedicate my column to team-by-team resolutions that, if kept, will lead to a successful second half of the season.
ECAC East
Babson — A slow start by the Beavers finds them with a 3-5-1 mark overall and just 2-3-0 in the conference. Offense has to be the resolution moving forward as Babson has scored just 26 goals in their first nine games and key players such as Brad Baldelli, JT Balben, and Shane Farrell are all sitting on five point totals entering the second half. Add in some improved numbers from Skylar Nipps in goal (who will be looking to improve on his .887 save percentage) and move it towards his career average of .901 and Babson should find themselves competing at the top of the standings where everyone predicted they would be when the season began.
Castleton — "Our resolution is to be consistent," said head coach Alex Todd. "We have made a commitment to each other to be consistent in our effort and our approach to the game in the second half of the season."
The second unit on the power play would be a big key to driving some more offense so look for contributions from forwards Kirk Bolduc and Ryan Bartlett. Don't need much more resolve on the back end than is currently provided by freshman Seth McNary who in his first three games has a sick 0.61 goals against average (GAA) and .971 save percentage. McNary is big and quick and if he can stay consistent, the Spartans can make another late run like last season that earned them the three seed in the conference tournament.
UMass-Boston — The Beacons are in uncharted waters holding a winning record overall at the break and despite losing their title at the Codfish Bowl over the holidays have a lot to look forward to in the second half. Kris Kransky and Eric Tufman lead the team in scoring along with defensive support from Brett Calhoun. The Beacons will need to be better on the penalty kill if they want to make some noise in the conference. Opponents are clicking at better than 22% with the man advantage so look for UMass-Boston to tighten things up on the PK. A big part of that will be Ryan Donovan posting goaltending stats that have earned him past all-league recognition.
New England College — Coach Tom Carroll might want to resolve to learn some Swedish in the New Year as the Pilgrims have a definite Scandinavian component to the roster that may have the most variety in background in the league. At 7-2-0, NEC is off to a great start and a key will be to continue with the strong special teams play that has been evident in the first nine games.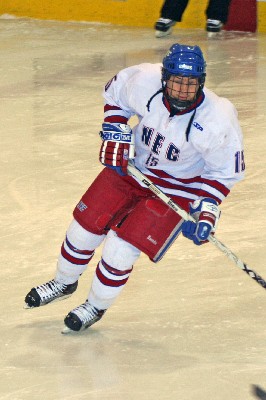 The power play is scoring at almost 24% while the penalty kill unit holds opponents to less than 9% efficiency — a good combination for winning hockey games. Strong leadership has come from juniors Trevor Turner and Mark Ehl and goaltender Aaron Harvey has demonstrated his ability to be a number one netminder in starting all nine games and posting a 1.45 GAA and .942 save pct.
Winning the Middlebury Holiday Classic got NEC off to a good start in the new year. Look for the momentum to continue in league play this month.
Norwich — "I am really happy with our defense," head coach Mike McShane said. "If we can continue to play well back there with the four new guys we will be OK if we get a little more scoring from the guys up front."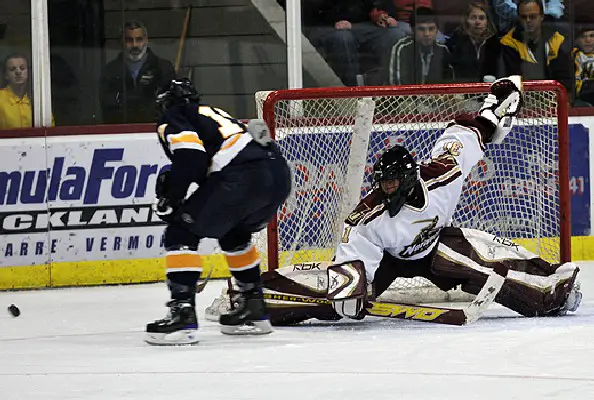 Shawn Baker, Tyler Stitt, Owen Carpino and transfer Steve Coon are leading the defensive effort for the Cadets in front of Ryan Kligensmith in goal. The defensive unit had major question marks around it at the beginning of the season due to graduation losses and non-returning players, but this year's unit has come together quickly and is putting it together on the ice every night.
Senior Nikita Kashirsky and junior DJ Fimiani are leading the team in scoring and have been major contributors to a power play unit scoring on over 25% of their opportunities. The Cadets will need some other contributions to balance out their attack in the second half to be successful and to retain their hold on the league title.
St. Anselm — Coach Ed Seney's squad had a tough start to the new year losing to New England College 7-0 and Middlebury 6-1 at the Holiday Classic in Vermont. Those two games represent nearly half of the team's goals against and the resolution for success in the second half has to be generating some offense.
Sophomores Jim Toomey and Paul Snell lead the Hawks in scoring but nobody has more than two goals for a team that has only generated 18 tallies in their first seven games. Improving the power play would certainly help that cause as St. A's is only successful on approximately 15% of their chances.
Alex Wyse has played the lion's share of the games in goal and he will need to improve along with the defense if the Hawks want to build on their strong start in league play entering the break.
St. Michael's — The defending Northeast 10 champions are off to a slow start at 1-6-1 overall. Key areas to resolve for the Purple Knights include defensive play, penalty kill and goaltending. Opponents have scored 39 goals in just eight games against St. Mike's and the opposition has scored on 28% of its man advantage opportunities. Tightening up the team defense should help goalie Tyler Bilton, who is facing an average of 42 shots a game from opposing teams.
Seniors Ryan Mero and Chris Healey are leading the offense for the Purple Knights and they too will need some contributions from teammates to turn around results in the second half.
Salem State — The Vikings ended the year with a great upset of Bowdoin to win the title at the Salem State Invitational tournament and their overall record of 5-4-1 looks a lot better than their league numbers of 1-4-0.
The new year brings opportunities for this team that would like to continue it offensive prowess led by sophomore forward Justin Fox who leads the team with 11 goals and 12 assists for 23 points in just the first 10 games.
The Vikings will need one of three goalies to grab the job by playing consistently in the second half. Ryan Hatch, Vinny Monaco and James Lacour are all looking to lower the goals against and improve the save percentages in support of the team who begins league play on the road against Trinity and Wesleyan this weekend.
Skidmore — The Thoroughbreds are off to a good start this season at 6-3-0 overall and 3-2-0 in the conference. Their strong offensive style has been supported by good team defense and good goaltending from freshmen Andrew Ross and Colin Bessey.
To continue the success Skidmore will need to play better on the road where the team is 1-3-0 on the season but can build momentum based on this week's win at travel partner Castleton for their first road win of the season.
Sophomores Brett Bandasian, Alex Myolenko and Hunter Thayer lead the team in scoring but look for increased contributions from seniors Mike Gibbons and Teddy Gowan in the second half.
Southern Maine — If history repeats itself, the Huskies are right where they want to be entering the second half. They are a .500 team overall and 3-2-0 in the league going into the second half where they traditionally play their best hockey.
Cutting down the goals against will be a key for the second half, including improving their penalty kill where opponents are scoring better than 22% of the time. Goaltender Jamie Gilbert has good numbers so look for his steady play to support a strong offense led by senior Dan Gordon, sophomore Zach Joy, and sophomore defenseman, Paul Conter.
The Huskies are already 1-1 in the new year and will need to play well on the road in Connecticut this weekend as they open league play against two strong NESCAC opponents.
NESCAC
Amherst — The Lord Jeffs are 4-3-1 overall and 2-1-1 in the league entering the weekend where they match-up with UMass-Boston and Babson on the road. Defense is the strength of this team and they are led from the goal out led by two terrific sophomore goalies in Cole Anderson and Jonathan Larose, who have surrendered just 12 goals in the first eight games.
The penalty kill has been extraordinary with a better than 91% kill rate. It's the offense that will need to ramp it up in the second half for Amherst to compete at the top of the conference. Senior Joel Covelli leads the team in points with eight while freshman Eddie Effinger and sophomore Matthew Rhone lead in goals with three apiece. Look for contributions from other key players including the rock solid defensive corps in the second half of the season.
Bowdoin — "I would like to see our save percentage up over .900," stated head coach Terry Meagher. "If you get that number up there you are going to be in a lot of hockey games. We didn't have that last year and we would like to be better this year."
Coach Meagher is getting his wish this year led by newcomer Richard Nerland who is 4-1-1 with a 2.35 GAA and .905 save pct. Special teams are very strong and offensively the Polar Bears have exhibited great balance with juniors Ryan Blossom and Colin MacCormack, freshman Graham Sisson and sophomore Jeff Fanning leading the team in goals.
The team will get an added boost this month with the opening of the New Watson arena on January 18 against Williams (look for opening night coverage here on USCHO) and have a great opening weekend of conference games this weekend with NEC and St. Anselm on the road before the closing of Dayton Arena against Middlebury next Friday night.
Colby — The White Mules are rebuilding after losing three career 100 point scorers from last year's team. The hallmark of head coach Jim Tortorella's team's has always been great defense and goaltending and this year is no exception as the team has yielded just 21 goals in its first nine games, backstopped by sophomore Cody McKinney. McKinney quietly has posted great numbers including a 2.30 GAA and .924 save percentage in playing in all nine games.
It's up front where Colby will need to improve in the second half as the team has been limited to 19 goals and has produced just seven power play goals in 52 chances — a low rate as compared with past Colby squads.
Youth can be seen among the scoring leaders including sophomore Billy Crinnion and freshman Michael Doherty, but more contributions form other lines will be a key for Colby's second half success.
Connecticut College — The Camels are also one of the nice surprise teams for some in the first part of the season posting a 5-3-1 record overall but just 1-2-1 in league play. Strong goaltending and balanced scoring have been keys to their success. Greg Parker has been outstanding in goal with a 2.74 GAA and .916 save pct. while the team defense has improved to cut down shots by the opposition to an average of just 22 per game.
Trevor Bradley and Brett Moore lead the scoring table but there are already 14 different players that have scored for the Camels this season.
A key to the second half will be improving the penalty kill where opposing teams are 11 of 44 chances (25%) on the season. This week won't make that an easy task with a road trip to St. Michaels's and Norwich.
Hamilton — New coach Norm Bazin already has much to be pleased about from the Continentals this season. The second half is just beginning and the team has already matched win totals for last season overall and in league play. The new system is taking root and while the offense hasn't kicked into high gear just yet, this team has been opportunistic and has played very well on special teams.
Chris Lorenc leads the team in scoring with nine goals and four assists for 13 points so adding contributions from some other players (like Vaclav Tomisek and versatile defenseman Kyle Roulston) will help.
Scott Heffernan has played well in goal, solidifying a big area of weakness from last season. Continued strong play in net and their own defensive end will be key to Hamilton having success in January and beyond.
Middlebury — The Panthers made a lot of changes in personnel and style of play this year and so far the results have been quite impressive. At 7-1-0 overall and a perfect 4-0-0 to start league play, Middlebury still has a focus on playing great defense with strong goaltending, as evidenced by their surrendering just 19 goals so far this season. Senior Doug Raeder and freshman John Yanchek have had to be sharp as the Panthers continue to limit opponent's shots on goal totals.
The big change has been their conversion to a more traditional three forward, two defenseman alignment based on personnel and a desire to create more offense. One guy leading the way in the new system is junior John Sullivan who already has 10 goals this season and 13 points overall.
The key area for improvement in the second half will be on the penalty kill where opponents have scored at a 22% rate so far this season accounting for eight of the 19 total goals given up.
Trinity — The defending champions of NESCAC are off to a solid start in the season at 5-3-0 overall and 2-2-0 in the league. The Bantams are scoring nearly five goals a game and already have nine players on the roster with three goals or more, led by freshman defenseman Mike DeMayo with six even-strength goals on the season.
Goalie Wes Vesprini has been consistent in goal and the key for the Bantams in the second half will be to continue their relentless attack in the offensive end and improve the success rate of the power play up over the 20% mark.
Five of the next seven games are at home so the Bantams must take advantage of home ice and put some points up in the conference standings in January.
Tufts — The Jumbos are yet another feel good story in the young season. They are 5-3-0 overall and 2-2-0 in the league. They have a four game winning streak heading into this weekend and are off to a good start in the new year.
Sophomore transfer Tom DeRosa from Merrimack has been a great addition to the team leading the offense with seven goals and six assists for 13 points. Scott Barchard has been very solid in goal for the Jumbos with a 2.53 GAA and .922 save percentage in his first seven games.
The keys for Tufts in the second half will be to improve on their penalty kill where opponents have a 20% success rate and also to get some points on the road where they are winless this season.
Wesleyan — This is not the start head coach Chris Potter was looking for from his Cardinal squad. Wesleyan has scored two goals or less in seven of their first eight games and been shutout twice. They have just 11 goals on the season and their leading scorer is a freshman, Tom Salah, who has totaled one goal and three assists for four points.
The power play has been virtually non-existent (an 8% success rate) so look for David Layne, JJ Evans and Dallas Bossert to step it up in the second half.
The strength of this team is the blueline back, so one resolution for the new year has to be improved defensive play and consistent goaltending from Mike Palladino, who has seen an average of 40 shots per game in his five starts.
Williams — The Ephs are yet another team over the .500 mark overall at 5-3-0 but looking good in the conference at 3-1-0. They have scored almost as many as they have given up so offense and the power play will be the keys for the second half for coach Bill Kangas's squad.
Sophomore Ryan Young, senior Brett Haraguchi and junior Alex Smigelski all have four goals each — their totals are 57% of Williams's offense so far this season so contributions from other players will be important.
The power play has only been efficient 10% of the time so there is significant room for improvement in that area. One area of strength appears to be the play of P&P (Marc Pulde and Ryan Purdy) in goal for Williams. If the defense and goaltending can stay consistent and the offense finds its groove in January, Williams has a chance to stay near the top of the standings.
All of the holidays are behind us. There's no more tournament play until the meaningful playoff stuff in late February and March. The conference battles begin in earnest this weekend and teams will need their resolve to be successful. Are you ready?
Drop the puck!