Becoming a member of a college hockey team is a dream for many young players these days, but having the chance to be on one of the better teams in the country, in one of the top leagues, is the pinnacle.
Well, Hockey East is that league, and New Hampshire is one of those teams. The No. 11 Wildcats (11-6-4, 7-4-3 HE) are among five Hockey East teams ranked in the top 20 — more than any other conference — and recently extended their unbeaten streak to seven games (6-0-1).
Scoring this kind of "goal" in life — solidifying a spot in a Division I lineup — seems to depend on work ethic, attitude, and inevitably talent.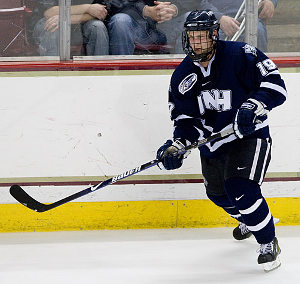 And talent is a quality not lacking among the sophomores at UNH. With players like James van Riemsdyk, who consistently ranks as one of the nation's scoring leaders, offense is a forte. The Wildcats' sophomore class alone has accounted for 54% of the team's goals (37), 32% of its assists (36), and 40% of the team's overall points. But having a natural gift is only a part of the puzzle while paving the road to victory; it's the confident attitudes and determination that the players have that make being a Wildcat such a respectable status.
"They're a talented group and typically what happens with sophomores, especially around this time of the year this semester, is that after the first year skilled players get comfortable and start playing with confidence," said head coach Dick Umile. "You know the Mike Sislos, the DeSimones, the Danny Drieses; that line is generating a lot of scoring opportunities and the sophomores are really stepping up like van Riemsdyk. I think that's all part of the maturity in developing confidence. They're all skilled players."
Nine sophomores dot the Wildcat roster and the class has tallied at least one point in every game this season, except for the 1-0 win against Rensselaer back on October 17. Sislo is first on the team in goals, potting 14 before the holiday break and notching a career high (4G, 2A) on December 11 in the 9-4 victory over Holy Cross. Van Riemsdyk leads the team in scoring (9G, 17A), and Dries (7G, 7A) and DeSimone (5G, 7A) rank sixth and seventh respectively.
So what's the key to sophomore success?
"I'd say it'd be a matter of work ethic," explained van Riemsdyk. "I mean right when the season ended last year there were a lot of guys, especially in our class, that really took it to the next level, pretty much starting to train the day after the season ended. Phil DeSimone and Sislo especially; they worked really hard this summer and got themselves ready to have a big role on the team and they've played really well so far."
DeSimone added, "I think it's safe to say that a large part of the class is a key factor to our team's success throughout the year. As soon as we came in last year we were pretty tight already just because it's such a big class and we make up a good part of the team.
"It's good getting along in regards to the rest of the team as well because a lot of us [as freshmen] were a little bit older, a few years out of high school, more mature, getting an extra year or two of juniors. When we came in we kind of skipped some of that stuff that maybe a younger kid would have had to go through and bonded right away."
The camaraderie among the teammates stems from all of the time they're together. From the weight room to the dorm room, these guys know each other well.
"Last year I roomed with van Riemsdyk in the dorms, but this year I live with Dries, [Mike] Beck, [Paul] Thompson, [Greg] Manz, Sislo and [Matt] Campanale," said DeSimone. "It's fun; we live a bit off campus so the driving gets a little annoying, but it's nice to go back from practice and hang out in our apartment. We play video games a lot, especially 'Call of Duty.'"
Obviously the sophomore sensation phenomenon on the ice translates off the ice too. "Our class has the most self proclaimed, world's best 'Call of Duty' video gamers," Sislo said.
When asked who was the best, DeSimone answered without hesitation, "Me! But I guess we're all pretty even. We really get into it."
Despite DeSimone's claim, the true "Call of Duty" champ will remain a mystery. But it is confirmed that DeSimone is the best at something.
Van Riemsdyk shared a secret: "Phil DeSimone has the best abs in college hockey," he said. "Yeah, that's a good one. That's where he is all the time, working on his abs."
But DeSimone tried to put the attention elsewhere with another surreptitious fact about a classmate:
"Paul Thompson is the messiest kid I've ever seen in my life," DeSimone said. "I mean, I'm not the cleanest, but I'm definitely not as bad as him. We have to keep the locker room clean or else we get fined and yelled at, so that is forced to be clean. But when we get home, boy, you should see his room."
Maybe Phil's roommate doesn't have time to clean because he's preoccupied with other things. Sislo gave more insight as to what fans may not know with this nugget: "Paul Thompson is a NASCAR junkie."
No matter what goes on outside the rink, the players' individualities blend nicely come game time. The similarities in their backgrounds may have aided in the class' chemistry, producing the confidence that they take to the ice.
Both Phil and James' fathers played hockey and influenced their sons to stay on the sheet. Desimone grew up in East Amherst, N.Y. going to Buffalo Sabres games with his dad. Middletown, N.J., was home for van Riemsdyk, so his father took him to Rangers games in the city.
"My dad has pretty much been to every game of mine," said van Riemsdyk. "That's part of the reason why I came to UNH, because it was closer to home and I know my dad really wanted to share this experience with me. I mean he drives [from New Jersey] six hours up and six hours straight back some weekends. He has sacrificed a lot, so it's nice to be able to share this with him."
Sophomores often share academic concerns, as the majority of Wildcats are still undeclared majors. There's plenty of time before getting degrees, so what's more important at the moment is that they know their roles on the hockey team.
"It was kind of disappointing a little bit earlier in the year because I know my role is to kind of not only put points in the net, but help the team win," said van Riemsdyk. "We were kind of struggling a little bit early on and I wanted to keep raising my game to the next level.
"I've been playing with some great players; Mike Sislo has been hot recently racking up the goals left and right, so it's pretty cool to play on a line with guys like that and have some good success with them."
Sislo added, "I just come to the rink every day and push myself to get better and push my teammates. I think I have matured a lot since freshman year."
And DeSimone needs to have an impact on every shift. "I have to produce and give the team a chance to win every night," he said. "I'm playing well, but I just need to produce more. It's been a little bit frustrating this year because I think I should be finishing and producing a little bit more than I am, but you can't let it bother you because it will get the best of you."
It was a testing first half for the '08-'09 Wildcats, opening the season with a four-game unbeaten streak (3-0-1), then only nabbing a solo win in the month of November (1-5-2). However, with such a young, skilled team with a poised attitude, contending for an NCAA title is surely not out of the question for the program.
"We need to win a national championship," said DeSimone. "I don't think it's that far away, just a few steps away. If we keep working and going in the right direction then by this year, next year, or the year after, I think we could for sure."
Confidence generates risks. And as Wayne Gretzky famously said, "You'll always miss 100 percent of the shots you don't take."