There are many candidates for the Spencer Penrose Award, given to the national coach Of the year. Put Michigan State's Rick Comley on the ballot.
Comley's undermanned Spartans have stayed as competitive as possible this season under the most trying of circumstances. They lost key players to early departure, they lost great seniors, they dismissed a key defenseman for failing to stay consistent with the goals of the program.
Now, they have suspended two players they have counted on this season to play important roles. Corey Tropp and Andrew Conboy were both jettisoned for the rest of the campaign for a double-team cheap shot on Steve Kampfer of Michigan at the end of Michigan's sweep of MSU on Saturday.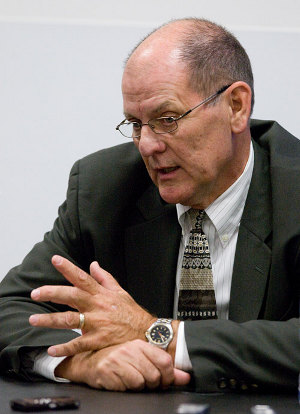 Comley issued a statement via a press release that stated, "What happened near the end of the game this weekend is not the way in which we want our hockey program represented. We cannot condone their actions. We felt that we had to send a strong message that this behavior will not be tolerated.
"However, one thing needs to be clear — this was an incident that was an emotional, split-second action, for which these players are being punished," he added. "I do not want this to be portrayed that this was anything pre-meditated, or that any single player was 'targeted.' Their reaction, while inappropriate, was a split-second response that I know that they wish they could have back."
Unlike many press-release statements by coaches this one was straight ahead, honest, and to the point without hyperbole and baloney. If you know Comley, you know that these were his words and his words alone spoken in his style.
Considering that Kampfer was recently bodyslammed onto concrete by a Michigan football player, suffered a cracked skull, and spent a part of the first semester in a neck brace, the fact that he came back to play already is pretty impressive. One of Michigan State's players, A.J. Sturges, was KOed for the season by a Michigan State football player in a similar incident. Maybe that should have resonated with the Spartans.
However, at the conclusion of the game and quite a while after Kampfer had nailed Tropp with a clean open-ice hit, Kampfer was the target of the type of violence that hockey and especially the CCHA has tried to get out of its game.
This is the description by the Michigan Daily, a student newspaper at the University of Michigan that does a solid job of covering Michigan hockey.
Conboy's initial hit was presumably in retaliation against Kampfer for knocking Tropp off his skates with a clean open-ice hit moments earlier. Tropp received a five-minute major for slashing, two 10-minute misconducts and a double game-disqualification, which means a minimum three-game suspension. But Conboy was just penalized with a double minor for roughing.
Tropp apparently slashed Kampfer as he was lying on the ice. This led to an ugly incident usually reserved for youth hockey as Kampfer's dad went postal and chased after the ejected Michigan State players into the visitor's dressing room at Yost. Being that this was the second time he had to deal with his son being attacked you can sympathize with his emotions, but his actions were a little strong.
The whole thing is a huge black eye for the Michigan State hockey program, which is among the elite programs in the nation and always has been. It has been run by men of integrity like Amo Bessone and Ron Mason. Comley has taken the torch from those two and led Michigan State to a national title two years ago.
Back to the main point, and that is Comley and his handling of the situation. After the game someone asked Michigan head coach Red Berenson about the incident, and he responded that Comley told him he'd deal with it. He did.
In talking with Comley recently, he was proud of Tropp's two-goal effort at Miami (as seen on CBS College Sports) and the solid job Conboy did on physical Miami defenseman Kevin Roeder. During an informal chat over lunch at the hotel in Oxford, Ohio, Comley, looking at the scoresheet from the game, looked up and said, "The guys we expected to score this season all scored in last night's game."
This had to be a hard decision for Comley, perhaps one of the tougher ones during his time as Michigan State head coach. When he came in he had to sort through the leftovers of the Mason regime, moving out players perfect for Mason but not for his style of play. Then there was the A.J. Thelen debacle, during which Thelen was dismissed after being a highly-touted recruit.
Comley doesn't back down from adversity or controversy, but he handles it extremely well and keeps the team goal's first. His mantra always has been, "If you can be as good as I think you can be, we'll never have a problem." He holds players accountable and he surely did this time.
Several coaches have made bold moves like this. Denver coach George Gwozdecky suspended Lukas Dora prior to an NCAA championship game against Maine. Dora had delivered a huge performance in DU's comeback win against Minnesota Duluth in the national semifinal.
Twice in games that were being televised national on CSTV (now CBS College Sports), New Hampshire coach Dick Umile suspended seven players for conduct that violated team rules. The first time he did it, UNH was No. 1 in the nation. The second time was prior to a game at hated rival Maine. Big games on the schedule did not deter Umile from doing the right thing for the integrity of his program. Jerry York at Boston College once had an incident with players not attending class so he stripped two players of the captaincy for a while and made them earn it back.
It is not uncommon in college hockey to see coaches take matters into their own hands with discipline and in this case, Comley sent the shot heard 'round college hockey. By suspending these two regulars from an already-depleted lineup, Comley showed everyone that no matter what, integrity comes first and that's a lesson that sometimes gets lost at the level to which these players aspire.
I think Jack Parker is a shoo-in for the Penrose, but the best coaching job in the country this season might be by the staff at Michigan State headed by Comley. His team is prepared and competes despite the huge loss of manpower that it has dealt with.
He and A.D. Mark Hollis acted swiftly, decisively, and correctly. That alone won't win him the Penrose, nor should it.
It did win him another level of respect — though in the case of Rick Comley it is hard to respect someone more than he already is by those who know the game.