With most successful hockey teams, winning is usually tied to success on specialty teams.
This is certainly true for Boston University, which sports the nation's best power play, at a 24.8% success rate. The Terriers had just three shorthanded goals so far this season, however, so it was stunning — to both teams — when the Terriers took control of the game by scoring three shorthanders in one game against Northeastern in the Beanpot final.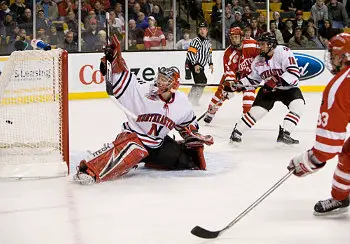 "In the second period, I think the shorthanded goal was a shocker," said Northeastern coach Greg Cronin. "When Yip missed the breakaway, we thought we had dodged a bullet. And then the rebound goes of the glass and it comes right back at us. That was a bad omen."
"The game was won on three shorthanded goals. Who would have thought that?" echoed Jack Parker, BU coach. "I've never seen that in my life in the Beanpot. Special teams were big for us, more than I thought they would be.
"We got one power-play goal, but to get three shorthanded goals is something that's just hard to describe and hard to imagine. You see it happening and you just can't believe it."
In addition, it was BU's quick reaction that demoralized Northeastern.
After the Huskies scored their first goal to pull into a 1-1 tie, the Terriers scored less than a minute later to reestablish the one-goal cushion. When NU tied the game at 2 later in the second period, Boston University stormed right back with the go-ahead goal about a minute later. And in the third frame, BU scored a shorthander to take a two-goal lead, then padded that lead just 30 seconds later.
The Beanpot title game was the 200th meeting between Boston University and Northeastern, with BU leading the all-time series by a 144-50-6 record, including a 8-3 record in 11 Beanpot championships.
Injury Delay
A tense moment in the game came with 3:20 left in the first period, when a wraparound clearing pass took a funny bounce an struck referee Scott Hansen in the face. Play stopped as Hansen fell to the ice clutching his face. Blood spatters on the ice silenced the crowd throughout the arena.
Hansen was taken to Mass Eye and Ear, a division of Mass General Hospital, where he was being checked out. The rest of the first period was played with just the three remaining officials, linesmen Bob Bernard and Tim Low and referee Tim Benedetto. As the second period started, Hansen was substituted with a referee from the Beanpot consolation game between Boston College and Harvard, Tom Fryer.
Gaining An Audience
NESN, New England's regional sports network that carries the Beanpot each year, reaches over three million households. But this year's Beanpot could be seen by a much wider audience.
The Beanpot is often identified as a regional in-season tournament, but it may just be the most broadly-distributed tournament in all of college hockey, including the NCAA tournament.
NESN's Beanpot feed was picked up by Canadian sports network Rogers Sportsnet, which reaches an estimated 7.6 million additional homes all across Canada.
Beanpot Officiating, Part II
As with Harvard coach Ted Donato in the Beanpot consolation, Northeastern coach Greg Cronin had a dispute with the officiating in the championship game. In particular, Husky forward Tyler McNeely, who had scored NU's second goal, was ejected late in the second period following a confrontation with referee Tim Benedetto.
"It's a conflict of what happened between my player and Tim Benedetto. Tim said he said one thing, and my guy said he didn't say it," said Cronin. "I have to take the referee's side. He's a lot more mature and calm in that situation, so I would probably side with Tim on that.My question is: why was it initially a 10-minute misconduct that went to a game disqualification?
"Obviously it's tough when you lose one of your best players, but he's a ref and he has a better view of it than I do, so I take his word for it."
The Other Beanpots
Men's hockey had the first Beanpot between the four area schools, but in the 57-year history of the tournament, other Beanpots have sprung up.
The most obvious example is the women's hockey Beanpot, which is played on the first two Tuesdays of February, the day after the men's tournament. Other sports that now have Beanpots are baseball, soccer, fencing, lacrosse, cycling and rowing.
There are a number of non-sports-related Beanpots as well, including the Beanpot of Comedy, the Rice and Beanpot burrito eating contest, a Business School Case Analysis Beanpot, and a band that is named Beanpot.
Awards
For the second year in a row, the Eberly Trophy, awarded to the goaltender in the Beanpot with the best save percentage in two games of Beanpot play, went to Northeastern goalie Brad Thiessen. He made 29 saves in the losing effort Monday and finished with a .925 save percentage for the two games.
Thiessen won it almost by default last year, as Harvard and BU played different goalies the two Beanpot games and so weren't eligible. And BC's goalie, John Muse, didn't have many chances in his two games.
But this year Thiessen earned the award, especially in stopping 45 of 46 Boston College shots in the first round.
The Most Valuable Player Award went to BU's Nick Bonino, who continued his hot Beanpot play. The sophomore now has scored at least one goal in all four Beanpot games he has played in.
This award was difficult to assign to a single BU player, as five different goal-scorers accounted for the five Terrier goals in the championship game.
The balanced scoring is one of BU's biggest threats — the Terriers lead the country with 11 players with more than 16 points. Perhaps even more telling is that BU sports 11 players on the team with 55 to 80 shots, a sign that many players are generating multiple chances.