Wanted: Points
"One point is not helping. You need two points. We only have three games left, so we need some points."
Though that was said by Fredonia coach Jeff Meredith after their tie with Buffalo State, it could have been said by a lot of coaches. With teams having either three or four games left in the season, it remains a battle of survival for nearly all of them.
Even Brockport, still in third place and having a wonderful season, could just as easily see themselves out of the playoffs if they are not careful–especially since they play two of the teams still looking to get into the playoffs the last weekend of the season on the road against Fredonia and Buffalo State.
All Brockport has to do is take a look at Geneseo. The Ice Knights were tied for second not too long ago. They are now on the edge of the cliff, currently in a playoff spot, but with just a one point margin, thanks to losing their last four conference games.
Although Oswego has not clinched second place, barring a complete collapse, with their magic number at three points, they should be safe. Same with Plattsburgh in first.
So that leaves Brockport (14 points), Cortland (12), Potsdam (12), Geneseo (11), Buffalo State (10), and Fredonia (8) all fighting for the remaining four playoff spots and two home berths in the play-in round. And there are six games between these teams in the last two weekends.
Fredonia, of course, is in the most precarious position.
"If we even have an outside chance of getting in we need to run the table," Meredith said. "All you can do right now is go one for one in Morrisville. And then we'll worry about the following weekend. We just want to have a shot going into the final home weekend against Brockport and Geneseo of having control of our own destiny."
Buffalo State also cannot afford to let a point slip by.
"We look at it that we control our own destiny," Buffalo State coach Nick Carriere said. "We can't really worry about what all the other teams do. Obviously, going into Morrisville, we have to take care of business down there. Hosting Geneseo and Brockport in our place the last weekend in conference play, I love that."
Which makes it especially ironic is these two teams each left a point on the table when they tied each other, 3-3. The second time this year, and the third time in their last five meetings they went into overtime.
Potsdam is also in a precarious position, despite being tied for fourth place with Cortland, whom they get to play again. However, the Bears only have three games left, and their other two games are against Plattsburgh and Oswego, on the road.
"With the three games, it's a little bit out of our control," Potsdam coach Aaron Saul said. "But the way our league has been playing with teams beating teams you don't expect and teams tying teams, the weekends never seem to turn out the way you expected."
Cortland is the other team tied with Potsdam, but they have four games left, against a lot of the teams they are fighting for positions with. It's a tough path after a long season.
"Your inner body has to take care of your outer body," Cortland coach Joe Baldarotta said. "We would love to have a shot at home ice. Our guys know how important it is to the program."
On the flip side, when those teams fighting for the playoff spots play each other, it doesn't just mean someone is guaranteed to get some points. It also means someone is guaranteed not to get some points.
They are going to be tough to come by. And everyone wants them.
Humanitarians
The Bank of New York Mellon Hockey Humanitarian Award announced their nominees for 2009. Two SUNYAC players made the list: Todd Sheridan of Brockport and Eric Greene of Plattsburgh.
I talked extensively about Sheridan's exploits on the ice last week. Off the ice, he is making a big impact as well. As a cancer survivor, he understands what it is like to go through the fight.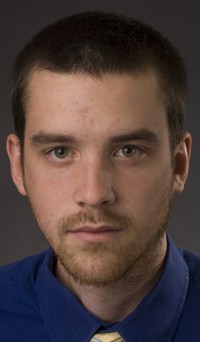 "One of the most difficult experiences with my battles against cancer has been to see young kids going through the same thing," Sheridan says on his Web site. "In many instances, people make poor decisions in their life which can lead to cancer. However, a child is never to blame for this disease. Seeing an innocent child fight for their lives is one of the most courageous and motivating things in the world."
Thus, Sheridan set up Saves for a Cure which accepts pledges based on every save a Brockport goaltender makes this year.
"The money will be going to Children's Cancer Center at Strong Memorial Hospital in Rochester," his Web site states. "The money will be donated to specific things in the hospital to make the overall experience easier. The money will be donated for things such as better waiting rooms, different amenities for rooms where children will be undergoing their chemotherapy treatments and different events during holidays, just to name a few ideas.
"Saves for a Cure is determined to support those children with cancer in hopes to lift the spirits of some of the most courageous people you will ever meet."
The upcoming games against Oswego and Cortland will be the Saves for a Cure Weekend. Special jerseys with the charity's logo on the front will be worn on both nights. The game-worn jerseys will be auctioned off, and you can put a bid in now through February 19.
A great cause and a worthy humanitarian.
Plattsburgh coach Bob Emery says of Eric Greene:
"Great student and great leader. And you have to start with those qualities. He donates a lot of his free time to local charities. Not only is he a participate, he is an initiator."
I'll feature more on Greene in a future column.
SUNYAC Short Shots
Mark Lozzi scored twice and Tim Potter made 27 saves in Oswego's 3-1 victory over Morrisville … Connor Treacy tallied two times for Potsdam as they beat Geneseo, 5-3, which had Phil Rose score a pair … Bryan Hince made 22 saves when Plattsburgh beat Brockport, 4-2 … Buffalo State's Alan Fritch made 50 saves as Jim Durham tied the game midway through the third period, 3-3, against Fredonia in a game which saw just one power play.
Joey Christiano scored twice and Mike Reilly made 35 saves as Cortland beat Morrisville, 6-1 … Joey Wilson scored the first and last goals in a 4-1 Plattsburgh win over Geneseo … In a wild 8-6 Brockport win over Potsdam, eight goals were scored in the last 8:03 with five of them coming in the last 2:58 … Fraser Smith got a hat trick and Colin MacLennan scored twice for Potsdam while eight different Brockport players put the puck in the back of the net.
Game of the Week
Emotionally, the biggest game on tap is going to be the Potsdam at Plattsburgh affair, though it means more for one team than the other.
"We are Potsdam's biggest game of the year," Plattsburgh coach Bob Emery said. "Our players have to realize we are going to get Potsdam's best game. We probably got their best game this year last time we played them."
Of course every game is important. However, the game, or rather two games, being picked are the two that Cortland plays. One against a team two points above them (Brockport) and the other against a team one point behind them (Geneseo). So those games could shake things up quite a bit, unless we have another SUNYAC weekend of split affairs. It can sure get complicated.
"We can't afford to look at the whole ball of wax," Baldarotta said. "We can only worry about the next shift. We have to win all the battles. It's not just a cliché®  We really have to do all the little things right, and if we do that, the points will come."
On The Periphery
I am getting quite a kick out of all the times I hear the date of February 17. With the pending switch from analog to digital TV signals set for that date (which ended up being changed to June 12, if stations choose to delay), we are being bombarded by that date.
Why did it mean so much to me? Because it's my Mom's birthday. Of course, the drawback is I now have absolutely no excuse if I forget this year. The wrath of all motherly guilt in the world will fall upon me.
When I mentioned this date to my Mom, she quipped:
"Yes, I know. I could see them making a big deal out of my 70th birthday, but doing so for my 71st? It seems a bit overdone."
Interestingly, there are a couple of famous birthdays in my family. My birthday coincides with Cuba's Revolution Day. Okay, maybe not something to be proud of. My sisters' birthday (I have two sisters born on the same day 11 years apart) is the day the people of the Democratic Republic of the Congo celebrate their independence. Alright, that's another whoopie-do holiday.
However, my brothers' birthday (I have two brothers born on the same day, but this time in the same year, so they are actually twins, and if you're keeping track, that means out of five children my parents had, I was the only one with my own birthday) does not fall on any sort of general holiday.
Estonia celebrates their secession from the Soviet Union on my wife's birthday which is also St. Stephen's Day, the main national holiday in Hungary.
Before February 17 rolls around, I have to worry about February 14. So how am I celebrating with my wife? By going to a hockey game by myself. I think I'm going to have to do a lot to make up for it on the 15th.