Starting over isn't necessarily such a bad thing, and neither is going home again. Gabrielle Beaudry has done both in the same season.
A two-year letterwinner at Boston College, Beaudry transferred to Syracuse University last summer to be a member of its first-ever women's varsity ice hockey team, which began intercollegiate play in October.
"It's been going well," said Beaudry in January, as a member of the so-called "Original Orange" roster. "There's been a lot of challenges, but we're a lot better than anyone expected us to be."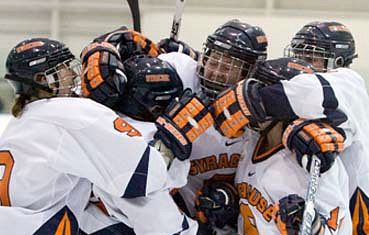 The Orange recorded their first-ever intercollegiate triumph in just their seventh game ever, when they registered a 2-0 win at Quinnipiac on Oct. 18. They followed up that effort in their very next outing with a 10-0 triumph over Sacred Heart on Halloween in their home opener at the Tennity Ice Pavilion on the Syracuse campus.
The Orange have also faced off with Wisconsin, Mercyhurst, Robert Morris and Wayne State this season, and also played some contests at the Onondaga County War Memorial in downtown Syracuse, home of the AHL's Crunch.
"We're staying in games and giving teams a battle, and I hope we can win a few more," said Beaudry.
By Feb. 22, after sweeping St. Anselm, the Orange was nearly to double digits in victories, with six of those wins coming in Syracuse.
A Cortland native who grew up a half-hour from campus, Beaudry tallied four points in her first 27 appearances in an Orange uniform. Her first goal with her new school proved to be the game-winner in a 2-1 victory over Niagara on Jan. 30, the Orange's first-ever win in College Hockey America conference play. It also earned her Syracuse University Female Scholar-Athlete of the Week accolades for the week of Feb. 2.
The nascent Syracuse roster has featured no fewer than 11 freshmen this season, while Beaudry was one of eight players with previous intercollegiate experience. She spent the two previous winters on the BC blueline, where she notched 2-13–15 in 59 career games.
She also helped the Eagles to their first-ever NCAA Frozen Four berth as a rookie in 2006-07, where they fell to eventual national champion Minnesota-Duluth in overtime in the semifinals.
"I walked onto the (BC) campus my junior year of high school, and wanted to go to the school right then," she explained of her first visit to Chestnut Hill, Mass. "I wanted to go even more after learning more about it."
She later earned Hockey East All-Academic Team honors as a sophomore, along with experience in playing hockey at a higher stage.
"I learned to be a competitor at the Division I level," she said of her two years at BC. "It's different than high school."
Beaudry might well have been content to stay at The Heights and compete for Beanpot titles and NCAA Tournament berths; but when Syracuse revealed it would be starting up its own women's Division I program for 2008-09, she knew would be trading in Maroon and Gold for Orange and Blue.
"There were a lot of reasons, but the most important was the start of a new program close to home," she admitted. "It was an awesome opportunity for me."
"She'd been on a college campus, handling distractions and being away from home," said Syracuse coach Paul Flanagan. "She's had experience, being in Boston and playing at Boston College ; but she's also from this area, and you can promote that."
Now Beaudry is supplying her experience and instincts to her second collegiate team in three years, trying to do the little things well and lead by example.
"I see the ice well," said Beaudry, a 5-foot-7 junior. "I'm not the most skilled player, but I understand what we're trying to do."
Flanagan said that Beaudry has shown her younger teammates, some of whom are far from their hometowns, how to conduct themselves both on and off the ice. She has also demonstrated her dedication in the weight room and the classroom, as she keeps herself in top shape and is an excellent student. She's also a reliable defender.
"On the ice, she's very consistent," said Flanagan. "She's not flashy, but she makes good decisions and has been very solid for us. She has experience and poise and doesn't panic with the puck, and that's been great for us."
She's also able to do so in the comfort of virtually her own backyard.
"It's nice to be close to home and to have support, and not just from family," said Beaudry. "If I have a rough day, I can go off campus and have a meal and then come back."
One of those home-cooked meals came last November, along with her new teammates and coaches, according to Flanagan.
"Her mom put on Thanksgiving dinner for us," he said.
Beaudry, 20, also knows what competing for a national title is like, and not just from her time at BC. Before she entered the college ranks, she chipped in with the game-winning goal for the Syracuse Stars in the inaugural USA Hockey Girls' 16U Championship, a 3-1 victory over Honeybaked (Mich.) in 2004.
"It was the most unbelievable experience," said Beaudry. "We were a family more than a team, and it was the most important thing I'd ever done at that point as an athlete."
She was then on the other side of a national crown contest a year later, as her Syracuse squad fell to Shattuck-St. Mary's in the 2005 USA Hockey Girls' 19U Championship.
A general studies and management major, Beaudry has contemplated coaching after her college career comes to a close. She's also learning things from her current teammates, as they continue their inaugural journey at one of the major universities in the Northeast.
"The freshmen are teaching me, too," said Beaudry. "Between their new ideas and my work ethic, it's worked really well."
"She's a real leader," reiterated Flanagan. "We have a lot of young Canadian girls, and she's been a great role model."