Vermont freshman Rob Madore is well aware of that axiom which applies to athletes in all sports — especially those who play goal in hockey.
"As a goalie, you only can control so much," said Madore. "You can't worry about a bad bounce or play or whether you made a nice save or gave up a goal.
"Goaltending is all about 'what have you done for me lately.'"
In Madore's case, he thinks that what he's done lately for the Catamounts is one reason why they were eliminated in the quarterfinals of the Hockey East tournament by UMass-Lowell.
The upstart River Hawks swept the best-of-three series, 4-3 in overtime and 4-2 (albeit their last goal in Game 2 sailed into an empty net).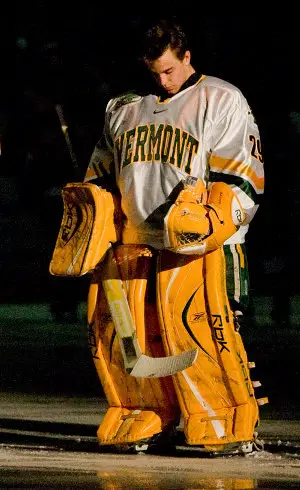 "Right now I'm not worried about what happened in the playoffs," said Madore. "Even after that series I knew we still had a good chance of making the tournament. That was a goal of mine, to help the team reach the tournament.
"I don't feel I played my best. I feel a lot of responsibility for (the UMass-Lowell series) should fall on me. But at the same time, we talk about focusing and re-focusing. A couple of weeks after the season ends I'll sit down and think I should have done this or did that."
What the Catamounts will do next is face off against Yale in the NCAA East Regional semifinals on Marcy 27 at the Arena at Harbor Yard. And their early ouster by the RiverHawks notwithstanding, a major reason why the they still received an at-large bid to the tournament was the play of Madore.
Among other things, Madore was named the Hockey East Rookie of the Month for February after posting a 4-2-1 record replete with a 1.70 goals-against average and a .934 save percentage.
A native of Venetia, Pa., he was voted Hockey East weekly or monthly awards five times during his rookie season.
And for the longest time he was on track to break a school record set by current Boston Bruins goalie Tim Thomas: highest save percentage in a season (.924) which Thomas set during the 1996-97 campaign.
Madore finished the regular season with a 2.36 GAA, which ranked sixth in Hockey East, and a .911 save percentage, which ranked seventh.
More importantly, he filled the rather large hole left by the graduation of Joe Fallon, who arguably was one of the better Hockey East goalies this decade.
"I feel the biggest thing is you have to remain very confident," said Madore. "You have to know you can make plays that your team needs you to make. Confidence comes from hard work.
"I always feel pretty confident going into games and that we have the ability to get things done."
One reason for Madore's confidence is that he has "selective amnesia" — meaning he doesn't mentally torture himself after allowing a goal regardless if it's a soft goal or one that he couldn't have stopped while wearing an extra set of pads.
"That's something every goalie coach I've had and my dad (also named Rob) have harped on," said Madore. "You have to know when to give things up. Goalies give up goals. That's the nature of the position. Players are going to score.
"I don't think I fully developed that until my second year of midgets. The other goalie on my team quit so I played 40 or 50 games in a row. That's when I developed a sense of what you need to do mentally to get over goals.
"One thing I worked on a lot with goalie coaches is, after you give up a goal, you go through a routine," continued Madore. "You think — briefly — about what you could have done differently, take a sip of water and get ready for the next play."
Madore's ability to read plays is another reason why he beat out Mike Spillane for the starting job in goal.
"(UVM goalie coach) Terry (Lovelette) has worked with so many great goaltenders," said Madore. "We work a lot on reading the play, on rebound control and being able to slow things down.
"A goalie must be able to slow down the game. Terry and I work on that a lot. I feel that's been a key to any success I've had in goal this year."
Whatever success Madore enjoyed as a youngster was problematical considering he was used by his father for target practice.
"Plenty of people say there's something wrong with my head because I enjoy having rubber shot at me," Madore said with a chuckle. "My dad always needed a target when I was younger. He always was shooting pucks in the driveway. I think I fit the bill because I was the oldest.
"For some reason, I wasn't afraid to have pucks shot at me. I didn't mind that my dad needed someone to shoot on."
Oh.
Madore also developed an affinity for the position for another reason — one that had absolutely zero reason to do with his ability to block shots with various parts of his anatomy.
"Growing up, the father (Dave Hannan) of one of my neighbors played for the Penguins," said Madore. "I got to go to the morning skates and meet those guys and the goalie masks stuck out. They were cool and so personal as well as an expression of the person and the team.
"I really came to like the equipment. Being a goalie, you're the only guy who can pick out what you want."
Who knows? Maybe Madore eventually will make an appearance on the cover of "GQ."