Defending national champion Boston College may have missed this year's NCAA tournament, but 2008 runner-up Notre Dame is very much alive this time around.
Unlike last season — when Notre Dame battled its way to the title game as a number-four seed — the Fighting Irish won't be taking anyone by surprise this time around. ND is the strong favorite at the Midwest Regional, which is being played a couple of hours' drive from the Notre Dame campus.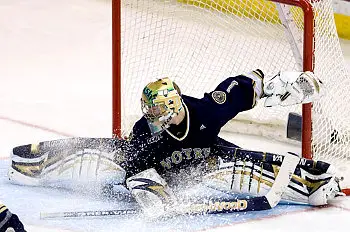 Taking the ice against Jeff Jackson's newly-minted powerhouse will be CHA champion Bemidji State, which overcame Robert Morris in an overtime thriller to earn the CHA's last-ever autobid and the trip to the NCAAs. The Beavers look to pull off what would be the first round's biggest upset in the late game Saturday at Van Andel Arena.
The matinee pits Cornell against Northeastern, each of which features strong goaltending from Ben Scrivens and Brad Thiessen, respectively. Scrivens finished top-five nationally in goals against average and save percentage, while Thiessen, the Hockey East Player of the Year, backstopped the Huskies to their first NCAA appearance since 1994.
The semifinal victors will meet Sunday for the regional title, with the winner advancing to the Frozen Four in Washington, D.C.
Cornell vs. Northeastern
Saturday, 4:00 ET, Van Andel Arena, Grand Rapids, Mich.
Northeastern University Huskies
Record: 25-11-1 (18-6-3 Hockey East)
Seed: No. 6 overall, No. 2 Midwest
How in: At-large
2008 NCAA tournament: none
In most ways, it's been a magical season for the Northeastern Huskies. They came within the final day of the season of winning their first ever Hockey East regular season title. They advanced in the playoffs to the Garden for the first time since 1994. They've now have qualified for their first NCAA tournament since that same year.
Of course, the glass-half-empty crowd will groan at the agony of sitting atop the standings pretty much from the first week to the last only to have that crown slip through the Huskies' fingers at the last possible moment. And then they'll really groan at the too-many-men-on-the-ice penalty that cost them so dearly in the final minute of the Hockey East semifinals.
"It was a tough was to lose that semifinal game against Lowell," NU coach Greg Cronin says. "It's one of those losses that stays with you for a couple of days. [But] this is the third season and we have an opportunity to get to the [Frozen] Four and hopefully a national championship.
"We're excited to move forward."
In many ways, Northeastern and its opponent, Cornell, are remarkably similar. They play hard-nosed styles that place a premium on defense and strong goaltending. Both ranked second in their league in team defense with offenses and special teams more in the middle of the pack.
"They play the same style they've played for years under Mike Schafer there," Cronin says of the Big Red. "They try and pound you into the boards, take the middle of the ice away and they don't allow you the space to create some odd-man rushes. They're very strong in the transitional game and they try and play a wall game basically so we're going to have our hands full."
Where the two teams differ is in NCAA tournament experience. Although Cornell missed out the last two years, it qualified four of the previous five. Does this mean the Huskies will lack for "big stage" experience or will playing in the recent Hockey East semifinal game and the emotionally charged Beanpot every season suffice?
"I don't think [other] college kids will ever experience the pressure and energy that goes into the Beanpot," Cronin says. "People who aren't in it can minimize it, but when you're in that tournament the Beanpot has its own unique pressure. Particularly from our side, since we haven't won it in so long, there's always that anticipation and the question, 'Are you finally going to win the thing?'
"I think that prepares the team for anything ahead of it. [And at] the Hockey East semifinals, I thought there was a lot of energy in that building particularly in the second and third period when the crowd filtered in from all four teams."
Of course, with two Eastern teams facing each other in the early game, it may not feel as big as the stakes would indicate.
"There may not be a lot of people there," Cronin says. "When the guys go on the ice, I think they're going to be surprised there's not going to be more than 3,000 people in the building.
"So that's real simple for me, just focus on the game inside the boards."
Win or lose, it will be a remarkable turnaround for a program that went 3-24-7 in Cronin's first season in 2005-2006. This year's seniors who went through those tough times could conceivably be "happy just to be here" in Grand Rapids or they could savor every shift because of how far they've come.
"This doesn't happen unless there is belief and a rhythm to the way we do things here," Cronin says. "Everyone has grabbed the vision that I tried to create when I first got here. I use that word a lot because Shawn Walsh was terrific at this.
"The vision that we crafted for this program four years ago, people have really taken ownership of it that have worked here. The last piece of it is those seniors; they were here for three wins, 3-24-7. Those players never stopped believing in that vision and without all those things Northeastern doesn't get to the point that it's at now."
Cornell University Big Red
Record: 21-9-4 (13-6-3 ECAC Hockey)
Seed: No. 11 overall, No. 3 Midwest
How in: At-large
2008 NCAA tournament: none
The Big Red didn't back into the NCAAs per se, but they weren't exactly flying in their ECAC title-game loss, either. Cornell appeared to sleepwalk through much of its 5-0 beatdown at the hands of Ivy rival Yale, thanks greatly to the extra half a game the Big Red played against Princeton only 14 hours prior.
That said, it's not Cornell's weak-and-weary championship performance that demands opponents' attention; it's the spectacular semifinal comeback that ought to have Northeastern and the rest of the Midwest Regional on guard.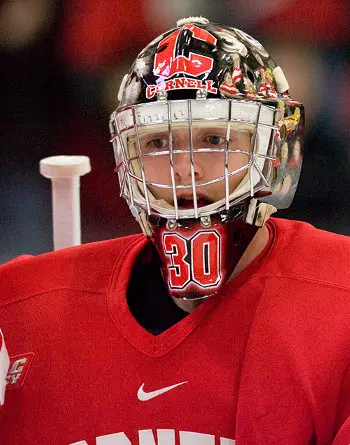 The Ithaca Six — long feared and admired for their staunch and stalwart defensive mastery — showed they have a little more up their sleeves than just blocked shots and bodychecks. Down 3-1 to the versatile and tenacious Tigers of Princeton University, Cornell dug deep for two goals in the last 2:52 of play to force sudden death. The Big Red proceeded to harass Princeton netminder Zane Kalemba with numerous grade-A scoring opportunities before finally breaking through 29:54 — and 20 shots — into extra time.
To be fair, it was the fourth time that the Red came back from two down to tie or win this year. But the fact of the matter is, Cornell's offense has always been destined to play second-fiddle to its legendary defense. Simply put, brutal, powerful defense is to Cornell hockey what tailbacks are to USC football.
Among the overshadowed point-producers are some truly formidable talents. Junior Colin Greening (14), sophomore Riley Nash (13), and seniors Evan Barlow (12) and Michael Kennedy (10) each scored double-digit goals, and third-years Blake Gallagher (20) and Brendon Nash (15) supplied a healthy number of assists. In fact, team scoring leader Riley Nash averaged dead-on a point per game in 34 contests this year. Only one non-goalie currently registers a zero in the points column for the season to date: senior forward Derek Punches, who has played in 19 of 34 games.
The Cornell special teams are rather pedestrian on the whole, averaging roughly a goal every seven power plays, but allowing them at an incrementally slower rate when on the penalty kill.
Now for that vaunted defense. One hallmark of Big Red hockey is a national-caliber goaltender, and Mike Schafer certainly has that between his pipes in junior juggernaut Ben Scrivens. The consistently outstanding netminder boasts the fourth-best goals-against average in the nation (1.77), the fifth-highest save percentage (.933) and the second-most shutouts (seven).
These numbers come on the heels of a 2.02/.930/4 campaign in 2007-08, one in which Scrivens & Co. weren't even good enough to make the NCAA tournament. That just serves to demonstrate that not all Cornell goalies are merely products of an impenetrable defensive system, as many detractors would have you believe.
In the entirety of D-I this season, only Alaska (146) saw fewer total goals scored in its games than Cornell (156), and only 102 of those were at even-strength. So it's not too shocking to see such modest +/- numbers in the Big Red ranks: Brendon Nash leads the team at +10, and only four players have an even or negative rating.
The Ithacans are tied for 50th out of 58 teams in penalty minutes per game, but that list is in descending order, meaning the Red's 13.1 minutes per outing put them in a draw for seventh-fewest in the country. That's a stat that few people realize when discussing the size and strength of the team, and one that really ought to stand out more, given Cornell's reputation and widely held perception as a rough and bullying squad.
Bemidji State vs. Notre Dame
Saturday, 7:30 ET, Van Andel Arena, Grand Rapids, Mich.
University of Notre Dame Fighting Irish
Record: 31-5-3, 21-4-3-3 CCHA
Seed: No. 2 overall, No. 1 Midwest
How in: CCHA tournament champions
2008 NCAA tournament: NCAA runner-up
While many people consider Boston University the overall team to beat in this year's NCAA tournament, it became clear to CCHA fans early in the 2008-09 season that Notre Dame was the league's team to beat. After being swept in two close games by Miami to start the league campaign, the Irish went on a 20-game unbeaten streak and then capped the end of the regular season with six straight — putting the regular-season title out of reach for every other CCHA team.
Notre Dame finished the season eight points ahead of Michigan and Miami, both tied for second place, and the Irish crowned their year with a CCHA championship last week, their second in three seasons, coming from behind to beat Michigan, 5-2.
Fourth-year head coach Jeff Jackson is bringing the Fighting Irish to the NCAA for the third straight year; last year, the improbable Irish, the last at-large bid in the tournament, lost the championship game to Boston College, 4-1. Jackson brought the Lake Superior State Lakers to the NCAA tournament six times, in every year he served as head coach of the Lakers. He's 6-2 overall in the Frozen Four and won two national titles with LSSU (1992, 1994).
In spite of his NCAA experience, Jackson says that last week's CCHA championship is something to be savored. "I don't think anyone should ever make light of our conference championship," says Jackson. "Around here, I listen to the talk about the Big East and how that's a springboard for the NCAA tournament [for basketball]. I think a conference tournament is an event unto itself."
While this year's Notre Dame seniors have two CCHA playoff titles and NCAA runner-up status to their credit, they began their careers with just 13 wins in 2005-06, Jackson's first season in South Bend.
One of the most essential seniors for the Irish is the underrated Jordan Pearce (.934 SV%, 1.61 GAA) who received an honorable mention for CCHA All-Conference honors in spite of leading the league in wins and being in net for every one of Notre Dame's victories during the Irish' 20-game unbeaten streak from Oct. 31 through Jan. 17. During that streak, Pearce was 17-0-3 with a 1.36 goals-against average and .944 save percentage.
In the CCHA playoffs, Pearce is 4-0-0 with a 0.75 GAA and .973 save percentage and two shutouts. During the last 10 games, Pearce is 10-0-0 with a 1.39 GAA and .929 SV%. Pearce has eight total shutouts this season.
With statistically the best defense in the nation and a penalty kill near 90 percent, the Fighting Irish are perceived as all blue line, but nothing could be more misleading. Six Notre Dame players have netted 10 or more goals this season, including Pearce's classmates Erik Condra (13-25-38) and Christian Hanson (16-15-31). No Notre Dame player has more than 40 points, but 14 players have earned 15 or more points for the Irish. Notre Dame is averaging 3.44 goals per game, the sixth-best in the country.
No one is hotter among Irish scorers than sophomore Ben Ryan (12-15-27), who has five goals in his last 10 games and the game-winning goals in both of Notre Dame's CCHA playoff wins last weekend.
This is the second time in three years that the Irish have landed the No. 1 seed at the Midwest Regional in Grand Rapids. Two years ago, it took ND two overtimes to beat No. 4 seed Alabama-Huntsville, and Jackson is counting on that experience as the Irish face Bemidji State this weekend.
"I hope that our leadership recognizes what happened against Alabama two years ago," says Jackson. "I think it was a different scenario because we won [the CCHA championship] at the Joe for the first time the week before."
This year, Jackson's Irish are a bit more businesslike going into this regional. After winning the Mason Cup, says Jackson, the Irish "had their little celebration on the ice…and afterwards when we got on the bus, but the bus was rather subdued.
"I don't want to look past Bemidji. It's going to be a challenge in a different way. They've had some success this year against some teams in major conferences. I'm sure they have some talented guys; to be honest, I don't know much about them yet. They just won a conference championship, so we know they're a good team."
Bemidji State University Beavers
Record: 18-15-1, 12-5-1 CHA
Seed: No. 16 overall, No. 4 Midwest
How in: CHA tournament champions
2008 NCAA tournament: none
Even if Notre Dame is coming into its regional semifinal with Bemidji State riding the nation's longest unbeaten streak, the underdog Beavers want to do what they have failed to do their first two times in the NCAA tournament — play more than just one game.
It won't be easy, but Bemidji State head coach Tom Serratore, the CHA's coach of the year, has a realistic approach to Friday night's game in Grand Rapids, Mich.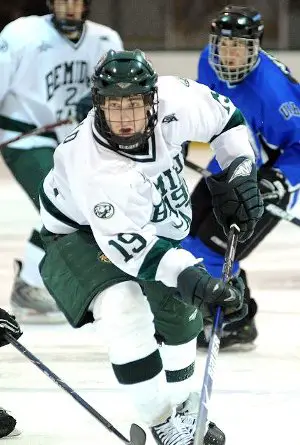 "We knew going in we would be playing one of the top two teams in the country," Serratore told the Bemidji Pioneer. "Notre Dame has proven over the course of the season they deserve a top seed. We have the utmost respect for Notre Dame and know the team will provide a major challenge.
"At the same time, we feel good about ourselves going into the tournament. We've had a strong six weeks of games and practices. We enter the tournament with a good feeling about our team."
Do good feelings amount to upsets? Possibly. The CHA, even if it's not won a tournament game since getting the automatic bid stipulation in 2003, has made a decent showing at the NCAA tournament.
Just remember that Serratore and the Beavers took top-ranked and eventual champion Denver to overtime in 2005 and Notre Dame escaped with a double-overtime win over Alabama-Huntsville in 2007. Wayne State also kept pace with Colorado College in 2003 before getting gassed in the third period.
Serratore said that this season has been a rollercoaster for the Beavers.
"College hockey is a grind," said Serratore. "There is no tougher sport than major college hockey. We travel all over North America. I always say there are three seasons in one. There is a time of the season where you can't do anything right, where everything is clicking and a time where you are 50-50. It was a very difficult way start to the year, but the guys responded. We got better and started playing the type of hockey we wanted to play."
BSU sophomore forward Matt Read, the team's leading scorer with 35 points and an All-CHA selection, said the Fighting Irish will provide more than just a formidable opponent. The game will also be the first-ever meeting between the two teams.
"They have the type of team that capitalizes on mistakes," Read told the Pioneer. "We know any mistakes we make can end up in the back of the net in a hurry. At the same time, we feel this is a pretty good matchup. The game's on an NHL-size rink and we're playing with confidence. We also know we'll have to play our best 60 minutes of the year in order to have a good chance."
If Read scores, that chance improves — BSU is 11-1-0 when Read scored a goal this year.
Sophomore goaltender Matt Dalton will also need to be on his game to give Bemidji State a shot at advancing. Dalton started 28 games this year and went 17-10-1 with a 2.24 goals-against average, a .918 save percentage and two shutouts. Senior captain Travis Winter has also been coming on strong of late after battling a groin injury during the season.