The end of the line came for Ohio State Saturday night. However, for the Buckeyes, it is just the beginning.
The Buckeyes are loaded with young talent and a year like this one is exactly what the young Bucks needed to take the next step as a hockey program.
Look at BU. The Terriers didn't make the NCAA tourney last season and they're in the Frozen Four after winning the Hockey East regular-season title, the league playoff championship, and another Beanpot.
They did it with young talent, a good mix of veterans, a good coaching staff, and a solid goalie. These are all ingredients that are in the mix for Ohio State.
The talented sophomore class will be juniors now and they will be the ones who create the culture next season.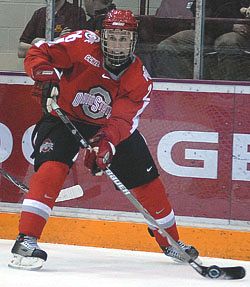 "We had no idea who we were in October but we learned a lot this season," said Sergio Somma, who enters his junior year with the expectations of leadership on his shoulders. "They key for us is to take what we learned this season from the playoffs and the NCAA tourney and set the tone in the spring workouts for next season."
The tone will be loud and clear. The message will be concise; no nights off next season.
"That Alaska series was an emotional drain on us and a physical one also, and we also had exams that week so we were just shot," said Somma, who made it clear that these were not excuses for losing that series. "Then again, if we made it to the Joe we could have gotten worn out also, so who knows if it was good or bad that we lost in that regard.
"However, we know that every point is crucial and that a first-round bye is very important for our success, and we don't want to make the mistake again of letting points get away."
Three losses come to mind. After a mind-boggling 36-hour trek to Alaska in February, the Buckeyes hung in after going down 2-0 early to play a better last two periods in a 4-1 loss. They came out like gangbusters and smoked the Nanooks 6-2 the next night, taking a 5-0 first-period lead.
The Buckeyes also had a 3-2 lead in the waning seconds at home against Notre Dame in a game televised nationally by CBS College Sports and allowed ND to tie it in the last two seconds and win it in the first minute of overtime. Then there is the 4-1 loss to Michigan at home in which they were terribly flat. However, the following night (also on CBS College Sports) they rallied from 2-0 down to beat Michigan 3-2.
"We built a foundation this season and the guys have a lot to take from this season," said head coach John Markell. "We learned lessons about preparation, about doing all the little things, and about what it takes to beat the best teams in the nation. We couldn't do that tonight, but we will be a better team for what we went through this season with such a young team."
The game against BU was a perfect example of the problem Markell had this season and what he won't have next season. With a lineup of freshmen who have never played in big postseason NCAA games and a sophomore class that also was pretty green, Markell never had the ability to look down his bench and see a core group that could take over in a tight game or in a game that was getting out of hand.
"These sophomores will be juniors next season and they will realize that they only have two years left to continue the hockey career after college, and that puts a sense of urgency in their development and that will be a huge help for our program," said Markell as he and his team sat in the Manchester Airport awaiting their charter flight back to Columbus.
"Guys like John Albert, Peter Boyd (the captain), Kyle Reed, Sergio Somma all had good sophomore seasons and they will need to have great junior years. This is the year they need to pop, to really step up."
One area the Buckeyes are solid is in goal with sophomore Dustin Carlson and soon-to-be sophomore Cal Heeter. Heeter came on in relief of Carlson against BU and shut the door for a long while that allowed OSU to climb back into the game a bit.
Carlson had a terrific season. He played in 38 games and posted a 2.40 goals against average and a .940 save percentage. He went 21-11-3, had four shutouts, and had 13 games where he posted 30 or more saves. Against BU he shouldered the blame for the loss.
"You know, we came out great and I felt great," Carlson said as reflected on the game near the OSU dressing room. "I take the blame for those first two goals, we needed a save there and we didn't get one. Even down 2-0 we felt our offense would get going and we'd get back into this game and it didn't happen. This one's on me."
Carlson has grown up as a goalie this season and one of the reasons is that he is comfortable playing behind a Buckeye team that can score. Last season he felt that they had chances but couldn't bury pucks. This year he saw a different mentality offensively and a team that was able to convert on its chances.
"The team was so much more of a team this season and we grew as a team," said Carlson. "Most of this team is back. They key for us is not to get complacent. There will be expectations on us for next season from external sources and from within the dressing room. The success we had was a result of a lot of hard work. We can't rest on the success we had this season."
Somma allowed himself to think ahead as started to envision next season.
"The upperclassmen, it's our job to set the tone this spring, to get the right attitude right from the start. Get the freshmen on board right when they come in. We feel that either you get on board with us quickly or you'll be left behind. We want the young kids to follow our lead."
Markell feels they can, and that they'll continue to draw from this season.
"Hey, we made the NCAA tourney. Yes, we got our [butts] kicked but that will help show these players what they need to do to win these games next season."