In the growing tale of how Bemidji State got here to be the darlings of the Frozen Four, don't forget how close the Beavers got to having their season end.
In the CHA tournament's championship game, Robert Morris took the Beavers to overtime before succumbing on Matt Read's second goal of the night.
One bad bounce in that overtime, and Bemidji State is back at home instead of soaking in the attention ahead of its national semifinal Thursday against Miami at the Verizon Center.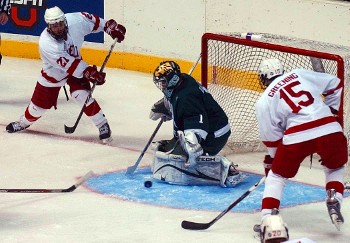 "If Reader didn't score, we wouldn't be here today," Beavers forward Tyler Scofield said. "It's pretty amazing to think of it that way, but he scored a big goal.
"We've been playing good hockey as of late. We're obviously glad he scored that goal and it led to two big wins last weekend, and now we're sitting here with the opportunity of a lifetime."
Other than the CHA title game, the postseason has been a series of big victories for the Beavers.
They stunned Notre Dame 5-1 in the Midwest Regional semifinals, then came back for a 4-1 victory over Cornell to earn this trip.
In the CHA semifinals, they ousted Alabama-Huntsville 4-1.
Experience Counts?
College hockey's final weekend often comes down to goaltending, and in that case, Bemidji State has the most experienced netminder in the field.
And he's played all of 35 collegiate games.
Sophomore Matt Dalton has had a postseason run to remember, with a 1.21 goals against average and a .958 save percentage in four games.
He stopped all but two of the 61 shots on goal he faced at the Midwest Regional.
But how much does experience in net count this weekend? Against Miami, the Beavers will face either freshman Cody Reichard, who has 18 collegiate games under his belt, or freshman Connor Knapp, who has played 23 times.
Boston University freshman Kieran Millan has played 33 games, and Vermont rookie Rob Madore has appeared 28 times.
"He's really been consistent," Bemidji State coach Tom Serratore said of Dalton. "Take away the first month of the season, where we obviously struggled — we started off 1-6 — he's been a rock. Overall, our team defense has been good. Our guys have bought in. He's got a lot of confidence in himself and we've got a lot of confidence in him.
"I don't know if he's experienced — he's a sophomore. He only played five games last year. But talent is talent, and if it's young talent or old talent, you lean on those guys, and we really lean on Matt."
Keeping Tempo
Bemidji State's hour-long practice session on the Verizon Center ice Wednesday was a noticeably up-tempo outing, and that apparently is nothing new for the Beavers.
"We have high-tempo practices because that's the way we play," captain Travis Winter said. "We're always moving. We're in great shape."
There's a method behind the practice tempo.
"I think you have to be high tempo on Thursday," Serratore said, referencing the traditional day before a series. "It's not physically demanding, but this game is high octane, so you'd better practice high octane. That's the way I look at it."
Getting on the ice may have been a nice distraction from all the hoopla.
"The first couple of days back home, it was definitely overwhelming," Scofield said of all the attention since the Beavers earned their spot here. "We tried to take it all in. We enjoyed it. But we're mature athletes and as soon as we hit the ice we knew we were back to business."
Top Heavy
Bemidji State's top line of Read centering Scofield and Matt Francis has produced 12 of the team's 16 postseason goals and most of the memorable ones.
But a one-line approach doesn't always yield the best results over the long term. The Beavers are confident that their presence involves more than just three forwards.
"Our line's been playing great, but I think all our lines have been playing great hockey," Scofield said. "They might not be scoring goals or anything, but they're all playing great defensively.
"It's been a team effort over the past couple of months. Obviously, when other lines chip in, it's great. Even us, we just go out there and look as a line that hopefully we can chip in. We don't expect to score every night; we hope we can."
History Lessons
While the Beavers are focused solely on their task at hand this weekend, Tom Serratore was asked the inevitable question about whether simply being here helps Bemidji's cause in finding a new home with the WCHA after the College Hockey America folds.
In answering, he took the opportunity to educate the press about BSU hockey's storied history.
"A lot of that's out of my control," said Serratore. "Obviously, we've applied to the WCHA. We feel we're a great fit for the WCHA, but we also feel our resume coming into the season stood on its own two feet. I don't think we need to go to the Frozen Four to validate our resume.
"We are the winningest program in the history of college hockey. We have 13 national titles at the small-college level. We've had over 20 conference championships, four at the Division I level, so we do like our resume.
"Again, we've been a 'have' in college hockey and we've done a lot for the game."
When pressed on the issue, Serratore went beyond defending Beaver hockey and stood up for the CHA itself.
"A lot of people don't do their homework. You take a look at who we've played. Our league's good. Our league kind of gets disrespected, and that kind of bothers me. I'm a proud guy of how hard we've all worked.
"You take a look at what we've accomplished nonconference — not only this year — take a look at our record, guys, over the last six years. Take a look at our conference record. Take a look at who we've played. We are battle-tested; we're a battle-tested program."