One person's pleasure can be another's tragedy, and it was pretty clear how those lines were drawn when the final horn sounded Thursday night at the Verizon Center.
As Boston University celebrated its trip to the national championship game, Vermont's Drew MacKenzie found himself as the center of tragic attention in a game that provided waves and waves of theater.
The freshman defenseman was in line to be the hero for a Catamounts' come-from-behind victory under the bright lights of college hockey's biggest stage. His first collegiate goal, scored with just over a half a period remaining in the third, put Vermont ahead in a see-saw affair.
However, things turned against him a short time later when he redirected a rebound past his own goaltender, igniting a BU rally that put the Terriers in the title game and had the Catamounts packing their locker room.
"It went from being a high point to . . letting that one go in off my stick, obviously I'm disappointed, but there's nothing I can do about it now," MacKenzie said. "If I could take back that goal, I would. But it happened, so you can't do anything."
It almost seemed like MacKenzie couldn't do anything to prevent the fateful play with 6:54 remaining in the third period and his team leading 4-3.
Vermont goaltender Rob Madore stopped Chris Higgins' shot, but the rebound popped right back out in front. MacKenzie, sliding back toward his net with his stick on the ice, saw the puck deflect off his stick and into the net, a devastating way to lose the lead.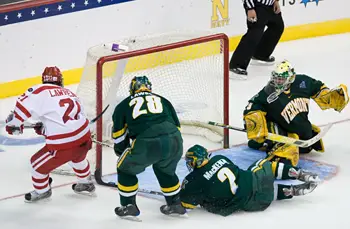 When BU went ahead for good just over a minute later on a missed faceoff assignment that allowed Colin Wilson to go free toward the net for a rebound, the feeling had to be that much worse.
The Catamounts had shown remarkable resilience in rebounding from a 2-0 deficit after one period to take a 3-2 lead in the second, and again by shaking off BU's tying goal late in the second to go ahead again in the third.
MacKenzie was in the spotlight for positive reasons earlier in the third when he used a screen to sneak a power-play shot from the top of the zone through Terriers' goaltender Kieran Millan.
After 30 collegiate games without a goal, a stretch that included a bout with mononucleosis in February, MacKenzie had his personal breakthrough, one that was this close to providing his team with a breakthrough, too.
It didn't turn out that way, and defense figured heavily into that throughout the night for Vermont.
The Terriers jumped on the Catamounts in the first period, outshooting them 14-7 and outscoring them 2-0.
"We needed to play better defensively," Vermont coach Kevin Sneddon said. "We got in a hole right off the bat. We didn't play well in the first period. Our defensemen didn't move the puck very well. We had a lot of turnovers at the offensive blue line and they were a much stronger team out of the gate."
Vermont answered forcefully in the second, rallying to take the lead when Millan whiffed on a Josh Burrows' shot from the top of the faceoff circle.
"I think we just had to get some of the jitters out in the first period," said winger Justin Milo, who scored the first of two Catamounts power-play goals. "They definitely took it to us a little bit, but we were trading chances and we had some good chances ourselves. And we calmed ourselves in between periods, and I think the team was pretty confident we were going to come out with a good second period, and we did. But it's unfortunate we couldn't keep the lead."
MacKenzie was direct in answering questions after the game, but the pain of the loss showed in his face.
Being the object of tragedy is a difficult burden to bear, but Sneddon said he wasn't worried about the freshman's ability to move on.
"It's part of the game," Sneddon said. "It's a game of mistakes. We made our share of mistakes tonight. We wouldn't be in the situation without him having the poise to put that puck in the net in the first place on the power play. It's a learning experience. He's a freshman. He's going to be a tremendous player for us. We love him."