The stars seem in alignment for Bemidji State. Last Friday, representatives from the WCHA paid an official visit to the school, which has applied for league membership. That same day, Bemidji broke ground on a new 4,700 seat arena. And of course, the Beavers have captured the imagination of the hockey world with their unprecidented run to the Frozen Four. But the clock is ticking.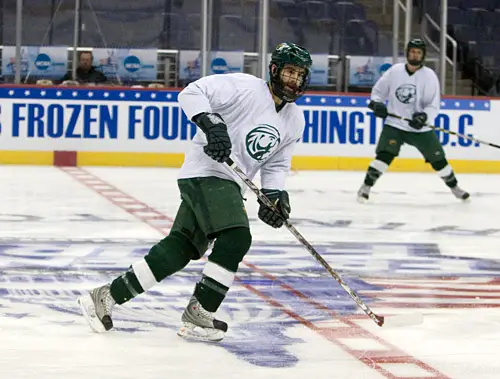 With January's announcement that Niagara and Robert Morris are joining Atlantic Hockey for the 2010-11 season, the CHA is officially a dead league walking. Bemidji has applied for membership to the WCHA and Alabama-Huntsville has applied to the CCHA. If either team is rejected, they will have to go it as an independent or…the unthinkable.
Bemidji needs the approval of eight of the ten WCHA teams to join. The league meeting in April 27. It's going to be a tall order, especially getting the approval of schools that seem to have more to lose than to gain: Colorado College, Denver and Alaska-Anchorage. More travel, and, for all the schools, a lesser share of playoff revenue and a crazy 11-team schedule (since no other team applied for admission, although reportedly as many as four teams from other conferences expressed interest).
Will the feel-good story of the Beavers help?
"It doesn't change the facts," WCHA commissioner Bruce McLeod told the Grand Forks Herald. "But it certainly changes the feelings when you deal with your heart. In one case, you're dealing with your heart…You also have to deal with your head and business sense, too."
"A lot of it is out of my control," said Bemidji coach Tom Serratore. "Obviously we've applied to the WCHA. We think we're a great fit and we also feel our resume coming into the season stood on its own two feet. We didn't need to make it to the Frozen Four to validate our resume. We have the winningest program in the history of college hockey. We've had 13 national titles at the small college level. We've had over 20 conference championships. We like our resume. We feel we've done a lot for the game.
"I can't control it and I can't really think about it because the task at hand is more important for our program."
That's true, but one does get the sense that there's more than a national title on the line for the Beavers.