There is always a lot of noise about "experience" every postseason.
No matter the sport, fans, coaches and players alike can't get enough of it. Who's got it, who needs it, where it came from. What it means, what it's worth, what it fosters on the ice.
Cody Reichard proves that pundits can posit what they will about the power of lessons learned, but sometimes you don't have to have been there to get there.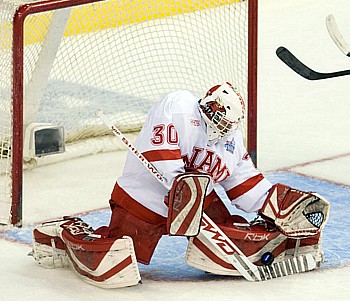 The RedHawks' freshman goaltender entered the Frozen Four with by far the least college hockey experience of any of the four netminders, playing over 700 minutes fewer than any of the other starters.
With 1,007:07 played in his NCAA career, Reichard played less than half as much time as semifinal opponent Matt Dalton of Bemidji. Even battery-, class-, and roommate Connor Knapp saw more time (1,349:53).
But coach Enrico Blasi saw something he liked in the 5'11" Ohio native, and Reichard has been Rico's man down the stretch.
"I think the first game against Denver really gave him a lot of confidence, and he's the type of kid that works hard all the time," praised Blasi, referencing Miami's 4-2 first-round win over the Pioneers.
"The team played well, and coach decided to stick with me, and it's been good ever since," shrugged Reichard of his recent run.
The goaltender didn't see much action, but he made the most of his minutes in earning the nation's 17th-highest save percentage (.921) and 15th-ranked goals-against average (2.16) in his 18 games entering Thursday. He also put together an ongoing streak of 17 .900-plus save-percentage games.
That said, Blasi wasn't surprised to see the youngster succeeding on the national stage.
"We've seen it before: Denver won it with (Peter) Mannino, (John) Muse last year took BC, so it's not unusual. I credit Cody for his hard work throughout the season."
Then again, Reichard is hardly a novice. He's seen pads before, he's seen a sheet of ice. He's even played playoff hockey.
"I'm an older guy," Reichard said. "I mean, I'm a 22-year-old freshman, so I played a lot of juniors and I've seen a lot of stuff. Last year I played 51 games in Fairbanks, so I've been through a lot and it doesn't bother me."
"I felt comfortable out there. I've played in big rinks like that before with a lot of people, so I just tried not to think about it."
Reichard even took his Fairbanks Icedogs of the NAHL to the championship.
Novelty keeper? Maybe Reichard's case isn't as novel as we thought.