After a scoreless first period in the national semifinals, the Miami RedHawks emerged from the second with a 3-1 lead on goals by Tommy Wingels, Alden Hirschfeld and Bill Loupee.
Miami was the first team to score, at 3:54 on the second RedHawk power play of the game.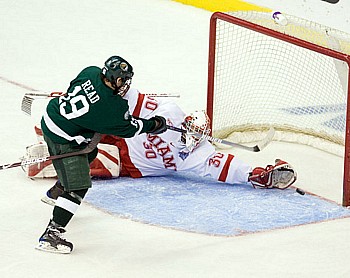 After taking a pass from Andy Miele, Wingels — who was denied on a shorthanded chance in the first — let one rip from the left point and found the sliver of open net between the left post and Bemidji goalie Matt Dalton, screened by RedHawk Gary Steffes.
The RedHawks made it 2-0 on the first of three goals scored by both teams in a 2:11 span.
At 8:35 on an odd-man rush, Wingels took the puck into the BSU zone on the left wing, skated into the left circle, deked Beaver defenseman Cody Bostock and shuffled a pass right to Alden Hirschfeld crashing right.
Hirschfeld put the puck behind Dalton while falling to the ice for the two-goal lead.
Bemidji answered at 9:45 on Matt Read's power-play goal from Matt Francis. From the slot, Francis fed Read left of the crease, and with Miami netminder Cody Reichard drawn completely left to defend, Read had a big right-side target to make it a 2-1 game.
But at 10:46, Carter Camper's shot from the left circle hit Loupee's stick in the crease; the puck ricocheted off Dalton and back into the Beaver net to give Miami another two-goal lead.
At the end of two, shots were 22-18 in favor of Miami.
The action in the scoreless first period was limited to good defensive play, grade-A shots that favored Miami more than Bemidji State and two dramatic glove saves by Dalton.
Before the midway mark on Bemidji's only power play, Wingels broke away shorthanded but was caught from behind before shooting, and minutes later Pat Cannone hit the outside of the Beaver net when Bostock took away his shooting angle on the right.
Dalton made two dramatic glove saves on two of Miami's top goalscorers in the last two minutes of the first period — both breakaway shots from the left point — stopping Andy Miele first and Justin Mercier in the waning seconds.