They got so close to the Frozen Four last year that they could taste it, Miami RedHawks' forward Justin Mercier has been telling anyone who'll listen these last few weeks.
The taste now that Miami practically had one hand on the national championship trophy, only to have it snatched away by a gritty Boston University comeback?
"It's hard," senior defenseman Kevin Roeder said. "It's a hard feeling. As a little kid, when you get to college hockey, that's your No. 1 goal. You want to get that national championship and you want to bring it back. … We were so close."
The taste when you realize exactly how it ended? Miami coach Enrico Blasi summed it up without words.
After hugging his two young daughters outside the team's locker room, he learned that Colby Cohen's shot on the game-winning goal deflected off Roeder's thigh as the defenseman went down for a block, then popped over goaltender Cody Reichard's shoulder.
Crouching down, he put his head in his hands.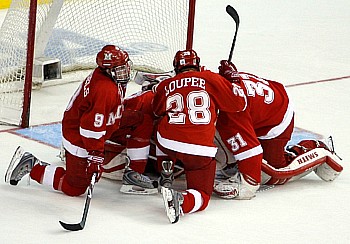 The RedHawks were a minute away from a national championship. They were an overtime goal away from a national championship.
Still, they walked out of Verizon Center on Saturday as runners-up.
It all ended when Roeder, an alternate captain in his 152nd and final game with the RedHawks, did exactly what he should have done.
When Cohen wound up on the left side, Roeder went into a slide to block the shot. He did, but the puck deflected off him and floated into the net.
It had to be a one-in-a-thousand bounce.
"See what happens the next time," Roeder said. "I don't think that's going to go in. It's a fluke, and that's the game of hockey. That's overtime."
Roeder had no qualms about going down for the block, even with the outcome.
"Ten times out of 10 times, I'm going to go down and block that shot," Roeder said. "That's part of hockey. You're going to block shots, sacrifice your body. In overtime, you learn to put anything on net. That's what he did, and he had a great outcome.
"It's a hard outcome. I didn't understand how the puck went in in the first place until I watched the replay. Watching that replay hurt a little bit, but you've got to understand it's hockey."
In a regulation finish fitting for the wacky 2009 tournament, the Terriers scored a pair of goals with an extra attacker in the final minute to force overtime.
On the first one, Miami defenseman Cameron Schilling appeared to have a chance to clear the puck away from the net but lost the puck. Zach Cohen backhanded a sharp-angle shot off Reichard's right pad and in with 59.5 seconds left.
BU equalized when defenseman Matt Gilroy pulled the puck around a Miami player and set up Nick Bonino for a one-timer with 17.4 seconds left.
"I can tell you we had the right guys on the ice," Blasi said. "We knew exactly what they were going to do. We were trying to keep our guys focused. They [the Terriers] executed."
The RedHawks didn't allow a power-play goal on two BU attempts Saturday, but the Terriers made the most of their 6-on-5 time.
"If you have that puck on your stick, you want to get it off and out of the zone," said Roeder. "We had opportunities to do that and we didn't and they took advantage of that. That's how they got their two goals. It's a bummer. It's a hard pill to swallow right now."
Meeting with the media, Blasi took a long pause before starting to respond to a question about how this feeling compared to that of last season, when the RedHawks lost in overtime to Boston College in the regional final.
That night, Miami had a 2-0 lead in the second period and could start getting a taste of the Frozen Four.
"I would say that it's worse, obviously," Blasi said before another long pause.
"And this senior class has won more games, I believe, than any other program in the country in the last four years. I would say that's pretty damn good.
"And I'm proud of the way they played tonight. We didn't get the bounce at the end. But in my books, and I know in a lot of hearts around campus and alums and supporters, they're national champions."