Former college players T.J. Oshie and Ryan Suter scored as the United States earned a spot in the semifinals of the World Championship with a 3-2 victory over Finland on Wednesday.
Robert Esche made 47 saves, and Dustin Brown made 47 saves for the Americans, who will play Russia on Friday.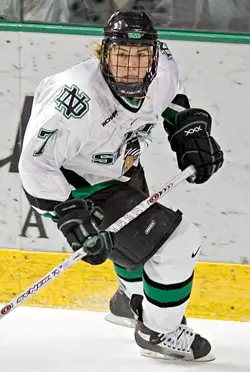 "We got unbelievable goaltending, especially in the first period when we needed it most," U.S. coach Ron Wilson said. "We got stronger as the game wore on and I thought controlled most of the second half of the game."
After Brown leveled the game at 1-1 in the second period, Oshie, a former North Dakota forward, put the U.S. ahead for good less than two minutes later.
Suter, a former Wisconsin defenseman, scored just over two minutes after Oshie's goal.
The U.S. lost to Russia 4-1 earlier in the tournament.
Friday's game starts at 10:15 a.m. Eastern Time and will be webcast live at universalsports.com.