College hockey quickly redeemed itself at the 2009 NHL Entry Draft on Saturday with 10 college freshmen-to-be becoming NHL property in the second round. The onslaught of college players came a day after only seven collegians were drafted in the opening round and none among the top 15 overall picks.
Leading the way on Saturday was Michigan recruit Chris Brown. Brown, who was ranked 30th among North American-born skaters, was selected sixth in the second round, 36th overall, by the Phoenix Coyotes.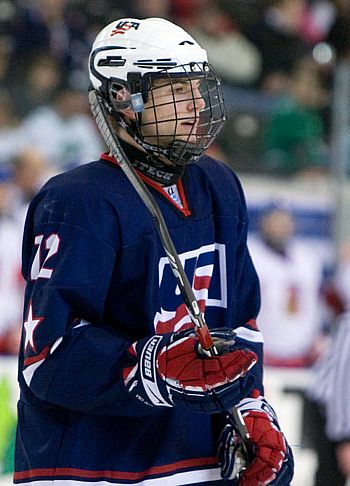 Hometown favorite Alex Chiasson, a freshman-to-be at Boston University, was the second collegian selected on Saturday. The Dallas Stars made Chiasson, a 6-foot-3 right wing, their second pick of the draft and 38th overall.
Known for his stick-handling ability, Chiasson says he hopes to use Boston University to develop physically, hoping he can fill out his large, thin frame. He also said that the academics of the college game helped him decide to take the college route over major juniors.
"I'm an 'A' student and I think school is important for yourself," said Chiasson. "College teaches you more than just hockey and it gets you ready. It's a balance in life and I thought college was the best decision for me."
Minnesota recruit Zach Budish and Denver freshman-to-be Drew Shore were two players many thought had first-round potential. Both slipped to the middle of the second round with Budish becoming the 41st overall selection by Nashville and Shore heading to Florida as the 44th overall selection.
Shore admitted that not hearing his name called during Friday's opening round was stressful and finding any quality sleep overnight was next to impossible.
"It was a pretty disappointing night to sit there and watch every pick and people tell you that's where you should go," said Shore. "But today's a new day and I got picked so I'm pretty excited right now."
Boston College had the most players selected in Saturday's second round. Kenny Ryan (Toronto, 50th overall), Brian Dumoulin (Carolina, 51st overall) and Philip Samuelsson (Pittsburgh, 61st overall) all were selected within a 15-minute span.
Samuelsson, son of legendary NHLer Ulf Samuelsson, will look to follow in his father's footsteps with the Penguins. Ulf Samuelsson played five seasons for the Penguins between 1990 and 1995.
Other collegians selected in the second round included William Wrenn, 43rd to San Jose (Denver, incoming); Kevin Lynch, 56th to Columbus (Michigan, incoming); and Brandon Pirri, 59th to Chicago (Rensselaer, incoming).
Western Michigan's Kevin Connauton was the first current college player to be selected on Saturday when Vancouver drafted the defenseman in the third round with the 83rd overall pick. He was also one of the most significant jumpers, having originally been ranked 202nd by Central Scouting.
A total of 55 players with college ties were selected during Saturday's second through seventh rounds. In addition to the 10 picks in the second round, there were eight players selected in both the third and fourth rounds, nine in the fifth round, seven in the sixth round and 13 in the seventh and final round.