Being ranked in the top 30 coming into the NHL entry draft initiates high expectations and hope for the young players who might just hear their name called in the first round. But what if you were projected to be picked and with all of that pressure ended up waiting, and waiting?
Well the U.S. National Under-18 Team's Drew Shore, who will attend Denver this fall, was ranked 28th and word around town was that this 6'3 center had a good shot at being chosen on the first day, but it didn't quite work out as planned.
Shore had a restless night after the first round, but he has a positive outlook after being drafted 44th overall by the Florida Panthers. Besides his optimism, part of Shore's character is defined by his pragmatic attitude towards his career. He isn't afraid to admit the truth about how he feels and where he needs improvement.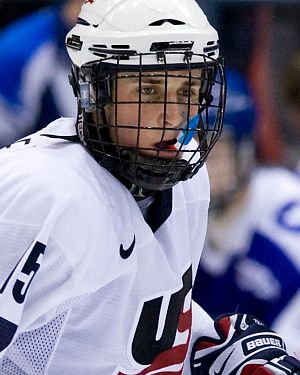 "Yeah it was a disappointing night," Shore said. "But I don't know, getting picked today, it doesn't really matter where you get picked, it matters what you do after that so it's only going to make me a better player.
"It was definitely a tough situation [waiting around Friday] because you watch the first round on TV everywhere and you're hopeful, so it was disappointing just to sit there and watch every kid while people tell you that's where you should go.
"I didn't sleep too well, but I couldn't ask for getting into a better organization and that's what counts, so I'm fortunate for that and I look forward to getting to Florida."
Shore is a Denver native, but his mother's side of the family is from Sarasota, Fla., so the enthusiasm started pumping through his family's blood right away.
"Yeah, she was really excited," Shore answered of his mother's response to his selection. "Her whole side of the family lives there so I think that she's pretty excited about that."
Neither of Shore's parents was involved with hockey growing up, as his father played lacrosse in college and his mom played semi-professional tennis. However, once his uncle gave him a hockey jersey when he was a toddler, Drew fell in love with the sport and his three younger brothers all followed. His brother Nick played for the U.S. National Under-17 team, marking the first time a sibling pair played simultaneously in the National Team Development Program.
Shore closed out his second season on the U.S. team tied for third with 32 assists within the club and contributed to Team USA's gold-medal win in the 2009 Under-18 IIHF World Championships, but he continues to look ahead with an encouraging attitude, having confidence that he'll get better and better.
"I really didn't have a great first half of the season — it was pretty disappointing to me," Shore explained. "I think that my consistency was something I struggled with. But I think I have a lot of good tools and if I can put that together on a nightly basis then I can step it up this season and can be real successful."
And Denver is the perfect place for Shore to take his game to that next level this fall. He grew up a Pioneer fan and he'll have support from family in the area.
"I grew up there when they won back-to-back [NCAA] championships in '04 and '05, and the coaches I'm really fond of. They've put a lot of players in the NHL recently so it's a great place for me to develop. It should be a really good school.
"My parents will be able to go to all my games and I have three younger brothers that play, so two of them are still at home and they'll be able to come to my games. It will be awesome."
On another note, Shore's honesty even reveals that despite his ability to be stylish on the ice, he may not have the same fashion outside the rink.
"See, I have a pretty unique style so my teammates usually give me a little scuff about what I wear," Shore said. "They'd say I'm the worst dressed, but I'd say I'm the best. I wore an outfit two years ago to a tournament and we were going out to dinner that night and I really didn't have anything to wear. So I kind of put together a little outfit that let's just say I still haven't heard the end of."
There's a pretty good chance the hockey world hasn't heard the end of Shore, a realist who can put things in perspective and still enjoy the moment.
"Today is a new day and I'm happy just to be picked," he said. "I'm pretty excited right now about the future."