Minnesota-Duluth coach Scott Sandelin has signed a two-year contract extension that will keep him behind the Bulldogs' bench through the 2011-12 season.
The move comes after Sandelin led the Bulldogs to the NCAA tournament with an unprecedented run through the WCHA playoffs. UMD swept at Colorado College in the first round, then became the first team to win three games in three days at the WCHA Final Five.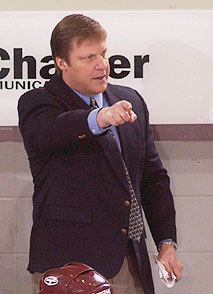 In nine seats at Minnesota-Duluth, Sandelin has a 133-173-45 record. The Bulldogs were 22-13-8 last season, when they advanced to the West Regional final before losing to Miami.
Sandelin, 44, won the Spencer Penrose Award as the Division I men's coach of the year in 2003-04, the same season the Bulldogs made an appearance in the Frozen Four and forward Junior Lessard won the Hobey Baker Award.
The extension would keep Sandelin with the Bulldogs past the Dec. 30, 2010, opening of their new arena, which is under construction adjacent to the DECC.
Sandelin signed a three-year extension through the 2009-10 season just over three years ago at a base salary of $130,000. No salary details were released on this year's extension, but the Duluth News Tribune reported it as $150,000.
"It's exciting to look forward now and start building on last season," Sandelin told the News Tribune. "We lost some great players, but we also have great players returning and some good freshmen, and that can't help but make all of us feel like good things are ahead."