Former Minnesota captain Grant Potulny, who recently returned to the team as a volunteer assistant coach, has been elevated to full-time status with the team.
He replaces Mike Hastings, who joined new coach Dean Blais at Nebraska-Omaha.
Potulny helped the Gophers to national championships in 2002 and 2003, scoring the overtime winner in the title game in St. Paul, Minn., in 2002.
"It was just six years ago that I was in the same spots as these guys," Potulny said of the current Minnesota players in a news release. "Don (Lucia) and John (Hill) do an amazing job and I think I bring some youthful energy as somebody who can bring a different element to what we're doing already."
Meanwhile, Justin Johnson has been named the team's volunteer goaltending coach. Johnson was a backup on both the 2002 and 2003 title teams.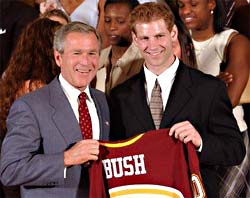 Potulny, 29, was named the interim assistant coach when Hastings resigned. He had an injury-plagued five-year professional career after his four-year collegiate career.
"Those were the best four years of my life," Potulny said of his time with the Gophers. "I truly believe that every kid who comes to Minnesota should have a chance to play in the Frozen Four and I'd love to help make that happen."
Said Gophers coach Lucia: "As a three-year captain, Grant was a tremendous leader and was well respected by his teammates," Lucia said. "As an interim assistant coach over the past month, I've had the opportunity to watch him interact with players and coaches at our model camp and select-16 festival and coach at the select-17 festival in New York. I have had numerous people come up to me and tell me how impressed they were with Grant. He will bring instant credibility based on what he did as a player and captain here and bring new insights after playing professionally the past five years."
Johnson, 28, was a volunteer assistant at St. Cloud State for the last three seasons.
"It's almost like coming home for me," Johnson said. "With the talent they have all around and in net it's going to be an exciting season and I'm really looking forward to it.
"I've known Kent (Patterson) since he was a Pee Wee in camps and we have a great relationship," he added. "Being at St. Cloud, we did a lot of film analysis on Alex (Kangas) and figuring out how to beat him. He's an outstanding goalie and I'm very familiar with his game as well."