Troy Jutting and Minnesota State have agreed to a contract extension that will keep the coach with the Mavericks through the 2012-13 season.
The four-year extension is to a contract that was expiring this offseason.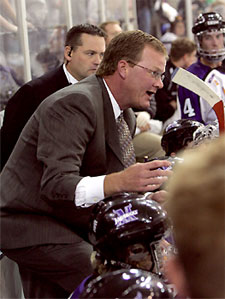 Jutting has a 142-162-44 record in nine seasons with the Mavericks. He has been named the WCHA's coach of the year twice (2003 and 2008).
"As the composition of the Western Collegiate Hockey Association changes and we look ahead to league expansion, we are proud to have Coach Jutting back at the helm," Minnesota State athletic director Kevin Buisman said in a news release. "Troy is a veteran coach who understands what it takes to be successful at this level. Our staff does a great job in terms of skill development, as evidenced by the number of players who have moved on from here to the professional ranks recently and that in turn has ratcheted up the quality of new talent we have coming in each year.
"Off the ice and in the classroom, these young men have generally been great ambassadors for the program. Attendance and interest continues to grow and we look forward to an exciting future with Coach Jutting behind the bench."
The Mavericks started last season 8-3-3 but went 7-14-3 the rest of the way.
Financial terms of the contract were not disclosed.