North Dakota has dismissed junior forward Matt Frattin after his second run-in with the law this offseason.
Frattin, 21, was arrested and charged with driving under the influence on Wednesday, according to a team statement. Coach Dave Hakstol announced Frattin's dismissal for a violation of team rules.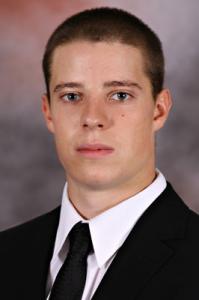 "This decision was made with the best interests of our program in mind, specifically the responsibilities to the program and what is expected of the members of our team," Hakstol said in a news release. "But we also care about Matt Frattin and would like to put him in position to be able to live a healthy lifestyle and resume his hockey career."
In July, Frattin and former North Dakota teammate Joe Finley were arrested for disorderly conduct after campus police observed them throwing cups, plates, a kitchen table and a lawnmower from a residential garage.
The team suspended Frattin for two games and reduced his scholarship money after that incident.
On Wednesday, Hakstol said Frattin's status with the team may be revisited before next season.