This season, Alabama-Huntsville will be a member of the CHA, but next year is anyone's guess.
The Chargers prefer to focus on this season, however, and let next year sort itself out when that ship comes to port.
"We've had a lot of distractions this summer and I think all of us are happy to finally get to the season and start playing some games and doing what we enjoy," UAH coach Danton Cole said. "We're optimistic about this season and are excited to see how the 19 or 20 freshmen and sophomores we had when I got here have improved now as juniors and seniors."
One of those juniors, forward Andrew Coburn, agrees with Cole.
"The outlook is good and all of the guys are really excited about a fresh start despite the recent news," Coburn said. "Conditioning is the best it has been and we are maturing more as a team on and off the ice. Everyone is looking good, so hopefully things can click this year."
UAH won just five games all of last season. That has been well-documented. But one of the beauties of sports is last season is now history and teams have no choice but to look forward, even if the future is uncertain in Huntsville.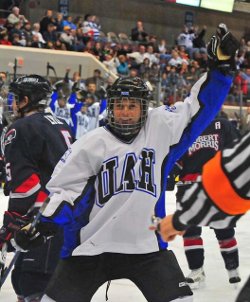 "We are only taking it one year at a time," Coburn said. "We aren't worried about the future. The school and community are 100 percent behind us and we are thankful for that. The only thing we are focused on is having a good season and bettering our situation as this is a great place to play."
Goaltenders Cameron Talbot and Blake MacNicol will be the backbone of any success UAH has this season and Talbot even earned a spot on the All-CHA preseason team.
"Cam has come a long way and I think any good team has strong goaltending," Cole said. "We're hoping Cam can put together a full year and Blake has proven he knows what it takes to help us get points out of games."
"Any team runs with the goaltending and fortunately enough, we have three strong goaltenders that will better our odds immensely," Coburn said. "We will build from them out and come together as a team and win more games this year."
Cole also had high praise for two freshmen in forwards Keenan Desmet and Sebastian Geoffrion. The latter is a grandson of NHL Hall of Famer Bernie "Boom Boom" Geoffrion and will provide energy to the Chargers. Desmet will see immediate minutes and should make an impact much like Coburn and Cody Campbell did as freshmen.
That said, the upperclassmen will obviously be the catalysts for UAH.
"I have always believed in the upperclassmen and veterans to lead the way," Coburn said. "That doesn't mean we carry the whole load, though. The freshman class is looking great and we are looking forward to them helping out and being a part of the puzzle this year. Although I think the turnaround has to be spearheaded by the upperclassmen, the talented freshman and sophomore classes will be right there with us."
This weekend, UAH opens the season at Notre Dame in a rematch of the 2007 regionals where Huntsville surprisingly took the Irish to double overtime before eventually bowing out.
"We need to face teams like Notre Dame and our kids deserve games like this," Cole said. "We have Notre Dame, Air Force, Western Michigan, UMass-Lowell and Bemidji State to start the season, so we're running the gauntlet our first 10 games.
"I know we can keep improving and hopefully with more experience, we'll have better results."