Pop quiz: Who's the hottest college hockey team in Minnesota right now?
Sorry, Gophers, but you need to score goals to even be considered.
Duluth? Nah.
Minnesota State? Try again.
St. Cloud State? Nupe.
Ladies and gentlemen, Bemidji State is the hottest college hockey team in Minnesota right now after getting a hard-fought tie and a dominating win on the road last weekend at Northern Michigan.
After BSU's 5-0 whitewash Saturday night, which also saw Mathieu Dugas become just the third BSU goaltender to post a shutout in his collegiate debut, coach Tom Serratore called the game one of the best wins in the program's storied history.
"This was a great effort — I am very proud of the way we played," Serratore said. "You look back, over the course of the last 10 years in Division I, at some of our most gratifying wins, and this ranks right up there. This is not an easy place to play. It's tough to get one point out of Marquette, let alone three.
"We were stingy defensively and our guys played with a ton of jam. I am very proud of our guys."
Dugas needed to make just 13 saves for the victory. He joined Jim Scanlan and Matt Climie as BSU netminders with shutouts in their first games.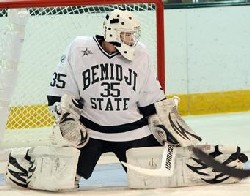 "This was great for Mathieu," Serratore said. "We've got a lot of inexperience this year, but I think we've had some great goaltending. Danny Bakala has been outstanding and Mathieu played great. I thought he was very poised in the net."
BSU captain Chris McKelvie scored twice and Tyler Lehrke, Ryan Cramer and Ian Lowe also tallied. Matt Read chipped in with two assists.
Friday night, Ben Kinne's goal with 10.6 seconds left in the third period pulled the Beavers into a 3-3 tie and that's how the game ended after overtime.
Jordan George scored a power-play goal early in the third after NMU's Andrew Cherniwchan was given five minutes for checking from behind late in the second period.
"I think it would have been mothballs if we would not have scored there," Serratore said. "That can really deflate you if you don't score (on a five-minute major) when you are down 2-1 in the third period on the road."
Jamie MacQueen rang up BSU's first goal of the night and Brad Hunt recorded a pair of assists.
Bakala finished with 25 saves and is still unbeaten (2-0-1) in this young season.
"Northern Michigan is a good team, boy," Serratore said. "There is no question there were times that we were a little flat-footed, but overall I thought it was a great tie (and) a terrific night. I am very proud of the guys. I thought they played with a lot of heart and a lot of want-to in the third period."
BSU opens CHA play this weekend down in Huntsville for a rare Saturday-Sunday series.
Ferris State Brooms Aside Robert Morris
Even though Robert Morris came out on the wrong side of both games on the road last weekend at Ferris State, there were a couple positives that could be used as encouragement.
First off, freshman Eric Levine made 48 saves in Saturday's 4-1 loss, also his debut. His save total is second all-time only to Christian Boucher, who turned aside 50 shots against Bemidji State back in 2006.
Scott Kobialko's goal midway through the second period tied the game at 1-all and also saw freshmen Zach Hervato and Brendan Jamison earn their first NCAA points with assists on the play.
In Friday night's game, Chris Kushneriuk's second goal of the game with 4:09 to go in the third sent the game to overtime only to see FSU's Casey Haines win it 37 seconds into the extra session, 5-4, on his second tally of the evening.
Brooks Ostergard made 42 saves and Cody Crichton and Furman South lit the lamp for the Colonials. Ron Cramer added two helpers in the cause.
Ferris State outshot Robert Morris in the series, 99-47.
RMU has their home-opening series this weekend against future Atlantic Hockey foe Quinnipiac.
Chargers Trampled By Broncos
Alabama-Huntsville's sizzling start cooled to a low simmer last weekend with Western Michigan providing the spoils with two straight wins in Huntsville.
In front of the fourth-largest home crowd (3,873) in CHA history, the Chargers lost, 2-1, on Friday night and followed it up with another 2-1 defeat Saturday night.
Justin Cseter scored Friday night and Kevin Morrison sniped Saturday night. Curtis deBruyn assisted on Cseter's goal for his first NCAA point.
Cameron Talbot stopped 27 shots in the first game and 22 in the second game.
UAH led in Friday's game before a Cam Watson penalty shot tied the game and then former Wayne State forward assisted on Trevor Elias' game-winner at 9:42 of the third period.
"We had our chances, but we didn't bury them," Chargers coach Danton Cole said to the Huntsville Times. "We needed to make it pop, but we didn't."
Also in Friday's game, UAH had a 16-shot second period that was the most shots by UAH in a period since it fired 18 at Niagara in March 2007.
One of college hockey's most heated rivalries gets started once again this weekend as Bemidji State comes to town.
Michigan Squeaks By Niagara
In a Thursday night tilt last week, Niagara nearly eked one out on the road at No. 5 Michigan, but instead settled for 3-2 setback.
The Wolverines scored three goals (two on the power play) in the first 12 minutes of the first period.
NU chipped away with a late goal in the first by captain Ryan Olidis and then a late goal in the second from Paul Zanette, but the third period was fruitless.
Niagara coach Dave Burkholder felt his squad deserved better.
"Our third period is typically our worst, but tonight was different," Burkholder said. "We outshot the Wolverines, had several big chances and were playing the body well. We will learn from tonight's game and we will study the tapes and come out faster and stronger next week." 
"Give [Niagara] credit," Michigan coach Red Berenson said. "They were in game shape and looked like it."
Adam Avramenko stopped 30 shots in net for Niagara. Credit forward David Ross, though, with perhaps the biggest save as he chased down Michigan stud Louie Caporusso late in the third with Avramenko on the bench and took the puck away from Caporusso, who had nothing between him and the empty net. Ross dived and swiped the puck away and wound up in his own net.
NU continues its tour of New York-based teams this weekend as the Purple Eagles play at Cornell Friday night and at Colgate Saturday night.
Beavers Get Manitoba Recruit For '11 Or '12
For 16-year-old forward Zach Franko, choosing Bemidji State over major junior hockey seems like the right choice.
A second-round selection by the Kelowna Rockets in 2008, Franko is in his first season with the Manitoba Junior Hockey League's Winnipeg South Blues. Franko went to camp with the Rockets, but chose to leave after 48 hours and keep his NCAA eligibility.
"Not everyone makes it to the NHL," Franko told the Winnipeg Sun. "Ultimately, that's my goal, but you need something to fall back on. I'm getting my education paid for, so it couldn't be better. It was tough when Bemidji offered me the scholarship, but ultimately, it came down to my decision and I have no regrets."
Franko could suit up for the Beavers in 2011 as a true freshman, but it seems likely he'll come in a year later.