Looks like Bemidji State is human after all.
After being swept by Minnesota State five weeks ago, Bemidji State still had hopes of being undefeated in CHA play this season.
Niagara, the only team to have ever gone undefeated in league action, wanted it to stay that way and now it will after the Purple Eagles upset the Beavers, 6-4, last Friday night on Monteagle Ridge.
The 1999-2000 NU squad, which had current assistant coach Greg Gardner in net, rattled off a 15-0-2 CHA slate.
Gardner downplayed numbers and stats after the game last Friday.
"To go undefeated in 1999-2000 was a credit to the team, along with some lucky bounces and timely wins," Gardner said. "For us [Friday] night, we look at it as a nice victory against a ranked opponent."
Niagara scored six consecutive goals in the win, also Dave Burkholder's 150th as NU's head coach.
Ian Lowe and Ryan Cramer staked BSU to a 2-0 lead after 20 minutes.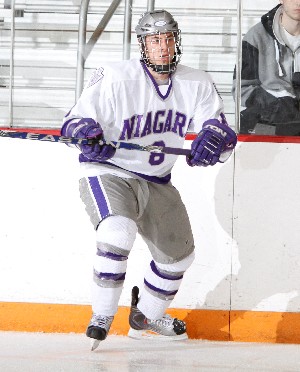 After that, it was all Niagara as Marc Zanette scored a pair and C.J. Chartrain, Giancarlo Iuorio, Derek Foam and Bryan Haczyk added singles.
Jordan George and Brad Hunt scored late to end the scoring.
"We clearly had a bad start," Burkholder said. "For the rest of the game, it was simple. The team wearing white outworked the team wearing green."
The Beavers were understandably in a sour mood afterward.
"The first period might have been one of our better periods of the year," Bemidji State coach Tom Serratore said. "Whether we self-destructed after that, I don't know, but once we took a few shortcuts and they converted on them, momentum began to shift.
"You knew those kids were going to play a better second period after that tough first period. I wish we would have responded a little better, kept our foot on the gas and paid more attention to detail, but you have to give credit to Niagara. The bottom line is that they played with a lot of intensity. They took it to us in the second and third periods and they earned it."
Chris Noonan finished with 35 saves for Niagara, while Dan Bakala and Mathieu Dugas combined for 26 in the Bemidji State goal.
Saturday night, Niagara again faced a 2-0 hole early on, but didn't recover this time as the Beavers escaped with a 4-3 victory.
Brance Orban (first NCAA goals) scored twice and Matt Read and Dan MacIntyre also scored.
Iuorio, Paul Zanette and Ryan Olidis tallied for the Purple Eagles, who got a 27-save outing out of Noonan.
"I liked our spirit and how we kept coming back tonight," said Burkholder. "Overall, there are a lot of parts of our game that I liked, but we just didn't put together a full 60-minute effort."
Bakala stopped 26 shots for Bemidji State.
Orban, on a line with Read and Lowe, also added an assist in just his fourth career game.
"Brance is a smart player," Serratore said. "We put him in there with a couple other smart players in Matt Read and Ian Lowe for Jordan George [a healthy scratch] and Brance filled in just great."
NU now has a 21-20-8 advantage since the series with the Beavers began in 1999. The Purple Eagles hold a 14-8-3 record over BSU at Dwyer Arena, but Bemidji State has won four of its last five there.
And with the final CHA tournament going down at Dwyer in March, anything can happen.
Colonials Sustain, Sweep Alabama-Huntsville
Robert Morris coach Derek Schooley harped last week that sweeping Miami was a great weekend, but sustaining it in league play against Alabama-Huntsville would be critical.
The Colonials sustained and swept the Chargers at home last weekend and seem to be peaking at the right time.
"I'm just really pleased with this weekend," Schooley told USCHO. "We couldn't have written a better script. It's been an emotional two weeks."
Friday night, Ron Cramer scored on a 5-on-3 power play at 17:36 of the third period to give RMU a 3-2 win in front of a sold-out, standing-room-only crowd of over 1,000 spectators.
Davide Nicoletti opened the scoring for UAH, only to have Trevor Lewis and Denny Urban put Robert Morris ahead.
RMU kept the lead until 13:40 of the third when Keenan Desmet lit the lamp for the second time in as many games. 
That set the stage for Cramer's late heroics.
Cameron Talbot took the loss in net with a 38-save outing, while Brooks Ostergard earned the win stopping 30 shots.
"Well, you know when you come into this building you have to match their intensity," Alabama-Huntsville assistant coach Chris Luongo said to USCHO. "Their calling card as a team is intensity and we're familiar with them enough as an opponent to know that if you come in here flat, they're going to be all over you. We really felt overall that our game was really solid. It was just a play here or there at both ends of the ice that made the difference."
RMU tallied three third-period goals on Saturday night and came back for a 4-2 win, but it wasn't without delay.
Just seconds into the second period, a hard hit shattered a penalty box door and forced the game into a 40-minute stoppage. 
After a scoreless first period, the Colonials opened the scoring at 4:08 of the second when Chris Kushneriuk scored. Desmet scored his third goal in three games in the final minute of the period.
Nathan Longpre gave RMU a 2-1 advantage only 20 seconds into the third stanza and then Andrew Blazek then made it a 3-1 lead at 7:49 with his first collegiate goal. Cramer pushed the lead to 4-1 at 17:09 of the third to round out RMU's scoring.
Chris Faribanks scored with 18 seconds remaining to make it a two-goal game.
Ostergard made just 18 saves and Talbot finished with 33 stops.
"That was a pretty complete hockey game on our part," Schooley said to USCHO. "That third period might have been our best period of the year. We kept getting pucks deep and they couldn't get anything going."
And the Colonials keep it going.
RMU Goes To Boot Camp
It might be called Boot Camp Hockey, but the experience Robert Morris went through just prior to the Miami series two weeks ago was essentially a series of motivational lectures by Major Dave Anderson, an ex-Marine.
This was the second time that Anderson, based on Long Island, has worked with RMU. The first time he came to Pittsburgh was January 2007, just before a weekend series with then-No. 2 Notre Dame.
"The leadership training that Major Dave Anderson provides is excellent," Schooley said. "He provides in-depth analysis of your team, as well as teaching life lessons to your players. Dave puts your team in the right frame of mind, which is what he did before we played Miami. The players played the game, but their minds were in a team-first mentality."
"I think we would have done more 'boot camp' activities if it was not so cold outside," said RMU senior captain Dave Cowan. "We stayed inside and pretty much just talked for a couple hours. We did a couple team activities that entailed us to work and think as a team. Other than that, the only real thing that would be considered 'boot camp' would be the videos we watched on the Marines. The main focus of the whole thing was leadership."
Cowan added that the session with Anderson could very well be a turning point to this season.
"I think that this session was good for the guys in a couple ways," Cowan said. "I feel that it brought us closer as a team and kept us pointed in the same direction. We have always thought that we had a good team that was capable of playing with top teams. Our mind-set throughout the year has never really changed, even after attending 'boot camp.' Our team is a really tight-knit group as is, and it was just another chance for us to be together and have some fun."
Once the games started with the then-No. 1 RedHawks, things seemed to fall into place.
"Going into the weekend, we were focused on just playing the first period and going from there," Cowan said. "We broke the game down into smaller parts and just tried to win each part. Nobody was talking about the Sunday game at all until after the Friday night game. I think that if you get too far ahead of yourself in big situations like this, it ends up coming back to hurt you. All the guys were really focused and determined. We had tremendous goaltending by Ozzy and we came out on top. The whole team had a very confident attitude going into the series with Miami."
Taking four points from Miami was a historical series for RMU and that in itself brings a sense of pride to Cowan, who was playing in his first games since tearing ligaments in his thumb and having surgery in December.
"I think the wins against Miami would probably be the biggest at RMU," said Cowan. "Our last really big win was against Notre Dame, who was second at the time, and Boston University, who was eighth. So I would have to say that they are the biggest and I am very proud to be a part of it."