Spoiling the Party
By all measurements, last Saturday's "Make the Rink Pink" game at RIT was a success. The game between the Tigers and Bentley Falcons sold out days in advance, and over $21,000 was raised for cancer research by the RIT men's and women's teams via special jersey raffles and T-shirt sales. The atmosphere in Ritter Arena was electric.
A big success for RIT … except on the scoreboard. Bentley spoiled the party with a hard-fought 5-4 win, snapping a 9-0 home conference win streak for the Tigers.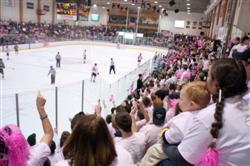 "We talked about it before the game," said Bentley coach Ryan Soderquist, whose team dropped a 4-1 decision to RIT the night before. "It was a great event for cancer awareness and were happy to be a part of it. We knew we were going to have to rise to the occasion. It was an exciting atmosphere to play in and we were looking forward to the challenge of getting it done in front of a big, hostile crowd and getting the two points."
It wasn't just the crowd against Bentley on Saturday. Already bitten by the injury bug, the Falcons lost two defensemen during the game, and had two goals disallowed.
"We couldn't get down on ourselves," said Soderquist. "Our senior leadership picked us up. [Bobby] Preece had a big game. Brendan Harrison had a big power-play goal."
Preece had a hat trick in the game and now has eight goals on the season after scoring a total of four goals in his first three seasons. Thanks to a defense that is scoring more goals and some freshmen that have stepped up, the Falcons have been able to survive the loss of their top three scorers from last season.
"From the first day of practice we've worked to get [the defense] involved," said Soderquist. "That and having depth in our lines where we get more balanced scoring."
Bentley is currently in seventh place, but only a point out of fifth and five points away from fourth, where it finished last season. The Falcons have been swept only once, but have also failed to sweep any other AHA team.
"The league is extremely close, so it's hard to win two in a row," said Soderquist. "We've had some injuries and been inconsistent at times. But we've taken points every weekend but one. We need to tighten things up for the stretch run. This league is going to be a battle to the finish. I tell my guys, don't even look at the standings right now."
Weekly Awards
Players of the Week for Feb. 1, 2010:
Bobby Preece — Bentley
The senior from Bonita Springs, Fla., had his first career hat trick on Saturday, as well as chipping in an assist, to lead the Falcons to a 5-4 win at RIT.
David Berube — Sacred Heart
Berube had five points (four goals and an assist) in three games last week to help the Pioneers go 3-0. He had a hat trick in a 6-1 win against American International, and followed that up with a goal and an assist at Connecticut.
Goalie of the Week for Feb. 1, 2010:
Steven Legatto — Sacred Heart
Legatto was rookie of the week in the league last week, and picks up more recognition. He had a 3-0 week, compiling a 1.98 GAA and a .929 save percentage over the three games.
Rookie of the Week for Feb. 1, 2010:
Chris Tanev — RIT
Tanev had a goal and two assists last weekend against Bentley. The freshman blueliner leads the Tigers with a plus-16 rating and has 17 points on the season to date.
Monthly Awards
Players of the Month for January 2010:
Nick Johnson — Sacred Heart
The senior forward leads in nation in goals with 21, averaging .81 per game. The 21 tallies is already a single-season school record. Johnson had seven multi-point games in January.
Other players nominated: Bobby Preece, Bentley; Cory Conacher, Canisius; Tyler Mazzei, RIT.
Goalie of the Month for January 2010:
Steven Legatto — Sacred Heart
The rookie made at least 30 saves six times in January and was 9-0-2 during the month. Legatto hasn't suffered a loss since Dec. 5.
Other goalies nominated: Thomas Tysowsky, Holy Cross; Jared DeMichiel, RIT.
Rookie of the Month for January 2010:
Joe Campanelli — Bentley
Campanelli had eight points in January, the second most on the team. He's tied for second in the AHA in points for a rookie, and has been the Atlantic Hockey Rookie of the Week twice so far this season.
Other rookies nominated: Preston Shupe, Canisius; Chris Tanev, RIT
As Expected
Army and Air Force had their usual (no pun intended) battle last weekend, with the Black Knights taking three of four points from the Falcons at Tate Rink, extending their home unbeaten streak over their rivals to five games.
Falcons coach Frank Serratore was critical of his team in Friday's 4-2 loss, but was more pleased with Saturday's 3-3 effort, despite giving up the tying goal to Army's Eric Sefchik with 11 seconds to play.
"It was will over skill tonight," Serratore said after the game on Friday. "We got back into the game in the third, but they imposed their will on us. We looked timid, soft and weak. … [Army was] clearly the better, stronger and more assertive team tonight."
On Saturday, the Air Force coach said, "We played well tonight. I was real proud of the team. As disappointed as I was last night with our effort, I was pleased with it tonight. I feel bad for our guys. Tonight was our night, but it didn't work out for us. Sometimes life isn't fair and sometimes hockey isn't fair. We were the better team tonight, but it didn't work out."
The three points moved the Black Knights into sixth place in the standings, while knocking the Falcons from atop their first-place perch.
Award Season
It's the time of year when nomination for major awards are beginning to be announced. Several AHA players got good news this week:
• The Gridiron Club of Greater Boston announced the finalists for the 2010 Walter Brown award, presented annually to the best American-born college hockey player in New England. Sacred Heart's Nick Johnson and Bentley's Marc Menzione are among the 16 nominees.
• Ten finalists for the Lowe's Senior Class award were named, and Dan Ringwald from RIT and Air Force's Matt Fairchild are on the list. The award is presented to a NCAA Division I senior with notable achievements in four areas: classroom, character, community and competition.
• Also out is the list of nominees for the 2010 Frozen Four Skills Challenge, taking place in Detroit during the Frozen Four. You can go to the Skills Challenge Web site and vote for the following AHA players: RIT's Jared DeMichiel, Air Force's Matt Fairchild, Mercyhurst's Neil Graham, Canisius' Josh Heidinger, Army's Owen Meyer and Air Force's Andrew Volkening.
Pink = Green
The money raised at last Saturday's "Make the Rink Pink" promotion went to Rochester General Hospital's Lipson Cancer Center and the Susan G. Komen Cancer Foundation. Tigers goaltender Jared DeMichiel's jersey went for over $500.
"I thought this was a great event where the entire RIT community and Rochester General were able to work together for a great cause," said RIT coach Wayne Wilson. "Without the general student body, faculty and staff along with our RIT hockey fans we could have never exceeded the goals we set out to accomplish. Thank you, everyone."
Holy Cross will host a similar event on Feb. 13. The Crusaders will wear pink jerseys that will be auctioned off for charity after the game.