The Sacred Heart men's hockey team doesn't get a great deal of attention playing in Atlantic Hockey, so Nick Johnson and Dave Jarman aren't exactly household names.
The senior linemates could, however, be the two best players in the country that no one has ever heard of.
Johnson, a native of Windsor, Conn., leads the nation in goals with 25 and is third in scoring with 47 points. Many of his goals have come on helpers by Jarman, who has 34 assists — sharing the Division I lead with Maine's Gustav Nyquist — and 45 points.
The high-scoring line also includes Patrick Knowlton, a junior from Colorado Springs, Colo., who has contributed 12 goals and 23 assists.
Together, the three players have helped fuel the Pioneers' remarkable run over the past 2½ months in which they have lost just once in their last 18 games.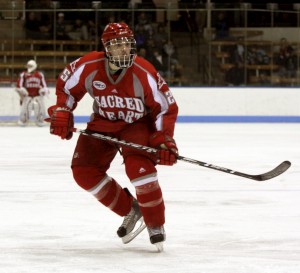 Yet Jarman, a native of Toronto, where they eat, drink and breath the sport, acknowledges that most college hockey fans around the country don't know much about the Sacred Heart program, though maybe they should.
"I think that's a fair assessment," he said. "That doesn't really bother us at all. We're just trying to finish our senior year the way we want. I don't think either of us expected this, but it's been a good campaign so far. We just have to keep winning."
Sacred Heart has been doing a lot of that. The Pioneers are coming off a weekend sweep of Holy Cross, winning 3-1 at home and 5-3 on the road, to improve to 15-1-2 in their last 18 games.
Going into the final regular season series at Air Force, Sacred Heart has clinched the No. 2 seed and a home-ice series in the Atlantic Hockey playoffs.
C.J. Marottolo, who is in his first season as the Pioneers' coach after a long stint as an assistant at Yale, believes a lot of the credit for the Pioneers' surge should go to the J & J boys.
"They formed a great chemistry, great unselfishness between them," Marottolo said. "We've kind of jumped on their backs here. We're just riding them right now. They're great down to earth, humble kids."
The success of the Pioneers, who are 18-10-4 overall, might be the most unlikely story in all of Division I hockey this season. Consider where they were in early December. Sacred Heart dropped to 3-9-2 following a 4-2 loss at Army on Dec. 5.
"I thought we were still actually doing well," Jarman said. "We [Jarman and Johnson] were averaging just under a point a game. We weren't winning games. That was a problem. We were playing really well, but we just didn't find a way to finish hockey games."
Two things happened. Marottolo moved Johnson from center to right wing, and the team did some soul searching.
"We were taking too many penalties, unnecessary penalties," Marottolo said. "We just shot ourselves in the foot game after game after game. We never gave ourselves a chance. Right after, I think it was at West Point, we made a pact to each other: We're gonna play five-on-five hockey."
Since then, Sacred Heart has been among the hottest teams in the country. Its only loss was a 5-2 defeat to Atlantic Hockey regular-season champion RIT on Feb. 5.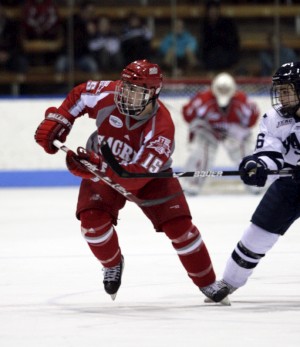 "I was put on wing early in the season and ever since, that line has been clicking," Johnson said. "We all bring something different to the table. Jarman has incredible vision. He's one of the smartest players out there, and Knowlton is sort of the energy guy. He gets things going. He's usually the first guy down low."
The trio was held scoreless in last Friday's win over Holy Cross, but erupted for seven points on Saturday, with Johnson recording two goals and an assist. Together, the three players have combined for 127 points (3.97 per game), nearly 40 percent of Sacred Heart's scoring this season.
While Jarman and Johnson have been in the Sacred Heart program for four years, this is the first season in which they have played on the same line. It obviously didn't take long for them to mesh.
"It was hard at first, just getting used to where each other was on the ice," Jarman said. "But once we found our spots and got used to each other, it just really started clicking."
And made their coach look like a genius.
"We kind of switched it up and we got lucky," Marottolo said.
The Pioneers will be perfectly content to keep a low profile as tournament time approaches.
"We're obviously not in one of the big four conferences, so we're not expecting to have the publicity other guys have in those conferences," Johnson said. "But playing the underdog role sometimes has its advantages."