Cory Conacher wants to be an accountant.
That's right, the Hobey Baker Award nominee and Canisius junior winger who averaged 1.53 points per game during the 2009-10 regular season — that's second in NCAA Men's Division I hockey — has grand designs on a future of spreadsheets, periodicity and GAAP.
Conacher's fondness for functions should come as no surprise. His entire life has been wrapped up in numbers: He's had to play bigger than his size (5-foot-8, 175 pounds), older than his age (at 17, he was the youngest freshman in D-I hockey), and outside of his comfort zone (the pass-first playmaker has 20 goals this season, one more than the combined total of his previous two campaigns).
Oh, and there's the diabetes. At the age of 8, Conacher was diagnosed with type 1 diabetes, requiring him to measure his days in insulin doses and glucose levels for the rest of his life.
"When I first found out," Conacher said after a recent Golden Griffins practice at the Buffalo State Ice Arena, "I didn't know much about it. I tried to take it as it was nothing. I tried to just accept it, just fight it, and live life like a normal 8-year-old kid."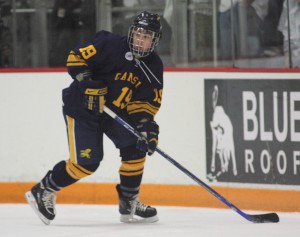 This is not a story about Conacher's bravery. It's not a story about the mountains he's overcome. It is not a sad story about his limitations or the things he has missed because, well, he's not missing much.
Just ask the goaltenders around Atlantic Hockey.
"It's part of his life," Canisius coach Dave Smith said, "but it doesn't define who he is."
So who is Cory Conacher? He's a Burlington, Ontario, native who made his name racking up 62 points in 48 games for the hometown Cougars in the Ontario Provincial Junior Hockey League. He's a devoted son whose decision to play at Canisius was influenced by the fact that Buffalo was just a 70-minute shot down the QEW, allowing his family to see him play more often. He's the type of player who racked up 23 assists as a sophomore but transformed himself into a 20-goal scorer when his coach told him to shoot more.
Conacher is no slouch in the classroom, either. He was named to the Atlantic Hockey All-Academic Team in each of his first two seasons.
"He's a great young man. He's what parents want their children to be," Smith said. "He's fun, he works hard, [and] he does what you ask him. He's passionate about the game of hockey — and I just was talking to him again, and he said, 'Hey, I'd really like to get my accounting degree.' He's got all the fundamentals that great kids have. He's just a joy to be around."
Yet the diabetes can't be ignored. Type 1 diabetes is a chronic disease, a condition caused when an individual's pancreas is unable to produce insulin. This hormone is used by the body to regulate glucose, or blood sugar. Type 1 diabetes — also known as juvenile diabetes because it is often diagnosed in children — was essentially a death sentence until treatment was developed at the University of Toronto in the early 1920s.
Athletes are capable of performing at a very high level with type 1 diabetes, as evidenced by Chicago Bears quarterback Jay Cutler, former Mr. Universe Doug Burns, Olympic medalist Gary Hall Jr., and, well, high-scoring Division I hockey winger Cory Conacher — but aren't they tied to needles and machines and the fear of a breakdown at any given moment?
In Conacher's case, absolutely not. He wears a small device called an insulin pump, a portable regulator the size of an MP3 player with a small needle at the end of a short plastic tube. The tube fits into a subcutaneous port in Conacher's skin, and the pump allows him to manage his blood sugar levels without the constant needlework.
"I just really want to play hockey for the rest of my life."
— Cory Conacher
"I'll wake up, have a good breakfast, check my blood sugar [and] make sure I was fit throughout the night," Conacher said. "If I have to make any adjustments in the morning, I'll do that. … If something's not right in my pump, then I'll just have to do a little change. So I have breakfast, and once I have my breakfast, I'll pump to counteract the sugar with the insulin, and then throughout the day, I'll test my sugar at lunch again, and before practice, and then after practice, and at dinner, and again before I go to bed."
When Conacher was initially recruited by the Golden Griffins, Smith was surprised when he discovered the young forward was a diabetic — surprised, but not staggered. Smith was already familiar with type 1 diabetes and the particular set of challenges presented by the disease.
"My sister-in-law is a diabetic, a type 1 diabetic, and she's on the insulin pump," Smith said. "When I talked to Cory after a [OPJHL] game, I saw what's called his port, and I just said, 'Are you diabetic?' He said yeah, how did you know? And it's because he came out without a shirt on, and I saw it. I was very comfortable with it. I don't know if that made him more comfortable or less comfortable, but it wasn't a big deal."
When Smith took the reins of Canisius hockey in 2005, the program was at a crossroads. Longtime coach Brian Cavanaugh had been dismissed the previous season following reports of a possible player mutiny. The Golden Griffins proceeded to struggle to just 22 wins from 2005 to 2008.
Smith's squad, however, began to blossom in 2008-09, posting a 15-16-1 record — the team's best showing since 2000-01 — and continued the improvement this season with a 15-14-5 regular season mark.
Smith has built the program around stalwarts such as forwards Jason Weeks and Josh Heidinger, each of whom will leave Canisius with prominent places in the school record book; Carl Hudson, a Hobey Baker nominee and one of the finest offensive defensemen in the nation; and the tandem of Conacher and Vincent Scarsella, a duo with 146 points since the start of the 2008-09 season.
"I think that we want to keep recruiting difference-makers and people who can help us win," Smith said. "I don't think you can win a game 0-0. We'd like to be balanced and strong offensively and strong defensively."
As for Conacher — all that accountant stuff may be true. When Cory Conacher, an undrafted prospect, thinks rationally about life after hockey, maybe he does yearn for the white-collar lifestyle. His dad is an accountant. It's a nice career. No shame in being the neighborhood accountant.
More likely, though, the number-crunching will have to wait. Conacher's brutal summer training regime, and the forearms to the head, the sticks to the back, the extra taunts and elbows in the corner are not being absorbed so he can hang up the skates young. The Certified General Accountants Association of Canada and the American Accounting Association need to take a number — the game will likely keep Conacher out of the office for the foreseeable future.
"First of all, I want to finish my career at Canisius," Conacher said. "That's one of my main goals. And hopefully win an Atlantic Hockey championship with the guys we have right now. In the future, I would like to play either AHL or NHL or somewhere in North America, and if that doesn't work out, my consideration is to go to Europe somewhere. I know some people back home who have been to Europe and it's a really nice experience — that would be nice."
Despite the short stature, the college logo on his sweater and the fact that the movie "Die Hard" is older than he is, Conacher is still just a kid. When you see him fly down the right wing and unleash that heavy shot from the circle in a hummingbird blur, snapping the net while the goalie is still squaring his shoulders, it's easy to forget he's only 20 years old.
But the kid has a plan, and the plan is simple.
"I just really want to play hockey for the rest of my life," he said.