Middlebury Panthers (19-4-4 overall, 12-3-4 in NESCAC)
After a two year absence from the national stage where the Panthers failed to secure at-large bids, the Panthers are excited to be returning to the NCAA tournament for the fourth time. There, they will face a very familiar foe.
"I think it is just a terrific matchup and very exciting for our players and fans to get to play one more game at home this season where we haven't had as many home games as other seasons," said head coach Bill Beaney.
"This is the third matchup between us and Plattsburgh this season. They beat us early on and we won the second match-up so the third one on Saturday is for the season series and of course to move on to Lake Placid. Bob [Emery] does a great job with his team so we know they will be ready to play. I am glad to playing it here as we have certainly had better success against them here as opposed to playing in their rink."
The Panthers have been on a roll since February and currently are riding a nine game winning streak led by the dynamic combination of sophomore Martin Drolet and freshman Mathieu Dubuc. The power play has been deadly at almost a 26% success rate, so the Cardinals will need to stay out of the box against the Panthers.
Assuming the number one position in net, sophomore John Yanchek has been very good at the right time of the year for the Panthers. On paper his numbers don't necessarily jump out at you but his coach has great confidence in his young netminder.
"If you look at John's record he hasn't lost very often this season and that is not just the team in front of him," noted Beaney. "He has come up with the big save when we have needed it and has been very solid over the last part of the season. I think the game at Bowdoin was another confidence booster in his first conference championship game and now we are focused on a bigger opportunity starting Saturday in front of our home fans — it will be a great atmosphere for our team."
Four seniors on the roster played in the overtime loss against Oswego back in 2007 and for them, this is a special return to the NCAA tournament with a younger cast of teammates built around them.
"I really couldn't be happier for John [Sullivan] and Charlie [Townsend] and the rest of the guys that have worked so hard to get back to this place after the prior two years where ewe just fell short of our goals. We have gotten great leadership from John this year and really have seen terrific team play and sacrifice by other guys that has this team playing pretty well right now."
A native son of Lake Placid, Beaney would certainly like his team to get to the Final Four next weekend and celebrate a homecoming in a big way with the Panthers, but there is no looking past Plattsburgh and the general excitement and camaraderie the quarterfinals have generated.
"I think the best thing unquestionably about playing in the tournament is that it extends the season for the team and we get to spend more time together and enjoy all that is the team and interactions among the players. That is really special and we are going to enjoy the week and get ready to play a great team on Saturday and enjoy the atmosphere at home. This is really a fun time of the year and our kids are really looking forward to the challenge and reaching the goals we have set out as a team."
Plattsburgh Cardinals (18-5-4 overall, 13-2-1 in SUNYAC)
Last year was supposed to be Plattsburgh's year. They entered the NCAA playoffs with just one loss, a conference championship, and on paper, one of the most talented teams in the country. Then, they promptly lost in the quarterfinals to Neumann, the eventual national champion.
This year, they entered the season with huge question marks in net and without their leading scorer. They lost five times, finished second in the SUNYAC standings, and got beat for the third time this year by Oswego in the conference championship game.
However, all five of those losses were to fellow NCAA playoff qualifiers: the aforementioned three to Oswego, Norwich, and Middlebury. Thus, they received an at-large bid.
"I don't look at it as a second chance," Plattsburgh coach Bob Emery said. "The automatic bids are very deserving but an at-large bid is probably the most deserving bid in the sense you get it because it proves you had a good season. We had the number one strength of schedule in the country."
If you just look at the stats, you would wonder how could Plattsburgh have a question mark in net? Sometimes, stats don't tell the whole story.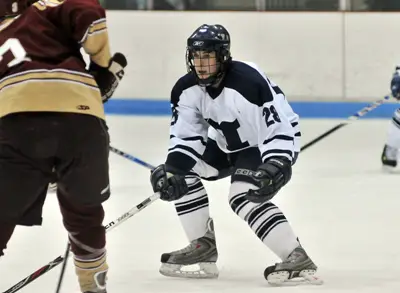 "Our goaltending is what it is," Emery said. "We have three young guys without a lot of experience."
Josh Leis (1.69 goals against average, .931 save percentage) and Ryan Williams (2.16, .905) have shared most of the work and their numbers are impressive. However, in big games, they have not always come up big. In the second loss to Oswego, Leis was pulled before the first period ended.
Williams played excellent the rest of the game, but three days later against Middlebury he was yanked at the end of the first period when he gave up three goals on four shots. In the SUNYAC championship game, Williams was yanked after two periods.
"We can't live in the past. You have to have a short memory this time of year," Emery said.
When they play well, they have a strong defense to help them out. Cody Adams is one of the best defensive defenseman in the league, selected to the SUNYAC All-Rookie Team, and should be healthy and back in the lineup this weekend.
"Defense wins championships," Emery said. "That's how St. Norbert won it two years ago. They had a fantastic defense."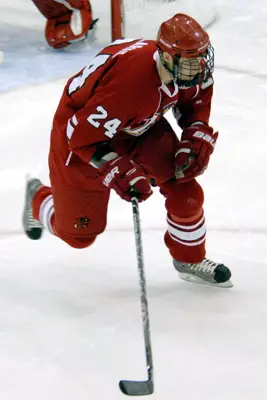 It's scoring that has been a struggle for Plattsburgh. This, too, is where stats do not tell the whole story. They scored 4.44 goals per game, eighth best in the country. Yet, their top goal scorer only has 13. The scoring is spread out, but that hurts them in big games when they need to rely on that go-to sniper.
Despite these question marks, Plattsburgh did put together a top season against solid competition, capable of playing with anyone. Perhaps, the only reason these blemishes stand out, is because it's Plattsburgh. Any other team would love to have the season the Cardinals had.
They scored seven or more goals seven times. They lost just one game when they gave up three or less goals. They beat Middlebury, pounded Fredonia, wiped out Trinity, and tied Norwich, Elmira, and Williams. Plattsburgh has not let up a shorthanded goal. They are an extremely disciplined team not only with the fewest penalty minutes per game, but the only team in the country who has that number as a single digit (9.8). A well coached team is quite capable of running the table even with a few faults.
This is the third time they face Middlebury this season.
"We know them. They know us. Not any advantage for any team," Emery said. "It's going to be tough, but when you get the last eight teams, anyone can win. We were the number one seeded team last year, and we got beat in the first game. If you don't play your best, you're going to lose."
They can't repeat what happened in Oswego last week.
"We have to play smarter," Emery said. "We can't give up odd man rushes like we did against Oswego and expect to win any game."
If Plattsburgh plays their best, there are very few teams that can beat them. Questions marks and all.