As the best team in the WCHA for much of the season, with a Broadmoor Trophy on its to-do list, Denver found Friday's WCHA Final Five semifinal loss to North Dakota hard to stomach.
As a result, the Pioneers are planning to play the last third-place game in Final Five history the same way as they would if they were playing for the title.
"It's going to be a big game for us," forward Tyler Ruegsegger said of Saturday's afternoon contest against Wisconsin. "We've got to respond. To be honest, it was an embarrassing effort tonight and we've got to have more pride in the crest on the front of our jerseys tomorrow."
"It's all about pride tomorrow," concurred Rhett Rakhshani. "You're playing for third place but if you're a competitor and, if like Tyler said, you have pride in the crest on the front of your jersey, you're going to play as hard as you would if it were a first-place game, and that's the mentality we have to have tomorrow."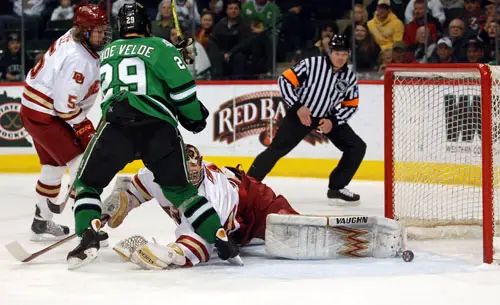 Amping it Up
Thursday night, Evan Trupp scored his first goal in 21 games.
It was wondered Friday if he changed his dietary habits since coming to St. Paul, as he potted another two goals in the 4-3 win over Denver.
For Trupp, however, it's just due to seasonal reasons.
"It's playoff time, that's it," he said. "[I'm] just starting to bear down on my chances."
The Legs Feed the Wolf
Quite a bit has been made of the Sioux's tough schedule this weekend, with Saturday night's game marking UND's sixth game in nine days. Many are wondering where the players get their energy, wondering if they have some hidden reserves.
According to coach Dave Hakstol, the energy his team has is just a product of good training.
"I don't know that we needed a reserve," he said. "I know we make a big deal out of three and three or five and eight, but you know what? Our guys work hard during the year to condition and take care of their bodies.
"I think you can talk yourself into making a big deal out of it, or you can take it for what it is," he continued. "We've got 20 guys in the lineup that are going to show up and have energy tomorrow night."
Injury Update
St. Cloud State's Garrett Roe, who was taken off the ice on a stretcher in the earlier game, has been released from the hospital. His X-rays came back negative, and he is reportedly just very sore.
Denver's Anthony Maiani suffered an upper body injury in the game and will not play Saturday night.
Quotable
"I'd rather have that superstar in the lineup." — Dave Hakstol, when asked if not having a superstar in his lineup has forced his team to be more balanced as a whole.