WEST REGIONAL DATA
Venue: Xcel Energy Center, St. Paul, Minn.
Ticket info: Click here (opens new window).
Schedule: St. Cloud State vs. Northern Michigan, 4:30 p.m. Central Friday; Wisconsin vs. Vermont, 8 p.m. Friday; semifinal winners, 8 p.m. Saturday.
ABOUT THE TEAMS
Wisconsin
Record: 25-10-4 (17-8-3 WCHA, 2nd place)
NCAA tournament appearances: 23 (34-19-2, 6 national championships)
Players to watch: F Blake Geoffrion (25-18–43 in 36 GP), D Brendan Smith (15-30–45 in 38 GP), G Scott Gudmandson (17-4-4, 2.31, .915).
Why the Badgers will get to Detroit: Quite simply, the Badgers have a dynamic offense and a solid defense. When those two things are firing on all the proverbial cylinders, they're very hard to match.
Why the Badgers will get bounced: You've all heard that defense wins championships. Wisconsin does have a good defense, but its goaltending — the last line of said defense in hockey — isn't as strong as it needs to be this time of year. Also, as dynamic as its offense is, it can be stymied by a hot goaltender. If you want proof, look no further than Wisconsin's game against St. Cloud State in the Final Five.
The inside story: There are always different things that end up being keys to success in the playoffs. It could be a hot goaltender, it might be a walk-on fourth liner that becomes a surprising star, or it could be a building.
The Badgers are hoping it's the latter.
"We're excited to be going back to St. Paul; there's a certain familiarity [and] we've been there two out of the past three weekends so hopefully that'll be a plus and everybody's very excited to go," said coach Mike Eaves. "We have a little familiarity with the Xcel [Energy] Center because we hold the Final Five there and secondly, is because of the big fan base; our fans will be able to travel."
In other words, St. Paul is an easy enough drive from Madison, Wis., for voracious Badgers backers to come support their team.
"On Sunday, when we found out where we were going, [the players] were like 12-year-olds on Christmas morning; they were really excited," said Eaves.
If all this building stuff seems silly to you though, don't worry; Eaves and his team are also ready to play their game.
"There are no concerns [with this team]," he said. "We've got some confidence and we all recognize that it's a one-and-done situation."
St. Cloud State
Record: 23-13-5 (15-9-4 WCHA, 3rd place)
NCAA tournament appearances: 8 (0-8)
Players to watch: F Ryan Lasch (19-27–46 in 41 GP), F Garrett Roe (19-27–46 in 39 GP), D Garrett Raboin (8-15–23 in 38 GP).
Why the Huskies will get to Detroit: The Huskies have been in the NCAA tournament seven times before this year. Seven times they've been bounced without winning a game. It's not realistic for them to keep losing. The Huskies also have two very capable goaltenders who, if on, are as good as any in the game.
Why the Huskies will get bounced: Take the opposite of what was said for getting the Huskies to Detroit. History is not on their side and if either Mike Lee or Dan Dunn is having a bad day, SCSU is very beatable.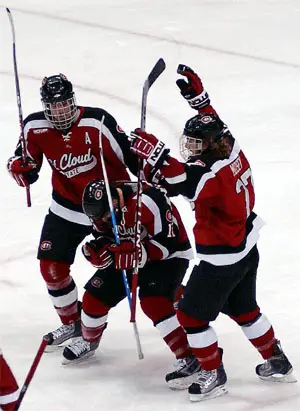 The inside story: As seen above, there are two story lines for the Huskies. The first is regarding their lack of success in the tournament. Though one can never predict what will or will not bring success, coach Bob Motzko is hoping playing 90 minutes from home will at least help a little.
"Knowing the four regions and if we were going to get in, if I would have had a pick, I would have picked St. Paul, no question," he said. "Twenty years and the seven previous tournaments, we've only been in New York and Michigan so this is the first opportunity for our fans to have an opportunity to see an NCAA event. I think our fans and our supporters are very excited for that opportunity to get back to St. Paul and I think they're going to show that."
The second is the Huskies' goaltending. The team has two capable goaltenders in Lee (24 GP, 11-9-3, 2.74, .918) and Dunn (20 GP, 12-4-2, 2.63, .912).
"We've been very fortunate," said Motzko. "Both goaltenders have helped us to get this position and there hasn't been a rhyme and reason; they've both been very strong and they've both had their moments."
Throughout the playoffs, Motzko has been playing the hot hand, which has been Lee. He stumbled a bit during the Huskies' Final Five championship game with North Dakota, but Dunn filled in quite ably. As for who fans will see in St. Paul? Motzko's hoping both.
"I have a feeling if we can have success on Friday night, then that's our goal right now," he said. "If we get to play more than one game here, we're going to see two goalies and we're going to stay with the girls we brought to the dance and we're going to put them both in there and they're going to give us the best chance to lead the way."
Northern Michigan
Record: 20-12-8 (13-9-6-3 CCHA, 4th place)
NCAA tournament appearances: 8 (10-9, 1 national championship)
Players to watch: F Mark Olver (19-29–48 in 38 GP), D Erik Gustafsson (3-28–31 in 38 GP), G Brian Stewart (18-10-7, 2.40, .927).
Why the Wildcats will get to Detroit: This is a team that has gained momentum every season for the last three years, especially in the second half. The Wildcats are mature, and they're 9-2-1 in their last 12 games.
Why the Wildcats will get bounced: This is a team that may perform well under pressure, or may struggle with consistency when the heat is on. They can score two goals in a win or four in a loss — and it's hard to say when which will happen.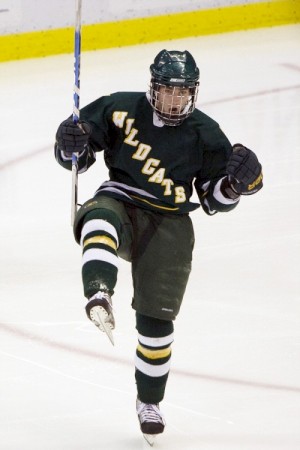 The inside story: There's a lot to be said for this experienced, talented Wildcats team, but the one thing that cannot be denied is that senior Stewart is a second-half goalie. Because of that, Northern Michigan is a second-half team.
Since the beginning of January, the Wildcats have registered 13 of their 20 overall wins. In that span, Stewart has earned four shutouts and a .954 save percentage, propelling him into the top five in save percentage nationally.
And even though he's seen a lot of shots — the Wildcats have given up over 31 per game, on average, in the second half — Stewart says that the team in front of him has solidified, making his job easier.
"I just think the defense, especially — they've been good all year and they've been a little bit gutsy," said Stewart. "Our top four logged a lot of minutes … and that helps. We just really started clicking after Christmas break."
The Wildcats have six players who have netted 10 or more goals, including Hobey Baker finalist Mark Olver, and in the second half of the season could rotate four scoring lines. They are a physical team that knows how to change the momentum of the game with a few clean hits. The defensive corps, led by two-time CCHA best offensive defenseman Erik Gustafsson, is fearless.
After their 2-1 loss to Michigan in the CCHA championship game, they're also ready to go, said coach Walt Kyle.
"One of the things that we talk about all the time is that you have to be better, you have to grow through the playoffs," said Kyle. "We've talked about that ever since I've been here.
"I guarantee you, this game will make us better. There aren't many teams that are going to push you like those guys pushed us [last Saturday]."
Vermont
Record: 17-14-7 (9-11-7 Hockey East, 8th place)
NCAA tournament appearances: Five (3-5)
Players to watch: F Brayden Irwin (15-19–34 in 38 GP), F Colin Vock (11-17–28 in 38 GP), G Rob Madore (13-12-7, 2.65, .907).
Why the Catamounts will get to Detroit: Vermont reached last year's Frozen Four as a team not on a lot of people's radar. The fact that this year's team finished in eighth place in Hockey East and needed a Boston College overtime goal on Saturday night to even reach the NCAA field means this team is playing with the house's money. If goaltender Rob Madore catches lightning in a bottle yet again, the Catamounts could reach Detroit.
Why the Catamounts will get bounced: Scoring goals has been a major challenge for the Catamounts this year. In the final three postseason games, Vermont scored just two goals, both coming in back-to-back 1-0 wins over New Hampshire that allowed it to advance. If the Catamounts can't get the offense going, this will be a quick exit.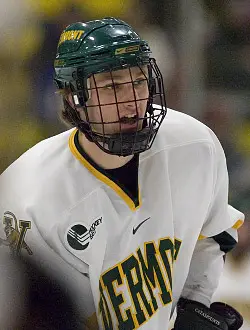 The inside story: The collective breath of Catamount nation had just breathed a sigh of relief last Saturday night when Boston College grabbed a 6-4 lead over Maine with less than six minutes remaining in the Hockey East final. By that point, all realized that the only team standing between Vermont and an NCAA berth was the Black Bears.
So when Maine came back to score not only once but twice to force overtime, many in the Green Mountain State may have felt the season was over.
"At 6-4, my daughter tried to stay up with me but she was fading very fast, so I said I'd just go put her up to bed, make sure she's tucked in," said Vermont coach Kevin Sneddon. "By the time I came down, my wife was standing at the foot of the stairwell saying, 'It's going to overtime.'"
Needless to say, once BC's Matt Lombardi scored 5:25 into the extra frame, the level of excitement for Sneddon went beyond imagine.
"The first emotions were that I was just so happy for my seniors," said Sneddon. "It's been a great class for this program so for them to get another opportunity to play is a special reward for a lot of hard work."
Now that Vermont is in the tournament, the question is do they belong? The Catamounts are the lowest at-large team ever selected in terms of conference standings.
"Two things stand out. First, you look at our league, how tight teams were. The way teams finished maybe didn't tell the whole story," said Sneddon. "Then, obviously, our strength of schedule combined with the fact that we had the best non-conference record out of any Hockey East team. That's what allowed us to even be in it.
"It's not the most conventional way to make the national tournament, but we received this reward for beating good teams in our league and really scheduling up a really difficult non-conference schedule and having success."
If Vermont is to advance, one thing is clear: its offense is going to need to show up. In Friday's semifinal loss to Boston College, the Catamounts were whitewashed. In the previous two games, it was a single goal in each that earned victory.
"Obviously, we've got to finish our chances," said Sneddon. "That's what the BC game taught them. Not only did [BC goaltender John] Muse stop every opportunity we had, we flat out didn't execute our chances."