EAST REGIONAL DATA
Venue: Times Union Center, Albany, N.Y.
Ticket info: Click here (opens new window).
Schedule: Denver vs. RIT, 3 p.m. Eastern Friday; Cornell vs. New Hampshire, 6:30 p.m. Friday; semifinal winners, 6:30 p.m. Saturday.
ABOUT THE TEAMS
Denver
Record: 29-7-4 (19-5-4 WCHA, 1st place)
NCAA tournament appearances: 20 (25-15, 7 national championships)
Players to watch: F Rhett Rakhshani (21-29–50 in 40 GP), D Patrick Wiercioch (6-20–26 in 38 GP), G Marc Cheverie (24-5-3, 2.08, .932).
Why the Pioneers will get to Detroit: Since the beginning of the season, the Pioneers have been one of the most dominant teams in the country with one of, if not the best, goaltenders in Cheverie. If he's on, that dominance should be enough to take them all the way.
Why the Pioneers will get bounced: As good as the Pioneers have been all season, there is a possibility exhaustion is setting in, slowing the team down. There have been rare glimpses of that in early parts of the season, but Cheverie has been there to bail them out. However, if Cheverie looks as pedestrian as he did in the Final Five, the Pioneers won't get out of Albany.
The inside story: Last weekend at the Final Five, many people were surprised with Denver's performance. The Pioneers, untouchable for most of the season, lost back-to-back games for the first time all year.
At the time of year when one wants to be playing one's best hockey, this probably isn't a good sign going into the national tournament, right?
Not necessarily, according to coach George Gwozdecky. The reason why? The stakes are a lot higher this time around.
"What's at stake this weekend is different for us than what was at stake last weekend. The Final Five tournament and the championship is significant," he said, before adding that despite that, the tournament wasn't do or die for them as it can be for other teams.
Instead, his team knew that it had a one seed in the NCAAs, regardless of what happened in St. Paul. Now, however, things are different.
"We certainly were disappointed in our performance [in the Final Five]," he said. "[But], bottom line right now is that there's a whole lot at stake right now. We have played all year long to put ourselves in this position in the national tournament."
It's doubtful that the Pioneers purposefully mailed it in in St. Paul, but they'll doubtless be ready to go in Albany.
Cornell
Record: 21-8-4 (14-5-3 ECAC Hockey, 2nd place)
NCAA tournament appearances: 18 (17-18, 2 national championships)
Players to watch: G Ben Scrivens (21-8-4, 1.78, .937), F Blake Gallagher (18-19–37 in 33 GP), F Colin Greening (15-20–35 in 33 GP)
Why the Big Red will get to Detroit: This is a team that is as systematically thorough and precise as anything seen since perhaps the 1980s Soviets. They're big, they're strong, they're very well conditioned and they're smart to boot.
Why the Big Red will get bounced: Cornell plays defensive hockey so well and so consistently that about the only time it seems to get rattled is when it gets scored upon early, often, or quickly. Scrivens is the nucleus of the team, and when (or if) he ever looks mortal, it shakes the Red to the core. An early deficit or a couple quick goals-against are bound to happen at some point in the NCAAs.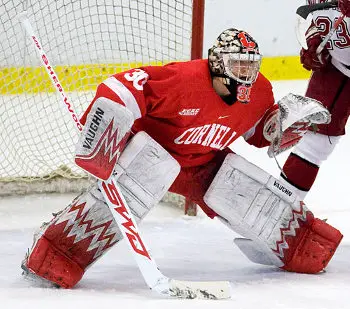 The inside story: Cornell beat Brown and Union last weekend — two decidedly different teams with entirely disparate styles — in precisely the same way: The Big Red would acquire the puck, gain the offensive zone and maintain pressure for between 20 to 40 seconds. Even if Cornell didn't score (and it doesn't score prolifically), by the time the defense finally got the puck, they'd be so tired that they'd have to change.
And repeat.
Union logged a purported 32 shots on Cornell and Scrivens in the ECAC Hockey title game last week, but those must have been the easiest 32 saves of the goalie's life. Cornell simply does not give up Grade-A chances, and it plays suffocatingly well with the lead.
The long and short of it is that the Ithacans are not an exciting team to watch, but if you want to teach your youth team how to play responsible hockey, pick up a game tape or 30. Coach Mike Schafer has had his teams playing the same game for the last decade and a half, and while it might make you tear your hair out in frustration … well, that's kind of the goal. Watching Cornell hockey is like watching a plant die of thirst: It's slow, but it's inevitable.
The Big Red aren't perfect or impervious, but it takes a very determined and deliberate team to crack Cornell's iron will, and Scrivens' iron wall.
New Hampshire
Record: 17-13-7 (15-6-6 Hockey East, 1st place)
NCAA tournament appearances: 20 (14-23)
Players to watch: F Bobby Butler (27-23–50 in 37 GP, Hockey East Player of the Year), D Blake Kessel (9-26–35 in 36 GP, First Team All-Hockey East), G Brian Foster (16-13-7, 2.95, .910, First Team All-Hockey East).
Why the Wildcats will get to Detroit: They'll generate glittering opportunities off the transition. In that kind of game, they're almost impossible to stop, even by two Hobey Baker candidate goaltenders, Cornell's Ben Scrivens and (if both teams advance) Denver's Marc Cheverie.
Why the Wildcats will get bounced: Cornell will do what Vermont did to knock UNH out in the Hockey East quarterfinals with back-to-back 1-0 losses, namely keep play to the outside and rely on spectacular goaltending to foil the few Grade A chances that develop.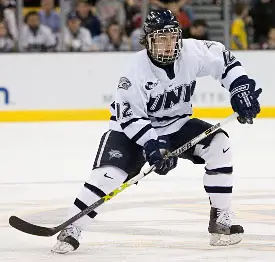 The inside story: The key won't be that the Wildcats lost to Vermont in the league quarterfinals — they recovered nicely last year — but rather how they lost. In Cornell, they'll be facing the same type of stifling defense and hot goaltending. The Big Red are the No. 1 defensive team in the country, and goaltender Ben Scrivens has posted three straight shutouts.
"That's definitely going to be a challenge for us," UNH coach Dick Umile said. "We thought we were going to score goals against Vermont and we didn't. They play a similar style game [to Cornell], real tough in the center zone and they take away the middle and get you outside along the wall."
The power play won't necessarily be the answer. New Hampshire's finished eighth in Hockey East (though it did improve over the second half) while Cornell's penalty kill ranks third in the country.
"We are definitely going to have to screen the goaltender," Umile says. "We'll have a challenge just getting shots to the net. You have to make sure you get shots to the net. You have to get in front of him. We have to take his eyes away from the shots."
The trick, according to Umile, will be to give the Big Red a dose of their own medicine.
"We have to play well defensively ourselves," he says. "They like to cycle when they get you in the zone, play along the boards and get to the net. You have to be committed to hard work.
"It's not going to be a wide-open game. It's all going to come from good defense, that's what we are focusing on, making sure we get to the net and making sure we take shots when we get them, because you might not get another one."
RIT
Record:26-11-1 (22-5-1 Atlantic Hockey, 1st place)
NCAA tournament appearances: 1
Players to watch: F Cameron Burt (15-30–45 in 37 GP), D Dan Ringwald (11-23–34 in 38 GP), G Jared DeMichiel (25-9-1, 2.00, .922).
Why the Tigers will get to Detroit: The Tigers have the fifth-ranked offense (3.58 goals per game) in Division I, but RIT's defense is even better, ranked third (2.08).
Why the Tigers will get bounced: This is an older team but lacks a lot of big-game experience, making its first trip to the NCAA tournament. This is the first season that RIT has made it past the Atlantic Hockey semifinals since moving to Division I five years ago.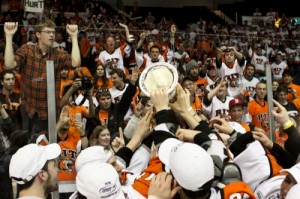 The inside story: Like most teams, the Tigers' success has mirrored that of their goaltender. After playing sparingly his first two seasons and splitting time last season, senior DeMichiel has come into his own this year, recording 25 wins and starting all but two games and posting a team-record six shutouts, as well as having a hand in two more.
"It's been great team defense," DeMichiel said of RIT shaving its goals allowed by a full goal a game over last season. "Everybody has a role to play."
Even though the Tigers have won 26 games this season, including an NCAA-best 10 in a row, DeMichiel knows he and his teammates are big underdogs against Denver.
"They've got talented goal scorers and a great goalie," he said. "They have [a] double-digit [number of] NHL draft picks. But we're playing really well right now and I know we can play with anyone."
DeMichiel says he relishes the role of the underdog after the Tigers were heavy favorites in Atlantic Hockey, setting records for wins and points in a season and outscoring their opposition 10-1 last weekend in the AHA semifinals and championship.
"It's actually a nice feeling because we have nothing to lose," he said. " All the pressure is on Denver because they are supposed to beat us. We just need to go out, play hard, have fun and hope for the best."