MIDWEST REGIONAL DATA
Venue: Allen County War Memorial Coliseum, Fort Wayne, Ind.
Ticket info: Click here (opens new window).
Schedule: Miami vs. Alabama-Huntsville, 4 p.m. Eastern Saturday; Bemidji State vs. Michigan, 7:30 p.m. Saturday; semifinal winners, 8 p.m. Sunday.
ABOUT THE TEAMS
Miami
Record: 27-7-7 (21-2-5-2 CCHA, 1st place)
NCAA tournament appearances: 8 (5-7)
Players to watch: F Jarod Palmer (18-27–45 in 41 GP), D Vincent LoVerde (3-8–11 in 40 GP), G Cody Reichard (18-4-3, 1.79, .924).
Why the RedHawks will get to Detroit: Why won't the RedHawks get to Detroit? They have more motivation than nearly any team in the entire tournament, and they have the deepest team in the competition.
Why the RedHawks will get bounced: The RedHawks are passionate, something that can fuel them or undermine them, as when they take unnecessary penalties or deflate in tougher times during games. These occasions are rare, but when everything rides on one game, all it takes is one moment of weakness … as Miami learned against Boston University at the end of last season.
The inside story: The RedHawks were the dominant team in the CCHA and the top team in the country for most of the 2009-10 season, no small feat for a team that's been through what this squad has in the past 12 months.
After watching last year's national championship slip away in the final minute of regulation against Boston University, Miami returned to play this year with renewed purpose. In February, the team was dealt a more significant blow, when student manager Brendan Burke died in an auto accident near the Indiana-Ohio border.
In accepting the 2009-10 CCHA coach of the year award, Enrico Blasi talked about both of those things and opened up about his own personal life, like his recent divorce. All of it, he said, has brought his team closer together, knitted an even tighter Brotherhood — the name the team calls itself — in this year's quest for a national title.
How has that translated to the ice? A nearly unstoppable offense that has outscored opponents 141-76 in 41 overall games. A second-ranked scoring defense that has allowed just 1.85 goals per game and the fifth-best penalty kill in the nation (86.9 percent). Two sophomore goalies who can start, including this year's CCHA player of the year, Reichard.
It was Connor Knapp (1.88, .921) who was in net when Miami beat Ferris State in the CCHA third-place game in Detroit, and after that win Blasi said that the starting position for the first game in the Midwest Regional was up for grabs.
"We've got two No. 1 goalies," said Blasi, "a pretty good problem to have. Just like any other week, we'll compete during the week and we'll make our decision come game time."
Miami is deep in every position. They're fast skaters, have some of the most skilled forwards in the country, have a great transitional game and play excellent overall team defense. They play a very physical game, too; when that physicality is disciplined purposed, the RedHawks are nearly flawless.
After everything the RedHawks endured this year, including last week's semifinal loss against Michigan in the CCHA championship tournament, Blasi said: "If this team ends up being the No. 1 seed overall, it's a pretty good season. You want to go into the tournament on a winning note."
Bemidji State
Record: 23-9-4 (14-3-1 CHA, 1st place)
NCAA tournament appearances: 4 (2-3)
Players to watch: F Matt Read (19-21–40 in 36 GP), D Brad Hunt (7-26–33 in 36 GP), G Dan Bakala (19-7-3, 2.27, .919)
Why the Beavers will get to Detroit: The experience gained from last year's improbable run to the Frozen Four is invaluable this time of year. Couple that with a gritty, hard-working bunch and getting to Motown isn't totally out of the question.
Why the Beavers will get bounced: Bemidji State had a terrible, winless CHA tournament and then two weeks off. They've had too much time to dwell on the past and go into the tournament facing arguably the country's hottest team in Michigan.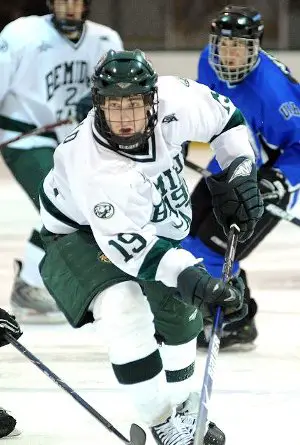 The inside story: BSU has never faced Michigan, and that's fine for Beavers coach Tom Serratore — he knows what his squad is up against.
"They're always dangerous; this is Michigan we're talking about," Serratore told AnnArbor.com. "They're going to be the favorite in this game and I don't care what they've gone through this year, they've still won 25 games. And 25 wins is 25 wins."
This season is also Bemidji State's fourth NCAA appearance, but first as an at-large team. BSU ran away with the CHA this season, but faltered in the playoffs with a loss to Niagara and a tie against Robert Morris.
The Beavers also ended the season with just two wins (2-2-2) over their last three weekends.
"We've been a little inconsistent over our last five games, but when you factor how much we've been on the road and the difficult schedule we've played, yeah, I like where we're at right now," Serratore said. "We've been able to win on the road, we've won at home and we've shown we're a hard-working team.
"I know it's an old coach's cliché, but we have to look at one game at a time. If you look beyond that, you're going to get kicked in the teeth."
Needless to say, Bemidji State will not sneak up on anyone this year and by the same token, no one will take the Beavers lightly — that much is certain.
Michigan
Record: 25-17-1 (14-13-1-0 CCHA, 7th place)
NCAA tournament appearances: 33 (46-25, 9 national championships)
Players to watch: F Carl Hagelin (17-30–47 in 43 GP), D Steve Kampfer (3-19–22 in 43 GP), G Shawn Hunwick (7-2-0, 1.86, .912).
Why the Wolverines will get to Detroit: Michigan is on a mission, having finally galvanized around an injured captain and in front of a backup goaltender. This team is committed to playing defense first, and the goals are coming from there — and the goals are coming.
Why the Wolverines will get bounced: While the team is tournament tested, Hunwick is not. And the Wolverines may have ridden their wave as far as it can go.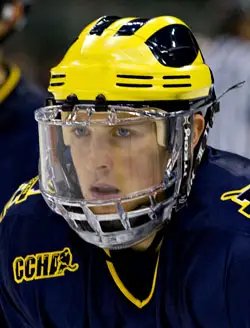 The inside story: The Wolverines had one option to get into this year's tournament. After finishing seventh in the league standings, Michigan had to win the Mason Cup or sit out the big dance for the first time in 20 years.
After beating Northern Michigan to earn the league's automatic berth, coach Red Berenson said, "It's not where we are now, but how we got here."
And how.
For most of the 2009-10 season, nothing seemed to come together for Michigan. Starting goaltender Bryan Hogan struggled in stretches, but when he played well, the team in front of him didn't score. The Wolverines slumped twice, losing five games in November and six from mid-January through mid-February.
All of that seemed to change Feb. 25 when a third-year, walk-on goaltender was called upon to replace an injured Hogan in the first period of Michigan's 4-0 win over Notre Dame. Eight games later, junior Hunwick has emerged as the darling of the CCHA, backstopping the Wolverines to a league title and earning the CCHA tournament's MVP award. UM's 2-1 win over Northern for the Mason Cup was the seventh start of Hunwick's career.
"You've just got to take it in five-minute segments and that's what I was trying to do, get through five minutes and then the next five minutes," Hunwick said of his new role. "You can't really worry about 60 minutes. It's just too long."
While the team seems to have rallied around Hunwick and senior captain Chris Summers, who was injured March 6, Louie Caporusso, the team's leading goal scorer, said that the Wolverines have just finally figured out how to play.
"It was just a commitment to play sound team hockey, defensive hockey, playing for one another, playing for the team," said Caporusso. "Something clicked. I can't tell you what it was, but I think maybe the adversity throughout the whole year.
"Finally we said [that] it's up to us. It doesn't matter what people say or what's thought of us. We just have to work our hardest and play well."
Alabama-Huntsville
Record: 12-17-3 (6-10-2 CHA, t-3rd place)
NCAA tournament appearances: 2 (0-1)
Players to watch: G Cameron Talbot (12-17-3, 2.62, .924), F Cody Campbell (8-14-22 in 32 GP), F Andrew Coburn (7-15-22 in 32 GP)
Why the Chargers will get to Detroit: The talent is definitely there, but UAH will need lucky bounces, timely goals and Talbot to do headstands to get to Ford Field.
Why the Chargers will get bounced: The only team with a losing record in the tournament, UAH had trouble in its own conference, so playing on the national stage against a top team like Miami may bring the Chargers back to reality.
The inside story: Both times UAH has made the national tournament, the Chargers have done so as CHA playoff champs with a losing record. And both times, their first game in regionals has been against the national No. 1 team.
In 2007, UAH took Notre Dame to double overtime before bowing out.
This year, first up is Miami, a squad that is 0-3 against CHA teams this year.
Chargers coach Danton Cole has a simple game plan going into Saturday's tilt with the RedHawks.
"We're going to concentrate on how we play," Cole said to the Huntsville Times. "[Miami is] not going to vary the way they play, which is fine by us."
Alabama-Huntsville and Miami first played each other as club teams in the 1982-83 season and last played one another in 2003-04.
After all games were complete last Saturday night, Cole said he had a pretty good idea of where his guys would be this weekend.
"We had a good idea it would be Miami and Fort Wayne," said Cole. "Regardless, this is very exciting and great for the program."
Will the opportunity to upset a team from the CCHA, the league that rejected UAH's application last year, have any bearing on playing Miami?
"That has no bearing on us," added Cole. "We are going forward."