NORTHEAST REGIONAL DATA
Venue: DCU Center, Worcester, Mass.
Ticket info: Click here (opens new window).
Schedule: Boston College vs. Alaska, 1:30 p.m. Eastern Saturday; North Dakota vs. Yale, 5 p.m. Saturday; semifinal winners, 5:30 p.m. Sunday.
ABOUT THE TEAMS
Boston College
Record: 25-10-3 (16-8-3 Hockey East, 2nd place)
NCAA tournament appearances: 29 (37-37, 3 national championships)
Players to watch: F Cam Atkinson (24-22–46 in 38 GP), F Brian Gibbons (15-29–44 in 38 GP), G John Muse (15-8-2, 2.43, .909).
Why the Eagles will get to Detroit: Boston College is one of the hottest teams in the country, having not lost since Feb. 19 (8-0-1). Over that span, the team has potted 43 goals while allowing just 20 (and six of those were scored by Maine in a wild Hockey East final).
Why the Eagles will get bounced: While BC's offense seems to consistently produce, its young defensive corps and sometimes shaky goaltending can be a downfall. It's critical that BC get out to the early lead as the team has trailed for just 55 seconds since its last loss on Feb. 19, so playing from behind isn't familiar to this team.
The inside story: When the Hockey East playoffs began on March 12, Boston College was riding the back of red-hot rookie goaltender Parker Milner. But after Milner looked nervous in his first playoff start, holding on for a 6-5 win over Massachusetts, he was replaced by junior John Muse, who two years ago backstopped the Eagles to the national title as a freshman.
All seemed well and good until last Saturday's Hockey East title game, when Muse matched a career high with six goals allowed against Maine in a 7-6 overtime thriller. The game was a strange one as BC never trailed but struggled to close out the Black Bears, allowing two late goals to force overtime before Matt Lombardi won it in the extra frame.
So Boston College coach Jerry York enters this NCAA tournament with two netminders both of whom had rough starts in their last outings.
Does that, then, translate to a dilemma for the veteran bench boss?
"John Muse is going to be our guy," said York. "If anything happens, we have the luxury of going right back to Parker."
Much of that decision might have to do with the fact that he felt even in allowing six goals against Maine, that Muse played a great game.
"Hockey is a unique sport in that you never can tell if it's going to be a tight 2-1 type game or one of those 7-6 type games," said York. "I thought [Saturday] was just one of those games where the offense was ahead of the defense."
So with that decision behind him, York can concentrate on his opening game opponent, Alaska.
"They're a much tighter defensive team," said York. "I think they will be kind of like a Cornell team. Really defensive orientated. That was just from talking to people this morning. They said they're very opportunistic offensively."
Should BC advance, it could set up yet another meeting between BC and North Dakota. The two teams have met seven times in the last 11 NCAA tournaments with BC holding a lopsided 5-2 advantage.
North Dakota
Record: 25-12-5 (15-10-3 WCHA, t-4th place)
NCAA tournament appearances: 25 (40-19, 7 national championships)
Players to watch: F Danny Kristo (20-17–37 in 42 GP), F Evan Trupp (8-26–34 in 42 GP), G Brad Eidsness (24-9-4, 2.09, .915).
Why the Fighting Sioux will get to Detroit: The Sioux are one of the hottest teams in hockey, winners of 12 of their last 13 games. Though that doesn't always guarantee success this time of year, the Sioux more importantly have the correct attitude to succeed this time of year — playing one game at a time, which is how they were able to win the Final Five despite playing their sixth game in nine days for the championship.
Why the Fighting Sioux will get bounced: As hot as the Sioux are, they're also a young team and experience can mean a lot come playoff time. Also, even though they will have had six days off by the time the puck drops again, their WCHA playoff grind may come back to bite them.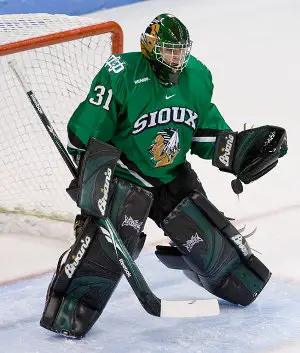 The inside story: Given their recent play, there really is no one inside story about this year's edition of the Fighting Sioux. Rather, there are a few small ones.
First: You'll notice that the players to watch above aren't necessarily the Sioux's leading scorers, but rather the players that are probably currently playing their best hockey. Unlike previous versions of UND, this year's team doesn't have that one superstar player.
Second: Even though fatigue is mentioned as a reason this team might fall short in its quest for an eighth national title, coach Dave Hakstol almost thinks of it as an excuse.
"The fatigue factor certainly is an obvious one, but [we've taken] care of that," he said. "That's a nice benefit that we don't play until Saturday."
Third: This team is focused. Throughout the Final Five, Hakstol deflected questions about a game that was further in the future than the one on deck. That mind-set got them through the WCHA championship and he hopes it'll get them even farther.
"It's no time to relax," he said. "It's one goal to get into the national tournament, but we got into the WCHA tournament two weeks ago as one of 10 and said our goal was to win it. Well, we're in a tournament now as one of 16 and our goal is to win it."
Yale
Record: 20-9-3 (15-5-2 ECAC Hockey, 1st place)
NCAA tournament appearances: 4 (1-3)
Players to watch: F Broc Little (26-14–40 in 32 GP), F Brian O'Neill (14-25–39 in 32 GP), F Denny Kearney (9-25–34 in 32 GP)
Why the Bulldogs will get to Detroit: Yale had the best offense in the country this year, over a tenth of a point stronger than Wisconsin. Not only were the Bulldogs the only team to average more than four goals a game in Division I, but they also ranked eighth in scoring differential (behind seven other NCAA tournament teams).
Why the Bulldogs will get bounced: Goaltending, goaltending, goaltending. The Elis have been desperately seeking a suitable successor to Alec Richards all season, but even through 32 games, nobody has grabbed the reins. Freshman Nick Maricic had the most appearances on the team (14), but carried an ungainly 2.95 goals-against average and a .888 save percentage with his 7-4-2 record.
The inside story: Yale's success in the tournament will be almost entirely borne of one of two options: Either its defense (and netminding) steps up for once, or its offense simply outraces its opponents'.
While Maricic got the most starts this year, coach Keith Allain has been tapping senior Billy Blase in recent games. Blase has given up seven goals on 77 shots in his last three starts, which is still a step up from Maricic's year-long averages. Blase's numbers for the season are pretty reasonable: 2.37 goals-against average and a .901 save rate.
Allain's offense was dealt a significant blow three weeks ago with the loss of superstar sniper Sean Backman. The senior seriously injured his heel during some late-night extracurriculars, and thus gone are the senior's 21 goals and huge power-play presence (leading the team with nine PPGs). Little, O'Neill, Kearney, rookie Andrew Miller (30 points) and senior Mark Arcobello (11 goals) are plenty, but when you're always finding yourself engaged in shootouts, any diminishment can be a big one.
The Bulldogs have demonstrated significant quick-strike and comeback abilities this season, including consecutive wins despite 4-1 deficits. The first came against Clarkson, which led by that score with only eight minutes left in regulation, followed by the 'Dogs' impressive 7-4 late-season victory at Princeton despite trailing the Tigers by three at the game's halfway mark.
Alaska
Record: 18-11-9 (11-9-8-4 CCHA, 5th place)
NCAA tournament appearances: 1
Players to watch: F Dion Knelsen (19-23–42 in 38 GP), D Bryant Molle (3-6–9 in 38 GP), G Scott Greenham (18-11-9, 2.20, .918).
Why the Nanooks will get to Detroit: This is a team under nearly everyone's radar. They have a tight defense, they can skate with anyone and they're well rested.
Why the Nanooks will get bounced: On the other hand, the Nanooks have no NCAA tournament experience, they can have trouble scoring goals and rusty legs can be a killer in a one-and-done format.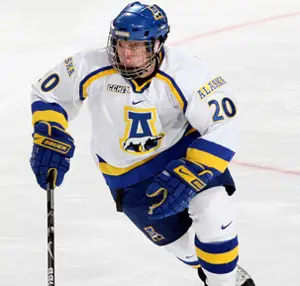 The inside story: For the Nanooks, the hardest part of the 2009-10 season was last weekend's CCHA tournament. It was especially hard because Alaska wasn't playing. After losing to the Wildcats on the road the week before in the second round of the CCHA playoffs, everyone in Fairbanks was playing the waiting game.
"I was thinking we were on the outside looking in," said coach Dallas Ferguson, "and we needed some help from some other teams and that's what happened. Obviously, we've had a good season."
Under Ferguson, the Nanooks program has been strong for the past two seasons, returning to solid defense-first hockey and building a more creative offense. Ferguson credits his players for buying what he's been selling.
"One of the biggest things is that we wanted to make sure that everyone understood the value with our team and that each guy on our team had to value," said Ferguson. "It's a team-first kind of culture. Everyone's taken a lot of pride in being a member of our program.
"Not everybody's going to score all the goals and not everyone's going to make the big plays, but everyone's going to contribute."
Alaska has just three players with 10 or more goals, but a slew of others who can contribute. The team's defense can be smothering, and when Scott Greenham is on in net, he's difficult to beat.
"He's got a calmness to his game, which is good," said Ferguson. "He's been a good leader for us. He's not a real vocal guy but he leads being the goaltender, being in that position."
The Nanooks went through a seven-game winless streak early in the second half of the season, during which they netted nine goals and were shut out twice. They followed that up with an 8-2-2 stretch from the start of February through the end of the regular season, averaging 3.7 goals per game in that run.
Said Ferguson, "We're just a team that tries to take care of the puck and try to get our opportunities."