"Let's win this game for all the small schools that never had a chance to get here."
— Merle Webb, "Hoosiers"
The bus pulled on to the Rochester Institute of Technology campus at 2 a.m. Sunday. The electronic marquee on the front of the bus read: "RIT HOCKEY. WHO ARE THESE GUYS?"
The college hockey world is asking that question, but the thousands of fans who welcomed the RIT Tigers back to campus in the wee hours of the morning after a stunning and improbable weekend of hockey in Albany know very well who these guys are. They are NCAA East Regional champions, and one of four teams left in the quest for a national title.
No scholarships. No draft picks. No former RIT player in the 48-year history of the program has played a minute in the NHL. The Tigers are in just their fifth season in Division I, and just the third where they were eligible for postseason play of any kind.
But they are a team in the old-fashioned sense, a solid, mature group of players with great chemistry who roll four lines and played with more poise and confidence than their higher-ranked opponents.
The Tigers shocked Denver 2-1 on Friday thanks to great goaltending and intense but poised team defense. But they were even scarier on Saturday, dominating New Hampshire for most of the game and blowing the doors off the Wildcats with three goals in a 94-second span in the second period en route to a 6-2 win. This was no fluke.
"One thing I can tell you is that the 30 guys in our dressing room definitely believed it," said RIT captain Dan Ringwald. "We expected to win and we still expect to win. A lot of the outsiders didn't give us a chance, but we just take that in stride, accept it for what it is and still go out there and approach the game the same way."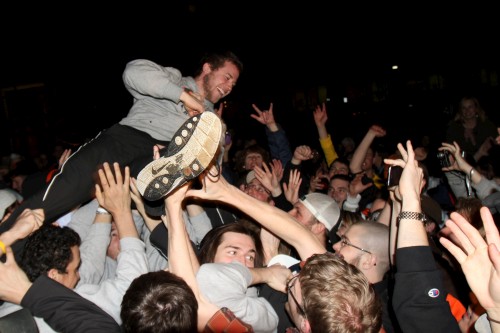 The Tigers are building on a winning tradition that dates to a Division II national title in 1983 and a Division III championship in 1985.
"We're here because of all the players and coaches that came before us," said RIT coach Wayne Wilson, who has been at the helm through the transition from a D-III powerhouse to a … D-I powerhouse?
"There has always been a winning tradition back to the Division II and Division III days, winning and competing for national titles. We built on what those players accomplished.
"It's a little unbelievable, just the calmness of the players and the way they go about their work. It's great to be an AHA representative and the first in the Frozen Four."
"I think we proved tonight we can't be overlooked," goaltender Jared DeMichiel said on Saturday. "Our team was excited to be here; we know we've played strong in and out of conference. We're just worried about ourselves and playing our game."
"We're just 16 teams here trying to win a hockey game; we don't really look at conferences," said sophomore forward Cameron Burt. "We put our skates on just like they do."
Burt, RIT's leading scorer and a Detroit native, has a tattoo that reads "King of My City." He's already the king of RIT, whose fans outnumbered and outcheered the opposition last weekend.
"Our fans have been outstanding since I first got the job 11 years ago," Wilson said. "We have a very strong following and with a game like tonight, we can build off that. Frank Ritter Arena only holds 2,100, but it's as good an environment as any team in any league can play in. We're proud of our fans, facilities, and our school."
Ritter Arena is arguably the loudest rink in college hockey, and Albany got a taste of it with a sea of orange that was standing and screaming for 120 minutes.
"[RIT] is an unbelievable place to play, and the fans came out and pumped us up [in Albany]," said Ringwald. "We have the best fans in the conference. We sell out every game and it's a great atmosphere. … Hopefully a few more people know who RIT is now."
RIT is going to have to share the Tigers with the rest of America. The secret's out.
"We don't think of the underdog role or David vs. Goliath; we don't care about that," DeMichiel said. "We worry about ourselves. We want to give Atlantic Hockey the respect it deserves. We want to prove to the nation we can play."
DeMichiel is almost 25, as are some of the other seniors. RIT's average age is close to 23, with most freshmen arriving on campus at 20, having played their full allotment of junior hockey. And they all graduate.
"I think we've only lost one player early to the pros in the 11 years that I've been here," said Wilson. It's nice to have players that are focused on [RIT] and not where their next stop is going to be."
Back at RIT early Sunday morning, the orange Zamboni with tiger stripes was driven from the rink and did laps in a traffic circle as the crowd cheered, waiting for the bus and its police escort to arrive. When the players disembarked, the crowd surged forward and carried several on its shoulders, allowing them to surf through the throng. The school known for its brickwork architecture, bad weather and strong academics has never seen anything like this.
The Chinese say that this is the Year of the Tiger. Who knew they were hockey fans?