Less than three years after giving coach Enrico Blasi a 10-year contract extension through the 2016-17 season, Miami is reworking the deal.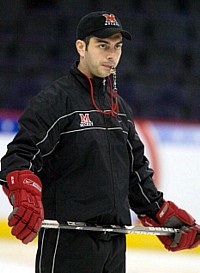 The school on Friday announced a new contract for Blasi that also extends through the 2016-17 season.
A statement issued through the athletic department notes that the new contract was made possible by alumni donations.
"Coach Blasi's new contract exists because of the substantial financial contributions of a handful of alums," Miami athletic director Brad Bates said in a statement. "Their commitment to Miami, athletics and our hockey program ensures that the best college hockey coach in the country will continue to lead our program for many years to come."
Financial details were not announced.
Blasi has taken the RedHawks to the Frozen Four in the last two seasons and the NCAA tournament in five straight seasons.
Miami has the best winning percentage in the country since 2005-06.
After leading the RedHawks to a runaway regular season championship, Blasi was named the CCHA's coach of the year for the fourth time this season.
In nearly 11 full seasons at Miami, Blasi has a 239-158-40 record.